Buildings
The Future of Smart & Cognitive Buildings
Technology and new business models are transforming the way we manage our homes and buildings to improve efficiency, sustainability, reliability, comfort, convenience, productivity, flexibility, safety and profitability. The convergence of technology, services and competition is bringing digital intelligence and driving the integration of buildings into the smart city ecosystem, as well as longer term trends such as the Internet of Buildings.
Our buildings program focuses on delivering the strategic insights and growth opportunities you need to stay ahead of the competition during this time of transformation.

Smart Buildings & Automation
Advancements in green and sustainable buildings, elevator systems, buildings security and fire safety, energy efficient heating and cooling.

Future of Lighting
Impact of the LED lighting revolution, new business models, smart & connected lighting, technology integration and future competition in illumination.

Facility Management
Service integration, energy management, business productivity, collaboration, smart technology and contract internationalization.

Digital & Cognitive Buildings
BAS, HEMS, & BEMS in intelligent buildings, data analytics, artificial intelligence, remote monitoring, Internet of Buildings, and smart city integration.

Energy Management & ESCO 2.0
Next generation of energy management services, performance contracting, XaaS models, remote services, convergence of competition.
From the home to work to leisure time, from cities to transportation systems, connected living will usher in a new era for home and building automation. Digitally connected intelligent buildings and data analytics will drive innovation from building and energy efficiency to full smart city integration.
At the commercial scale level, next generation of energy management services and performance contracting will leverage XaaS models to differentiate players as the industry sees a convergence of competition.
Frost & Sullivan's Homes & Buildings program area looks at building technologies & services, smart buildings, connected homes, smart cities, and connected living overall.
The energy and environment industry, once staid and steady, has seen new and rapid changes across the market's varied and increasingly diverse sectors. Renewable energy has now become a significant portion of the world's energy production, natural gas has found multiple adherents and controversies with the expansion of the market through fracking, and services to the industry are evolving to leverage the huge influx of information through the Internet of Things and related data analytics solutions. Energy storage will continue to be a growth market while, further in the future, water and wastewater are likely to be pivotal concerns and opportunities for both emerging and existing economies.
We work closely with the world's largest OEMs, utilities, service providers and IT firms to help them find the opportunities in this sea of change. Tailored, customized solutions provide clients with the best strategies for growth, supported by the right key data points researched to meet the client's needs and the specific engagement. Key projects have included helping clients expand their businesses into new geographies, with new customer groups and by developing new solutions. We can provide services at any point in the business strategy cycle: from ideation to implementation, data collection to strategy creation, the voice of customer insights to marketing services.
Frost & Sullivan's team can support your organization on each of the following areas:
Geographic Expansion
Ideation and Mega Trend Growth Workshops
Voice of Customer and Customer Strategies

Brand and Demand Marketing Outreach and Solutions

New Product Launch
Presenting Thought Leadership and conducting strategy workshops at your yearly business planning or customer events
Sourcing and supply chain development and market analysis.
Project Examples
Supply chain strategy for major utilities, to enable them to better plan budgets and negotiate supplier contracts
Voice of a customer with power plant owners/operators to help an OEM develop new service solutions

Brand and demand suite of services to enable major international conglomerates to target new services to selected verticals

The full analysis of the value chain for fuel cells, generators, steam turbines, gas turbines, wind turbines and solar power to ascertain environmental practices and areas of corporate social responsibility, for a major global standard firm in order to develop a long-term global expansion strategy in the energy industry

Go to market strategies for deploying new and innovative solutions in digital oil fields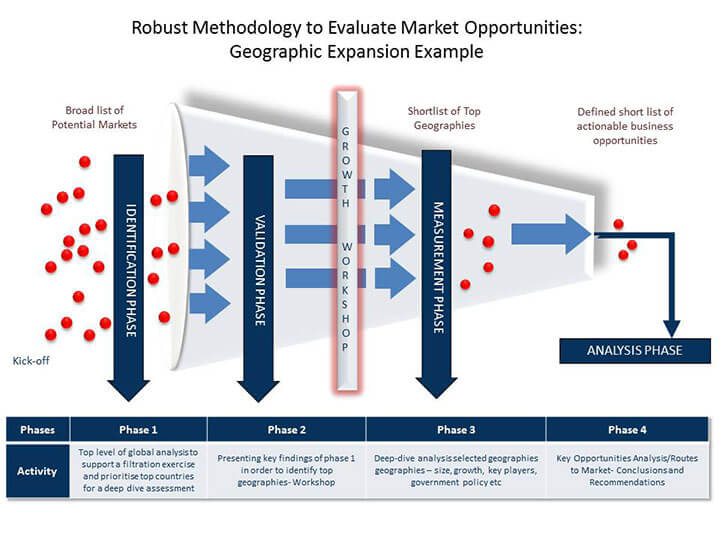 We specialize in running growth workshops with our clients which help us take a cross functional team of our client, within a span of a day from information to implementation.
Preparation of the workshop includes:
Identify key project stakeholders
Align on the workshop agenda, objectives and activities
Conduct stakeholder interviews/surveys
The workshop itself includes the following:
Share relevant research findings and stakeholder interviews
Hold an ideation and filtration phase to identify the universe of opportunities, then quickly determine those with the best fit based on internal and external forces
Conduct an interactive and thorough rating and ranking process to further identify the top one to three go-to-market solutions
Prioritize implementation plans and assign owners for next steps
Post-workshop activities include:
Compile findings and next steps from the workshop
Recommend action steps/follow-on work
Additional services: Provide implementation, integration, and marketing solutions to support the strategic outcomes of the project.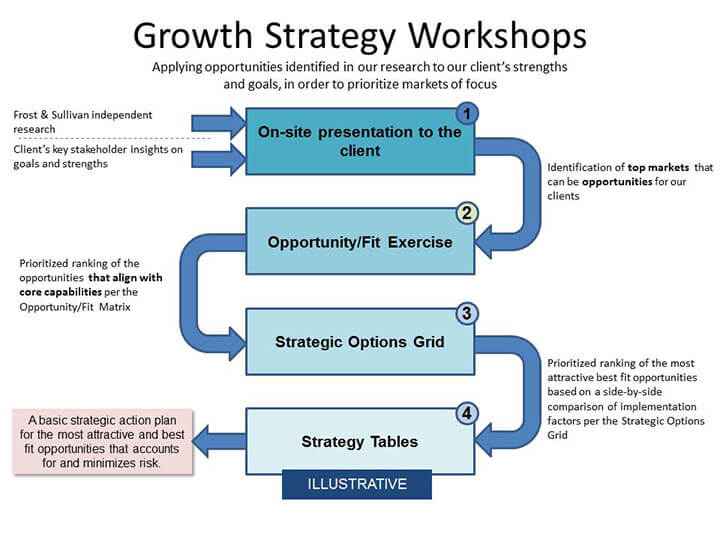 "The report Frost & Sullivan did for us …proved to be invaluable in helping our team understand the opportunities in the market place for our product. Based on the results, we have the support of our leadership to accelerate efforts and a roadmap where to focus resources."

"Frost & Sullivan ran a strategy workshop with Procter & Gamble to help our New Business Creation teams to understand the developing personal mobility market. The workshop consisted of Frost & Sullivan professionals presenting and informing us of the evolving opportunities across the industry value chain and then facilitating group plenary sessions to explore potential opportunities in this market. We found the information provided very insightful, strategic and tailored to our needs and appreciated the facilitation skills and tools used in the workshop, which helped us achieve our goals. We plan to be engaging with Frost & Sullivan in the future on other areas of interest."
Chief Innovation Catalyst, Proctor & Gamble
"Frost Research is compact, comprehensive, and easy to understand. Most of the reports are presented in presentation form which is easier to be digested compared to traditional report format. The insight information can be utilized to plan technology and procurement strategy to stay ahead from others and to give more value to the stakeholders especially end customer. The interaction with analyst and Frost & Sullivan team is very good and almost prompt responses. Overall partnerships are positive and encouraging. Even some of the topics which are not covered in the Energy and Power are also made available based on our request."
Business Development Manager, Procurement Division, Leading Power Utility Company
"Frost & Sullivan's technical insights reports have been instrumental in keeping me in line with the newest technologies. It will allow me to help develop our products in a way to best serve our future clients."
Vice President & General Manager, Batteries Company
"For almost 10 years, Frost & Sullivan has been our valuable partner in providing high-quality and timely market information for the various industries in which we are participating. We have come to appreciate Frost & Sullivan's research as early and reliable indicators of industry trends that support our strategic decision making. We appreciate the wide range of services offered, the close co-operation we enjoy with their analysts and their ability to quickly adapt to customer needs."
A leading company in Building Technologies
"Frost & Sullivan's team were a pleasure to work with and exceeded the already high expectations we had for this project. It's very refreshing to work with a high group that not only 'get' your business model but are able to challenge intelligently and help crystallize your thinking…we wouldn't hesitate to use them again."
Book a complimentary one-hour session of Growth Strategy Dialogue with our experts
Engage with our industry experts and learn more about our process of identification, evaluation, go to market strategic planning and implementation emphasis on managing the transformation journey that lies ahead.

Stay up-to-date and subscribe to our monthly Industrial Newsletter!

Attend our upcoming webinars and check our on-demand briefings and latest videos on key Industrial topics.