Customer Experience & Customer Contact
Moving Toward a Technology-Enabled, Omni-Channel World 
New technology platforms will be essential to meeting the communication needs of tomorrow's consumer. Frost & Sullivan offers an integrated approach to a vast contact ecosystem, a 360 degree perspective for decision makers.

Contact Center Systems
(On-Prem, Hosted and Cloud)

Business Process Outsourcing
(BPO)

Customer Experience Enhancement Practices & Technologies
SPECIAL RESEARCH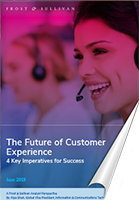 The Future of Customer Experience
4 Key Imperatives for Success
To help customer experience executives look beyond the hype and create realistic expectations of new technologies, Frost & Sullivan's Customer Contact analyst team has outlined a few key principles in a complimentary guide.
The ever changing competitive business environment and demanding customers are putting more pressure on organizations to go back to the whiteboard and redefine their customer experience capabilities.
Customer Experience has become a key deciding factor for customer loyalty and retention and is turning into a major driving factor for companies' business performance.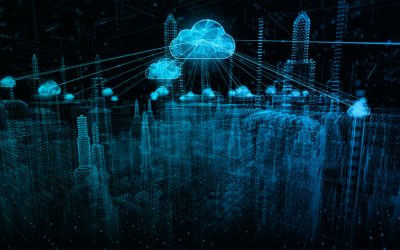 The importance of adapting to a multi-cloud reality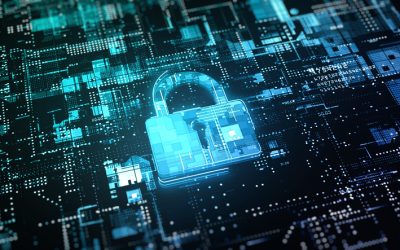 Maximize your cloud risk management with comprehensive visibility and proactive protection to safeguard your data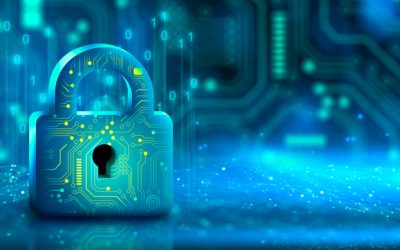 Cloud-native technologies have transformed the way organizations build, operate, and manage back-end infrastructure and customer-facing applications. However, they have also introduced new security threats due to their complexity and vulnerabilities.
Meet Our Team
Engage with our industry experts and learn more about our process of identification, evaluation, go to market strategic planning and implementation emphasis on managing the transformation journey that lies ahead.
Digital Transformation, Vice President | North America
Melanie Turek
As an Associate Fellow and Vice President of Research for Connected Work at Frost & Sullivan, Melanie Turek has over 25 years' experience covering video and web conferencing, social networking, unified communications, voice, IP communications, instant messaging and presence, as well as a wide range of business software and services.
Melanie's in-depth technical expertise and understanding of the ways in which technology can positively impact business process and performance, has allowed her to cover a broad range of markets and leverage long-standing relationships with leading industry participants' senior executives and customer organizations. Prior to joining Frost & Sullivan, Melanie was a founding partner of Nemertes Research, Inc. and Senior Managing Editor at InformationWeek Magazine. Melanie is a BA graduate from Harvard College.
Digital Transformation , Vice President | Global
Alpa Shah
Digital Transformation, Principal Analyst | North America
Nancy Jamison
Nancy Jamison is a Principal Analyst at Frost & Sullivan with more than 30 years of experience, spanning product marketing and management, market analysis and strategic consulting, with a focus on Contact Center and Speech Technologies. Particular expertise in: supply and demand-side quantitative market research and analysis, product management, marketing, pricing and competitive analysis, new market expansion strategies, and partner development programs for vendors.
In addition, she has 13 years of experience in a major contact center vendor's product management and marketing department, contact routing infrastructure and applications, IVR/Speech self-service, Speech Technologies, social customer care, and multi-channel and proactive customer care.
Top Mentions:
Smart Action: Three Glaring Reasons to Upgrade Your Voice Self-Service
IoT Now: Omnichannel solutions that drive customer contact digital transformation vital for success, finds Frost & Sullivan
Customer Care, Principal Analyst | North America
Michael DeSalles
With close to 15 years of research and analytical expertise, Michael's select areas of industry coverage include customer care outsourcing, skills-based routing, home-based agent deployment, agent training development, and onboarding. DeSalles offers extensive knowledge in:
Outsourcer vendor selection for end users
Emerging contact center trends & technologies
Global outsourcing market dynamics
Insight into site management, supervision, and agent development.
He has experience in contact center operations, agent supervision, training, competitive sales and network routing (Cisco ICM). Michael has a B.A. degree in Economics from the University of California at Santa Barbara.
Articles
https://www.linkedin.com/pulse/engineering-culture-security-consciousness-contact-centers-desalles?articleId=6492362775556345856#comments-6492362775556345856&trk=public_profile_posthttp://digitaltransformation.frost.com/index.php/search/?query=Michael+DeSAlles
Top Mentions:
https://www.nearshoreamericas.com/guyana-nearshores-secret/
https://www.prweb.com/releases/2014/01/prweb11500354.htm
https://www.customercontactwest.com/2019/04/09/cc-awards-program-opens-to-recognize-excellence-in-customer-service-in-2019/
Information & Communications Technologies, Research Director | Latin America
Juan Manuel González
Juan Manuel González serves as Research Director within Frost & Sullivan's Digital Transformation business unit. He focuses on Contact Centers, BPO, Unified Communications & Collaboration Solutions areas. González has over 11 years of experience in the industry, his know-how lies in managing strategic consulting projects and regional market intelligence studies in the Enterprise Communications field, as well as monitoring emerging trends, technologies and market dynamics. González was recognized as Associate Fellow in 2015, as part of Frost & Sullivan's Fellowship Program. Furthermore, he was ranked in the Top 50 official list of most influential Executives in Nearshoring Outsourcing in 2010 and 2011, according to Nearshore Americas. He holds a Bachelor's Degree in Political Science (Cum laude) and a Master's Degree in International Economic Relations from the University of Buenos Aires (Argentina).
Articles:
Nearshore Americas – Call Centers in Latin America: Soon to Be Irrelevant?
Nearshore Americas – Top 10 BPO Trends and Business Priorities for 2017
Nearshore Americas – Top Customer Experience Management Trends for Latin America in 2016
Nearshore Americas – Hot Tips for Latin American Outsourcing Providers in 2015
Nearshore Americas – Will Paraguay Be the Next Star in Latin American BPO?
Top Mentions:
Finance TnT – People Are Complaining About Their Banks Much More than Last Year
Call Center News – Juan Manuel González, Frost & Sullivan: "Las 10 prioridades para América Latina en 2017"
Exame –  Aplicativo de emprendedor canadense quer o fim do e-mail
CC Sur – América Latina: el sector de las telecomunicaciones ante la transformación digital
Videos:
The Future of Latin America
Cloud, Video and Contact Centers in Latin America
Panorama y tendencias claves que impactarán en la industria de BPO
Lavisión de Frost sobre la industria del contactcenter en América Latina
Information & Communications Technologies, Senior Industry Analyst | Latin America
Sebastian Menutti
Functional Expertise
8 years of consulting and research expertise in the Information and Communications Technologies industry in Latin America.
Particular expertise in:
Market research reports & participating in consultancy projects.
Monitoring emerging trends, technologies and market dynamics.
Thought leadership, press releases and articles.
Industry Expertise
Experience base covering the Information and Communications Technologies industry in Latin America.
Business Process Outsourcing (BPO)
Customer Relationship Management (CRM)
Unified Communications & Collaboration (UC&C) & Connected Work.
Communications as a Services (CaaS)
Telecommunications.
What I bring to the Team
Strategic Analysis & Planning Capabilities
Strong Methodology Basis.
Career Highlights
Played a prominent role in consulting projects for CANTV (Venezuela), Bain Capitals, Atento, Teleperformance, Genesys, Interactive Intelligence, Contax and Avaya, among other companies.
Interviewed and quoted several times in regional and international publications.
A frequent speaker at international industry events.
Education
Bachelor in Political Science from Universidad de Buenos Aires, (Argentina).
Connected Work, Associate Director | Asia
Krishna Baidya
Functional Expertise
More than 15 years of industry research, consulting and marketing experience, including 10 years in the ICT sector. Particular expertise in:
-Analyzing market dynamics and highlighting future trends
-Strategy and corporate planning
-New business opportunity, market strategies, channel and partner development and growth strategies
Industry Expertise
Experience base covering broad range of sectors, leveraging long-standing working relationships with leading industry participants' Senior Executives
-Customer Experience Technology, Contact Center, Outsourcing
-Office of the Future, Wearables, Internet of Things (IoT), Big Data Analytics (BDA), Connected Industries
-Unified Communications & Collaboration, Enterprise Software
Recent Reports/projects worked on
Market engineering reports: Asia-Pacific contact center applications, Hosted/ Cloud contact center, Contact center outsourcing, Customer analytics market
Buyer's guide report: Hosted/ Cloud Contact center market
Growth consulting projects for global/ regional contact center solution vendors/ outsourcers
Thought leadership roadshows – global customer interactions management vendor
Customer experience benchmarking study – Malaysia, Singapore, Indonesia
QBR presentations to client partner's global/ regional leadership team
Number of whitepapers and webinars for leading vendors
Career Highlights
Pitched for, won, and led significant research and strategic consulting projects
Widely quoted in prestigious on-line, print and broadcast media
Held leadership positions in firms in different businesses

-Drove business planning activities across the region for a multi-faceted telecom group
-Held overall business responsibility for Singapore operation for an innovative Dutch start-up
Education
-MBA (Finance & Marketing) from University of Illinois, Chicago, USA
-B.Tech (Mechanical Engineering) from Indian Institute of Technology, Chennai, India
Industry Principal, Customer Experience Research
Sherrel Sonia Roche
Sherrel Sonia Roche is an Industry Principal with Frost & Sullivan's Customer Experience Research team since 2018. She has 15+ years of market research and consulting expertise, which include 9 years of practice in ICT industry. She specializes in product and vertical market analysis, competitor strategy analysis, channel and partner ecosystem analysis, ICT market sizing and demand analysis, sales and marketing support, analyzing market opportunities and challenges and growth consulting. She has delivered several syndicated research studies while being a part of various consulting projects in relation to business process management and customer experience outsourcing services markets.