Recently, Frost & Sullivan, The Growth Partnership Company,™ conducted a timely webinar, Marketing in 2021: Uncertainty or Opportunity? Adam Kahn, Global Senior Director, Digital Strategy and Marketing Operations, hosted a diverse group of global marketing experts as they discussed the state of marketing today. All agreed that 2021 would be a year of opportunity for marketing, and shared predictions and insights about how to succeed during these challenging times.
Key Marketing Predictions For 2021
Overall, the panelists unanimously agreed that they project 2021 to be an opportunity (versus uncertainty) for marketing in 2021. Greater technological connectivity, the ability to leverage data to set more targeted goals, and the belief that past marketing paradigms are being disrupted (opening up new possibilities) were some of the reasons given. Here are some of their key predictions and recommendations for marketing in 2021: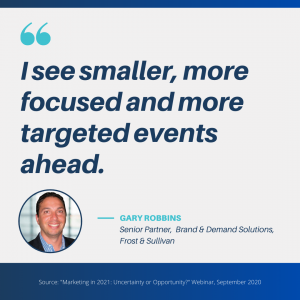 A majority of the panelists predicted that marketing budgets would go up in 2021
Smaller, more targeted events will become more frequent and prominent globally
Digital engagement is increasingly important
Account based marketing will continue to grow
Content marketing should be on everyone's planning and resource list
Mine your customer data and create a single view of it across the organization
Get Ready To Sponsor New Hybrid Events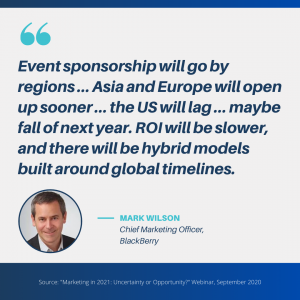 Overall, a hybrid model, consisting of some virtual and some in-person events, was predicted; what this will be composed of will vary globally. Specifically, in-person events in 2021 will be heavily influenced by geography. Companies based in Asia and Europe will likely return to live events before the US, for example.
Several of the panelists said that they would consider creating an event that was a combination of virtual and in-person. They noted the many differences — including content considerations — between a virtual and in-person experience, and stated that new production practices would have to be developed to accommodate a combination virtual/in-person event.
Targeted Content Will Drive Engagement
One panelist shared that they incentivized event attendance via professional certifications. Another stated their belief that incentivizing would not bring the best audience, and noted that it's better to have participants who are genuinely interested in your product or offerings. Finally, although it might seem counter intuitive to charge for events, it's really a positive; if you are offering valuable content it will help participants  bring growth and value to their own companies. As one global marketer summed it up, "If you pay, you are more likely to show up and engage."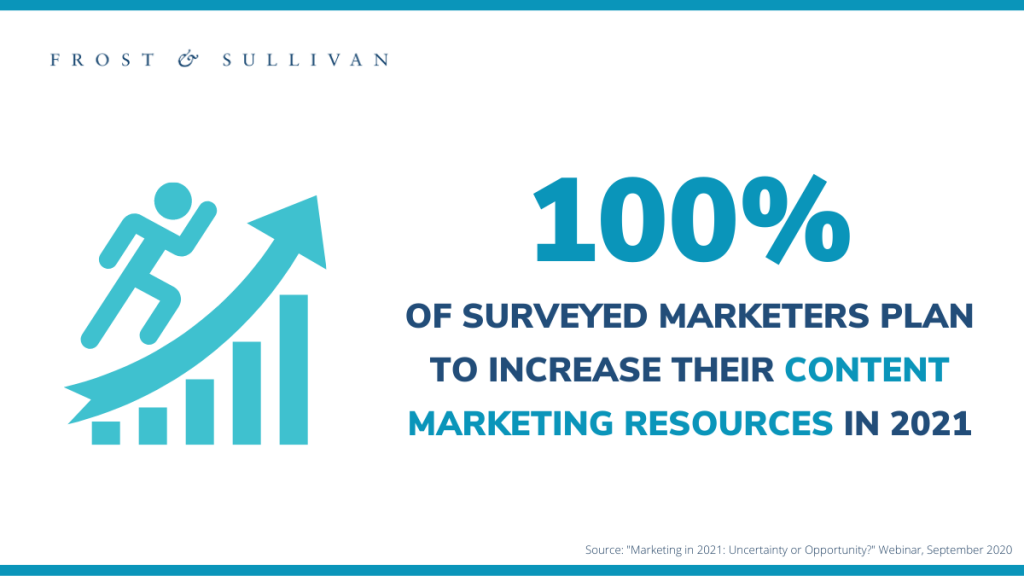 For additional insights, click here to download our "Marketing Expectations for 2021" Infographic.