Recently, Frost & Sullivan, The Growth Partnership Company,™ conducted a timely webinar, Marketing in 2021: Uncertainty or Opportunity? Adam Kahn, Global Senior Director, Digital Strategy and Marketing Operations, hosted a diverse group of global marketing experts as they discussed what was working — and not working — right now, as well as the marketing disruption that is currently occurring. All agreed that 2021 would be a year of opportunity for marketing, and shared predictions and insights about how to succeed during these challenging times.
A recording of the full event can be found here.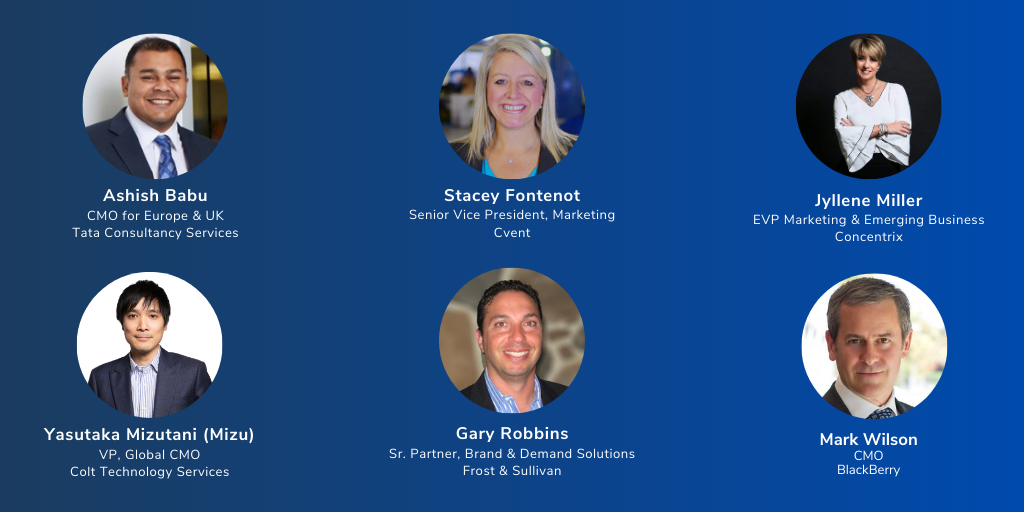 Read on for highlights of their recommendations and decide for yourself whether 2021 will be
"#theyearofthemarketer,"
or something else entirely.
Overall, the panelists unanimously agreed that they project 2021 to be an opportunity (versus uncertainty) for marketing in 2021. Greater technological connectivity, the ability to leverage data to set more targeted goals, and the belief that past marketing paradigms are being disrupted (opening up new possibilities) were some of the reasons given.
The webinar was divided into three discussion parts: Events, Budgeting and Expectations for 2021. We'll take a deeper dive into each area in upcoming blogs, but here are some of the discussion highlights:
EVENTS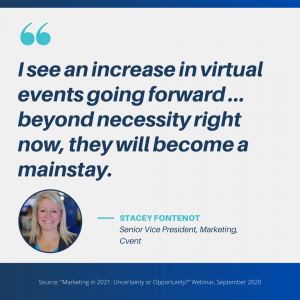 Focus On "Return on Events"
Not surprisingly, the panelists believed that virtual events are here to stay. They predicted a gradual return to in-person events based on geography and recovery from the pandemic, and discussed a new, emerging hybrid event model.  The importance of smaller, more targeted events was also emphasized.
Key takeaways included:
Virtual events are here to stay regardless of what the future brings
75% of marketers surveyed were planning on sponsoring virtual events in 2021
A new hybrid events model, consisting of some virtual and some in-person events, was predicted:

What these hybrid events will be composed of will vary globally
Plan for content differences — type, length and presentation should vary for a virtual event, versus an in-person event experience
BUDGETS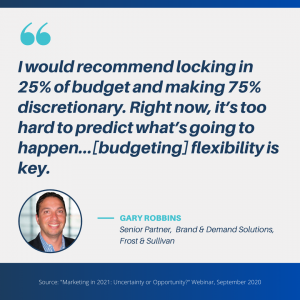 The Big Budget Picture Has Changed Dramatically
Looking at the big budget picture, marketers need to examine where they want to invest in the current climate. Ask: What will have the biggest impact right now? That may mean throwing old budget precepts out the window.  In times like these, your marketing budget needs the kind of built in flexibility that will allow you and your organization to move quickly and revise plans in real time if necessary.
Here are some up-to-the-minute budget recs from our global marketing panel:
Consider the concept of "zero-based budgeting" — start at "zero base" for every budget period

Scratch plans to automatically follow the previous year's budget allocations or guidelines

Budget for the higher cost of building your pipeline and engaging prospects online
Marketing technology budgets will grow in the current era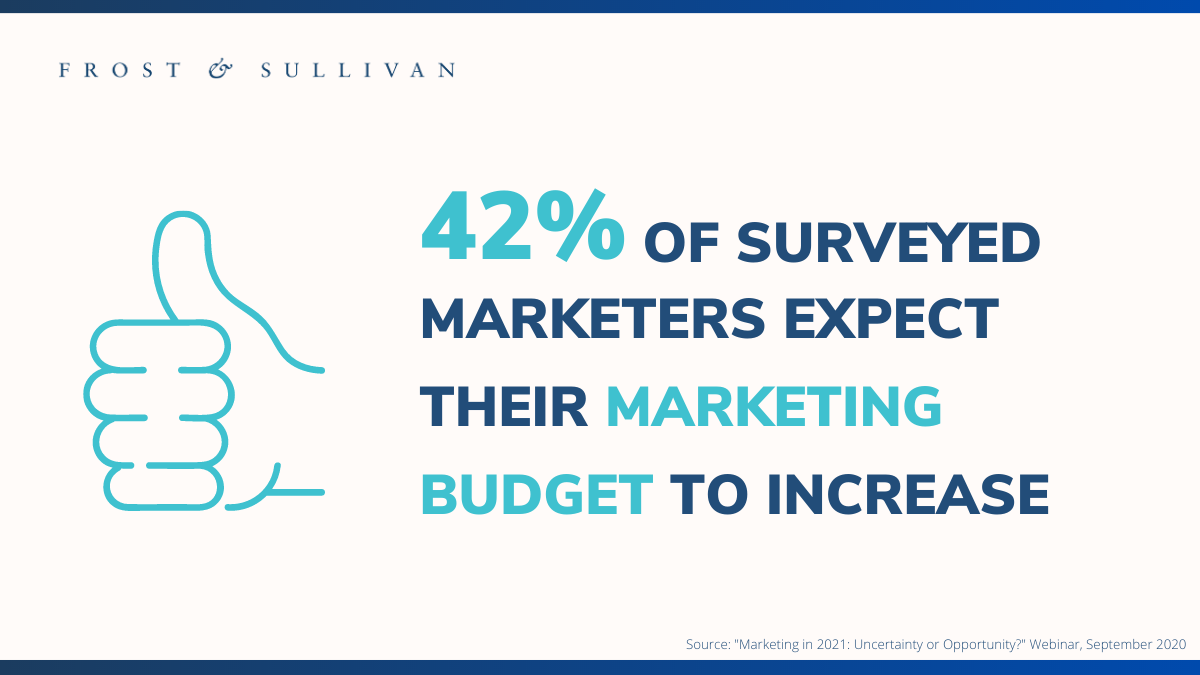 MARKETING PREDICTIONS FOR 2021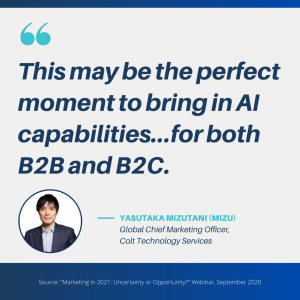 Finally, the marketers participated in several speed rounds, consisting of rapid fire questions and answers.
Smaller, more targeted events will become more frequent and prominent globally
Sales must embrace digital tools and work in concert with marketing; the current crisis is accelerating this approach
Content marketing should be on everyone's planning and resource list
Now is the time to leverage AI for both B2B and B2C marketing
Final Thoughts
So, will 2021 bring marketing uncertainty or opportunity? The answer is not one or the other, but both. Marketers are uniquely equipped to use their expertise and tools — testing, experimenting, and measuring — to address uncertainties. Then, they can regroup and move forward with what DOES work. Therein lies the opportunity for success, and agile, informed marketers will embrace it.
Schedule a Complimentary Consultation today with a Brand & Demand Specialist – brandanddemand@frost.com