Customer Experience Diagnostic
Enabling superior customer experience is not an easy task. Companies need to understand where they are on the customer experience journey and whether or not adequately geared up with required internal capabilities.
Strategic Imperative
Companies often believe that Voice of Customer analysis solely can answer all their customer woes. However, these analyses are limited to only highlighting an external view on what went wrong and mostly fail to unearth the root causes. While obtaining an external end customer perspective on your services, products, or delivered experience is one aspect, drilling down further and attacking the key internal root causes hindering you from offering the right experience is another key aspect that companies need to focus on.
Top five root causes:
Any or all of the above can be the reason for customer and operation woes and an assessment of internal customer experience capabilities can help companies find out which of these bottlenecks are and how can they get rid of it.
Siloed and fragmented functions and touch points
Irrelevant and fragmented and customer service systems
Underdeveloped people and process capabilities
Misunderstood Concept of Customer Experience
Misunderstood customer expectations and preferences
Prepare
Kick off session
Agree on & schedule key participants, assessment approach
Capture high level customer experience objectives, goals and challenges
Discover Day 2 – Workshop
Information collection for CX Capability maturity assessment
Existing customer experience journey mapping
Business case outline
Analyse
CX Capability Maturity Analysis
Interview with stakeholders and gaps identification
Improvement Opportunity and business case Identification
Define Day 9 – Workshop
Long list of opportunities
Opportunity prioritization and selection
Mapping To-be CX journey
Detailing of opportunities
Package & Present
Finalize business case
Refine high level roadmap
Package deliverables into a presentation
Present to decision making forum
Frost & Sullivan's expertise across Technology, Economic, Applications, and Markets (TEAM) provide innovative customer experience solutions to clients. Our ability to provide a single view of the customer and moment of truth using our proprietary customer experience diagnostic makes us the preferred partner for companies.
Our Diagnostic solution is built on a framework that encompasses all people, process, technology, functions and organization capabilities directly or indirectly linked to customer experience making it a unique solution that identifies improvement areas across the board. It leverages a six staged maturity model to help companies find out where they are on their customer experience journey and what they need to focus next.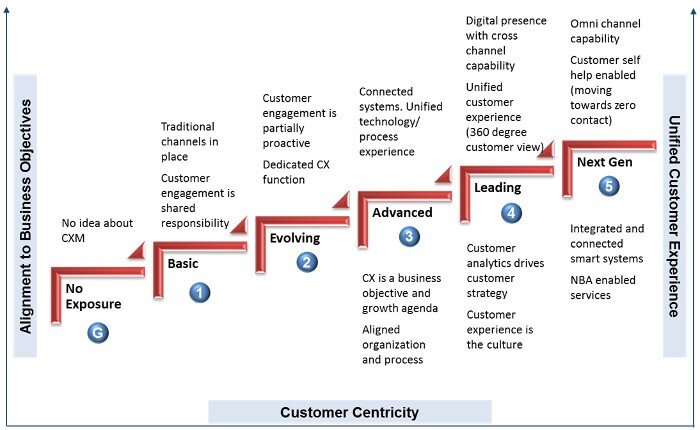 Five Key Differentiators
✅ Covers end to end CX journey
✅ Covers all internal CX functions
✅ Aligns leadership, culture and brand to CX
✅ Seperate diagnostic modules for B2B and B2C
✅ 6 maturity levels
Discover quick wins
Identify and define actionable improvement roadmaps across people, process, technology, and functional areas along with business cases supporting the selected opportunities
Design business impact customer experience initiatives
Obtain a high level view on what you should do and how the improvement initiatives would look like when taken to implementation
Define implementation program for short and long term business gains
Take initiatives to implementation with a clear understanding of where you should focus your efforts and investments in short and long terms
If you do not know where you are on the customer experience journey and how you can improve your customer engagement, then you probably need to make the right move at the earliest and carry out an internal capability assessment. Email or call our customer experience management experts and learn how you can fast track your customer experience transformation journey with the right set of short and long term initiatives.