05jan2:00 PM3:00 PMGathering the Competitive Data Enterprises Need to SurviveListen in on the experiences of others, participate in a live Q&A, and walk away with actionable strategies for your own organizationCategory:Webinars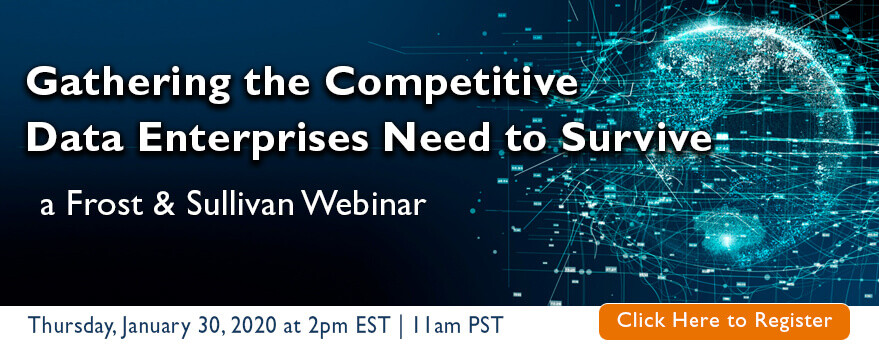 Time

(Sunday) 2:00 PM - 3:00 PM
Location

Webinar

7550 1H, 10 W Dr Suite 400
Event Details

 


Webinar Agenda
Collecting large-scale real-time accurate data from the web is becoming more and more difficult. Companies today tailor their information based on location, demographics, devices and more. To compete in this challenging new environment, Enterprise IP Proxy Networks (IPPNs) provide a range of solutions to allow global businesses to view the web as consumers do and programmatically gather the data they need, bringing back transparency to an increasingly opaque web.
The webinar "Gathering the Competitive Data Enterprises Need to Survive" will explore 3 different IPPN solutions that companies can use to collect online data at scale, including:
• How to tell if your business is collecting accurate web data.
• How to select the right IP proxy network solution for your business.
• How to determine if an IPPN external vendor is right for your business.
Precise market intelligence can make or break a business. Staying ahead of competitors today requires using the right solutions to make sure businesses are gathering the same data that consumers are seeing.
Please join Or Lenchner, Luminati CEO, Andrew Fogg, Import.io Founder and Chief Data Officer, and Robert Cavin, Frost & Sullivan Industry Analyst, on Tuesday, January 14th at 2pm EST and discover how IPPN solutions can help your business succeed.
Featured Panel:
Robert Cavin

Industry Analyst – Digital Media – Information & Communication Technologies
Frost & Sullivan

Or Lenchner

CEO
Luminati
In cooperation with: