Throughout the intensive 11 day campaign, rockets continued to be fired at Israeli territory and while the Israeli Air Force (IAF) inflicted heavy damage in return, it failed to fully eliminate its adversary's rocket launchers or rocket stockpiles.
Nevertheless, the Israeli campaign – Operation "Guardian of the Walls" – was marked by significant achievements in the field. Among the IDF's notable successes included eliminating most of Hamas and PIJ's rocket manufacturing facilities; striking key infrastructure targets, particularly HQs command sites, weapon warehouses and rocket stocks; damaging around 40% of Hamas's underground C2 tunnel system; wiping out Hamas's Naval capabilities; and, blocking underground tunnel access from Gaza into bordering Israeli villages. In addition, the IDF also neutralized several high-level commanders in both organizations.
The X-Factor
The X-factor in these unprecedented results, compared to military campaigns over the last twenty years, has been the IAF's robust and highly sophisticated technological capabilities, reinforced by its close collaboration with the IDF's Intelligence Division (IDI).  The IDI's dramatic capability improvements in recent years are, in turn, the outcome of "Momentum", a visionary five-year plan.  The seamless exchange of technology, comprehensive data management, extensive defense digitalization, and a new Concept of Operations (CONOPS) called "Intelligence-as-a-Service" have also been acknowledged as key to IDF's successful operations.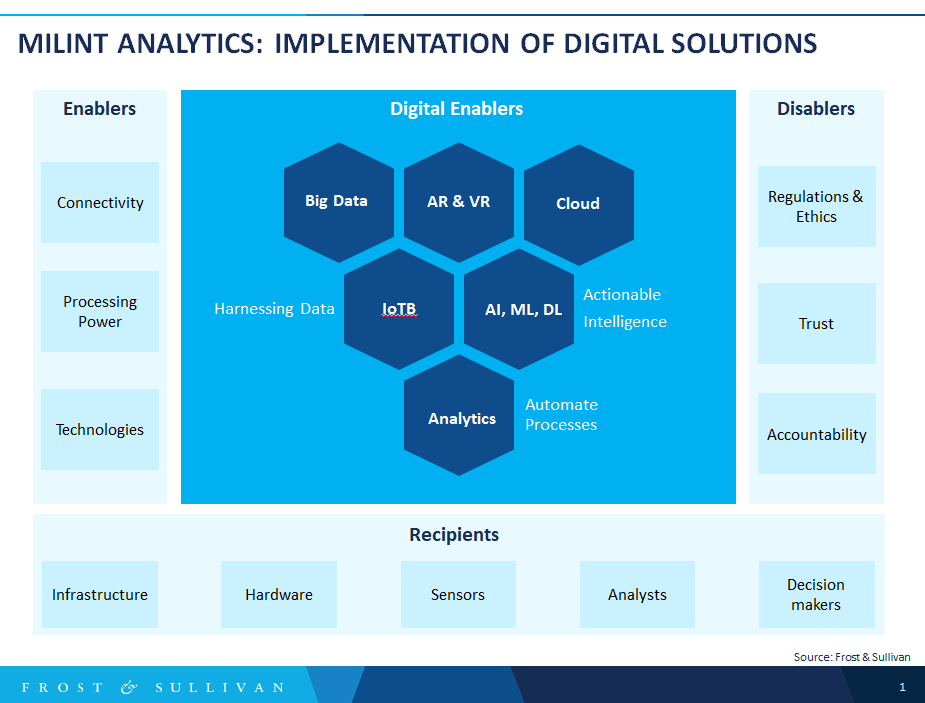 For the IDI, the campaign marks a defining moment in its military history; it is the first time that the intelligence services have played such a transformative role at the tactical level.
This is the result of a strategic shift made by the IDI recent years. Revisiting its role in military operations, it established a comprehensive, "one-stop-shop" intelligence war machine, gathering all relevant players in intelligence planning and direction, collection, processing and exploitation, analysis and production, and dissemination process (PCPAD) into what it termed "intelligence molecules".  During the recent conflict, massive AI machinery for Big Data Analytics provided support at every level—from raw data collection and interception, data research and analysis, right up to strategic planning—with the objective of enhancing and accelerating the entire process, from decision-making about prospective targets to the actual carrying out of attacks by pilots from F-35 cockpits.
AI in the Military Domain: A Game-Changer
In the last decade, a sometimes reluctant technology discussion has been evolving amongst global defense stakeholders. These discussions have centered on the degree of accountability and trust, engagement and language as they apply to the relationship between human control and machine learning and its implementation and possible impacts on the battlefield. In this context, the idea that a machine can take data-driven decisions has much more serious implications in the military domain than it does in the commercial arena; it can severely impact traditional decision-making processes in the military and change the way armed forces operate and respond on the battlefield. In other words, we are looking at a game-changer.
Today, military intelligence services enabled by AI, Big Data Analytics and machine learning (ML) are triggering transformations in future battlefield CONOPS paradigms, supporting successful outcomes through exceptional on-demand data and information gathering and analysis.  This has highlighted the need for increased allocations for digitally-driven intelligence services in defense budgets and changes to traditional methods of processing intelligence, while underscoring the importance of AI-based military intelligence as a strategic national asset.  Accordingly, the explosion of data and its widespread availability has been motivating IDI to evaluate AI-powered applications that streamline and analyze data, while strengthening military operational effectiveness.
Hence, Israel's recent Operation "Guardian of the Walls" will go down in military history as the first military campaign where human-machine relations were really put to the test.
Every Soldier is a Sensor
The deployment of AI applications and Big Data Analytics across all domains during the campaign gave the IDF a genuine military edge on the battlefield over its historical adversary Hamas.
Firstly, AI enhanced and speeded up the scale, capacity, and lethality of targeting processes during real-time engagements, with IAF pilots attacking targets on the ground, based on AI outputs. Specifically, this method ensured better efficiency of firepower, including precision strikes and, as importantly, minimized collateral damage; essential to countering the unstructured non-military tactics of Hamas operating from civilian areas.
Secondly, for the first time ever, AI and the trained research database were engaged in gaining a better understanding of imminent rocket threats (the main weapon of attack adopted by Hamas and PIJ in the Gaza Strip). Innovative AI-enabled platforms armed target recognition systems with probability-based forecasts of enemy behavior, and provided identification support on the ground. ML was also leveraged to learn, track, and discover targets from the data obtained. In summary, the IDF successfully used AI-oriented automatic target recognition and acquisition (ATR), while showing positive results by eliminating over 70 rocket launch squads while they were deployed and ready to fire towards the Israeli mainland.
Last, but not least, the campaign reflected the move towards network-centric warfare accompanied by the "Every Soldier is a Sensor" (ES2) concept. This resulted in an exponential increase in the volume of on ground, battlefield information to complement Crowd-sourced Intelligence (CROSINT) analytics capabilities. IDI leveraged various sensors on the ground, at sea and in the air to strengthen its surveillance muscle against the enemy.  This was done in a way that reinforced its control over ground combat throughout the campaign, with wins ranging from damaging Hamas's strategic underground tunnel system to effecting the killings of senior operatives in Hamas and PIJ's militarized wings.
AI-enhanced CONOPS to Overcome an Increasingly Congested and Contested Battlefield
Militaries increasingly operate in congested battlefields that are fought across all domains and on a progressively wider geographic scale, all while under persistent surveillance. This requires rapid decision-making capabilities based on a combination of effective situational awareness, intelligence gathering, and targeted action. As a result, decision cycles and reactions have compressed, as we observed in Operation "Guardian of the Walls".
Indeed, these highly sophisticated and unprecedented AI approaches are transforming all that we know about military CONOPS in the modern battlefield. Israel has been a frontrunner in this regard and armed forces across the world are set to steer a strategic course towards acquiring these game-changing capabilities.  This is also the moment for commercial and military intelligence communities to seize the business opportunities that this presents as part of the ever-changing scenarios inherent in modern, asymmetric warfare.
Frost & Sullivan's Aerospace, Defense & Security research team closely monitors the Military Intelligence Analytics and Military Software as a Service markets.