The pandemic imposed a new set of challenges on the global off-highway equipment market. From project and approval delays in key demand sectors like infrastructure and agriculture to supply chain bottlenecks resulting in erratic replacement of equipment and parts inventory, market participants struggled. Compounding this was the dearth of skilled equipment operators in the construction, mining, and agricultural sectors. However, our latest research underscores that the market is on the road to sustained recovery; higher levels of equipment utilization and inventory spending will drive the uptake of digital services, with market recovery in 2021 setting the foundation for stable growth in 2022 and beyond.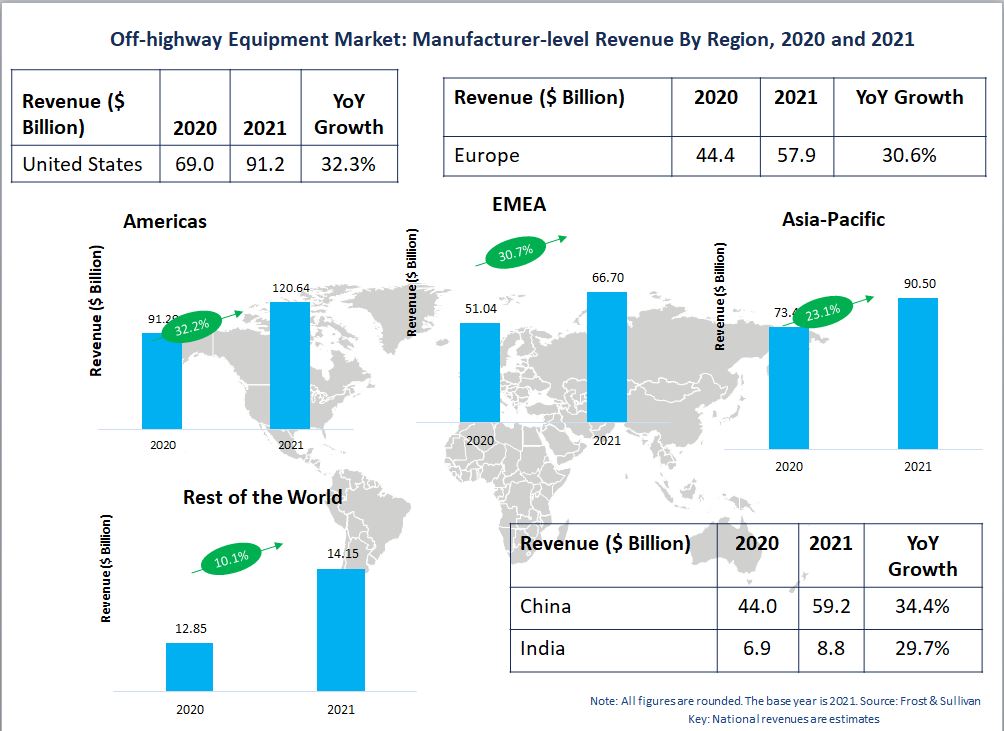 To learn more about the highlights of 2021 and the outlook for 2022 – from a revenue, regional, competitive, and growth perspective, please access our research report on Global Off-highway Equipment Growth Outlook, 2022.
2021 Highlights
Several trends in the spotlight in 2021 are set to have far-reaching impacts on market prospects. For a start, we saw off-highway equipment manufacturers establish clear roadmaps framed by sustainability agendas, as illustrated by Komatsu's declared intent to boost the ratio of renewable energy use by 50% from 2010 to 2030.
Another big trend was the emergence of digital platforms and services aimed at improving data use. The market saw digital solutions such as farm management platforms and smart construction and mining tools being integrated with telematics and onboard devices. Meanwhile, operators increasingly looked to digital tools and data-driven approaches to gain a more holistic view of their operations and achieve better results in task management.
Strategic partnerships between OEMs, suppliers, and service providers were a recurring theme, with more than 40 partnership announcements made by off-highway OEMs in 2021. Many of these collaborations were motivated by equipment electrification, digitization, and automation imperatives, with a particular focus on accelerated alternative powertrain and autonomous solutions development.
From a competitive standpoint, Chinese OEMs continued to target the North American market. Chinese Xuzhou Construction Machinery Group (XCMG) stepped up its presence in Europe by establishing a research center in Germany and adding mobile cranes and aerial work platforms to its European product portfolio. Meanwhile, European OEMs ramped up their R&D initiatives in fuel cell and autonomous technologies.
Outlook for 2022
2022 promises to be an exciting year for the global off-highway equipment market. Looking ahead, we foresee leading OEMs intensifying R&D into alternative powertrain technologies, with electrification becoming a major focus area. Market leaders like Caterpillar and Komatsu will seek to expand electrification to a range of new applications. In line with general electrification and hybridization trends, we also expect R&D in fuel cell electric vehicles to pick up the pace.
In response to the need for lowered carbon emissions, OEMs will heighten their focus on remanufactured components. Reflective of this is Caterpillar's commitment to boosting sales and revenue from remanufactured components by 25% between 2018 and 2030 as well as Komatsu and Hitachi setting up remanufacturing plants in South Africa and Southeast Asia, respectively.
Digital services will gain increasing prominence. Synergies between OEMs, hardware, and software solution providers will enable the bundling of services—fleet management, remote monitoring, prognostics, and analytics, among others—onto a single platform. The rising appeal of site/farm management will open up new monetization opportunities. This will reinforce the online retail of parts and machinery, enabling same-day deliveries and other aftermarket services.
Simultaneously, cross-industry collaborations between OEMs and software solution providers will support advances in remote monitoring, operations, and artificial intelligence (AI). Data-driven decision-making models will occupy center stage, gradually encompassing semiautonomous, autonomous, and remote operations.
Slow and Steady
The pandemic notwithstanding, the global off-highway market performed well in 2021 from four key perspectives—revenues, sales, unit volumes, and connected equipment in operation. Revenues grew by 27.7% from 2020 to 2021 due to strong demand for agricultural equipment and compact equipment in residential and small residential construction. While construction and mining equipment sales continued, they did so at a more sedate pace.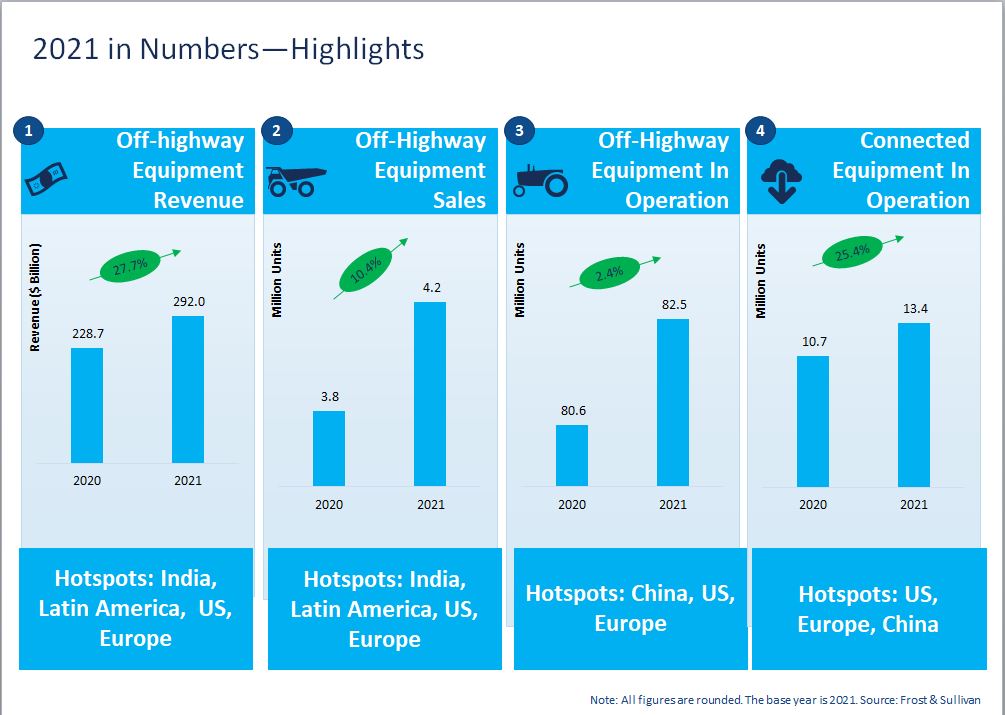 In 2020, 10.7 million connected equipment units were in operation. In 2021, this number had risen to 13.4 million, representing a solid growth rate of 25.4%. Among the factors responsible for this were an increased focus on equipment health and demand for site management that boosted the uptake of a wide range of telematics services across construction, mining, and agricultural applications. Connected solutions also received a fillip from equipment downtime and labor shortages.
Although our forecast for all these four key parameters shows an upward trajectory for 2022, we project these figures to be significantly more modest than the 2021 levels. In terms of revenues, for instance, we expect the fulfillment of order backlogs in 2021 and delays in orders due to the ongoing semiconductor shortage will result in slower revenue growth than in 2021, up until the last quarter of 2022. Following post-pandemic recovery and market stabilization, we will see annual revenue growth bounce back to pre-COVID levels.
Total connected equipment in operation is expected to increase to 18.3% in 2022 from 16.3% in 2021. While connected construction and mining equipment account for the larger share, trend analysis shows that connected agricultural equipment will gain momentum due to the focus on equipment downtime, equipment health, and farm management issues.
Shaping a Sustainable, Digitally-driven Future
Our research emphasizes that deeper engagement between OEMs, suppliers, and utility companies will be crucial to building an ecosystem that supports financially and operationally viable green solutions. Battery and fuel cell technologies will create opportunities for sustainable operations.
As hybridization and electrification expand to include underground mining, road, and infrastructure applications, we expect manufacturers and suppliers to target mature markets in the US, Europe, and China for equipment electrification. Here, end-to-end solutions that promote the seamless operation, maintenance, and replacement services will catalyze hybrid and electric equipment sales. Simultaneously emerging markets in Southeast Asia, the Commonwealth of Independent States (CIS), India, and Australia, where used equipment is in demand, will be strong candidates as remanufacturing centers.
And finally, as operations across the value chain shift online, the significance of Big Data Analytics will be recognized and harnessed.  Farm, mine, and construction management services will increasingly be integrated with telematics offerings. Against this backdrop, stakeholders will need to anticipate and fulfill the inevitable demand for integrated, digital, and contactless business models.
Schedule your Growth Pipeline Dialog™ with the Frost & Sullivan team to form a strategy and act upon growth opportunities: https://frost.ly/60o.