In the pandemic, passengers not only focus on safety, connectivity and pricing factors to choose their airline, but also consider aircraft interior hygiene to be one of the major factors. Clean aircraft interiors are an industry imperative to restore passenger confidence. Cabin interior suppliers need to analyse the requirement of the airlines to provide appropriate solutions.
Last month, one of the leading cabin interior suppliers, Safran, partnered with 3M to design the cleaner aircraft interiors. This collaboration is part of the initiative taken by Safran Cabin for their "Travel Safe'' program. The program aims to develop clean and hygienic aircraft cabin interior solutions for a safe and comfortable passenger experience.
Similarly, Aviointeriors, an Italian aircraft seating manufacturing company, has also developed an innovative seating solution. They named the product "Janus" on behalf of the ancient Roman god depicted as having two faces, looking to the future and to the past. The product name itself signifies that the centre seat is facing backward, and the adjacent seat passenger will be facing towards the cockpit of the aircraft. An extra layer of protection is provided by placing the thermoplastic sheet in this double S-shaped seating configuration. Additionally, the materials used to manufacture the seats are easy to clean and hygienic. There are other cabin interior suppliers, including Recaro and Diehl Aviation, who also aim to provide new and innovative solutions and to try to capture the positive growth opportunities presented by the pandemic.
In the past few years, we have seen major aircraft OEMs, such as Boeing and Airbus, demonstrating interest in providing more value to their customers by enhancing their aircraft cabin interior capabilities. Both major aircraft OEMs are acquiring cabin interior companies active in the market, enhancing their in-house capability for cabin interior products, and driving R&D as per the business requirement.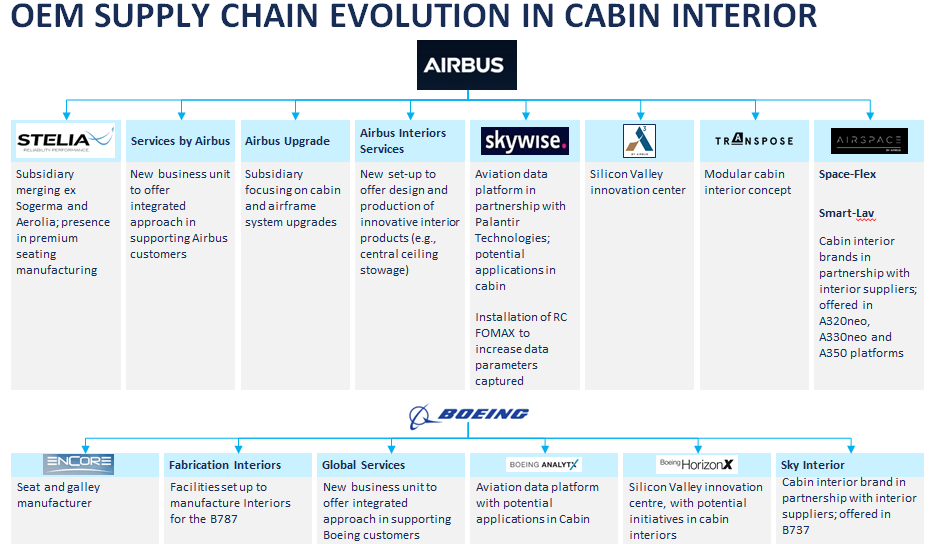 Frost & Sullivan's recent study focusing on the Cabin Interior Market estimates the global market will mature to $14.6 billion by 2030. Discussions with leading industry participants have revealed that the following factors will predominantly drive the cabin interior:
Increase in number and scope of airline cabin retrofit programs
Investment in R&D to bring innovation into their current product offerings for both long and short-haul flights
With a backlog of more than 10,000 aircraft, there is a huge opportunity for the cabin interior suppliers to get the product ready in line with the airline's requirement and without compromising passenger safety and comfort. The provision of innovative solutions is contingent on increased R&D budgets. However, an increase in R&D budgets can put downward pressure on revenue margins. Those companies working on thin revenue margins are more prone to being acquired by a large cabin interior supplier with high liquidity or by aircraft OEMs.