Aerospace Systems
A major focus in the global aerospace market is the ongoing business model transformation of aircraft OEMs. Taking advantage of the Industrial Internet of Things (IIoT) and data platform technologies, aircraft OEMs are moving away from selling airframes, systems, and components, and towards delivering maintenance, repair and overhaul (MRO) services as well as digital solutions.
Frost & Sullivan's Aerospace Research Program
Provides continuous intelligence into how market participants are embracing new business models even as they shift focus from a traditional product oriented to a more inclusive services-based approach. Our team offers strategic research insights into different areas of the commercial aerospace supply chain, including aircraft systems such as avionics, cabin interiors, electrical power, and in-flight entertainment and connectivity.
Our team of analysts combine their global network of relationships with key industry players and their deep understanding of industry best practices, gaps, and areas for improvement to help clients not only identify emerging growth opportunities but also leverage them.
Associate Director, Aerospace & Defense
Amartya De
An aviation enthusiast with expertise in development of business growth plans across commercial aerospace segments and regional thought leadership on Asia Pacific. An expert in devising growth opportunities for leading industry participants across MRO, airports, airline, OEMs, and Business Aviation segments.
Research Director - Aerospace & Defense
Nripendra Singh
Over 14 years of experience in Commercial Aviation (Airline & Airport), which includes 5.5 years with a major airline in revenue management role and 4.5 years in the strategy and airline marketing role at airport.
Particular expertise in:
Strategy & Business Development
Product Development & Airline Marketing
Revenue management and Route Planning
Industry Analyst - Aerospace & Defense
WASEEM AHMED KHAN
More than 8 years of work experience in syndicate and custom research assignments. Experience across a broad range of aerospace industry, covering the full supply chain. Furthermore experience of working on new emerging technologies in the industry like commercial drones and urban air mobility.
Specific expertise in:
Business Analysis
Competitive Intelligence
Strategic Marketing
Technology Scouting
Trend Analysis
The aerospace industry is witnessing transformational changes, driven by an unprecedented growth in aircraft production rates. Aircraft integrators put pressure on OEMs and challenge their business models, by investing in their own production capabilities, across avionics, cabin interiors and actuation systems. At the same time new competitors from emerging markets and adjacent industries are looking to take advantage of OE growth opportunities and an attractive aerospace aftermarket.
In this environment, new technologies and innovative products are also having a significant impact on the supply chain. Integrated data platforms are using advanced analytics to make sense of aircraft operational data. Artificial Intelligence is also used in predicting operational performance and component failures, reducing disruptions and improving reliability.
Frost & Sullivan's Aerospace Research Team helps clients understand the challenges and opportunities created by such widespread transformation. Our team delivers knowledge-based, results-driven services and solutions to clients. Our comprehensive and actionable insights help clients to develop and deliver effective long-term strategies.
We continuously monitor overall dynamics and drivers, challenges and restraints, forecasts and trends, key segments/technologies, competitor profiles and market shares. Our robust qualitative and quantitative research framework is designed to help clients achieve both tactical and strategic imperatives essential for organizational growth. We work with aircraft integrators, supply chain OEMs, aftermarket suppliers, IT companies, financial institutions, and technology start-ups, offering them in-depth assessments focused on growth opportunities emerging from disruption, transformation, and innovation in the aerospace industry's ecosystem. Our critical information enables strategic clarity in decision making, competitive positioning, and growth acceleration. Customized consulting projects and strategy workshops enable clients to gain insights into emerging events with strategic relevance/implications for the future direction and development of their respective segments. Our projects leverage our global reach, industry experience, and rigorous research methodologies to support clients across the growth continuum from ideation to implementation. Frost & Sullivan's Aerospace Research Program can support your organization in each of the following areas:
Development, feasibility analysis, and implementation of new aerospace aftermarket solutions
Benchmarking, development, and adoption of new business models
Competitor benchmarking across OEM and aftermarket segments, assessing industry best practices and strategic plans of incumbents
Development of go-to-market strategies through product, pricing, and competitive analysis
Support in designing and delivering strategies to penetrate emerging markets
Assessment of the impact and revenue opportunities from new aerospace market segments, such as digital data platforms, civil UAVs, UTM and electric VTOL aircraft
Frost & Sullivan's Aerospace Research Team specializes in conducting interactive, customized growth workshops for our clients. We focus on building cross-functional capabilities and supporting clients to effectively convert conceptual information into real-world implementation.
Our team has successfully run several workshops, including working with:
A major aircraft integrator to help restructure its business units and create a more flexible, agile organization
A US-based tier 2 component supplier to help it establish a presence in European aerospace markets
A European Tier 3 OEM, looking to identify opportunities to expand its portfolio of aerospace products
Expertise Areas
Frost & Sullivan's expertise in aerospace research and consulting includes
work in the following strategic and operational areas:

Avionics
The market is impacted by aircraft OEMs ramping up production and by the rapid growth of emerging avionics markets such as China, India, and Russia. Our research covers the commercial avionics market for communication, navigation, surveillance, and integrated systems.

Cabin Interiors
The aircraft cabin interiors market is driven by production growth and innovative cabin designs, with an emphasis on improving passenger experience and functionality. Our research tracks commercial aircraft cabin products, such as seats, galleys, lavatories, and other components.

Electrical Power Systems
The ongoing electrification of commercial aircraft is part of the "More Electric Aircraft" concept. Our research covers markets for electrical power generation, conversion, distribution, and storage.

In-Flight Entertainment and Connectivity (IFEC)
The market is currently split between in-seat systems and wireless content delivery on passenger portable devices. Our research monitors commercial IFEC systems, covering hardware, software and content markets, as well as satellite connectivity systems.

Air Traffic Management (ATM)
The market is being disrupted by remote towers and the digitalisation of operations. Future opportunities include the integration of drones into national air space, as well as the emergence of urban air mobility in the form of electric vertical take-off and landing (VTOL) aircraft. Our research includes ATM segments such as communication, navigation, and surveillance.

Maintenance, Repair and Overhaul (MRO)
An important trend that we track is the emergence of MRO 4.0, defined by the digital transformation of technical operations, smart workshops, and the evolution of predictive maintenance tools. Furthermore, witnessing the growing importance of OEMs in the aftermarket and the large order books of airline customers in emerging markets, global players are increasingly looking to establish a local footprint through collaborations, joint ventures, and mergers and acquisitions. Our research covers aircraft line, light, and heavy maintenance markets, as well as component repair and overhaul, modifications, and engine maintenance.

Digital Services
Digital technologies are creating disruptive growth opportunities for the aerospace industry. Our research team captures the evolving digital strategies of aerospace OEMs, from Industrial IoT (IIoT), Big Data platforms, and predictive operations, to flight operation optimization tools and visualization products.

Aerospace IT
IT solutions are critical to improving infrastructural and operational efficiencies, and streamlining service provision. Aerospace IT solutions—from traditional Enterprise Resource Planning (ERP) solutions, Product Lifecycle Management (PLM) software, and in-service support tools, to 3D simulation for product, supply chain and factory management—are now targeting aerospace suppliers.

New Market Segments
New market segments will have a tremendous impact on all aerospace suppliers in the next 20 years. Our research team identifies and monitors some of these key segments, including unmanned air vehicles (UAVs), electric vertical take-off and landing vehicles (VTOL), and supersonic aircraft.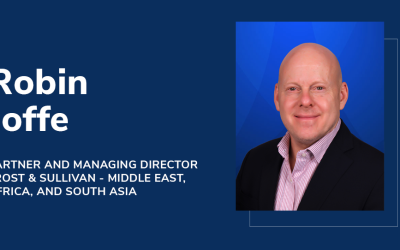 Dubai, UAE, May 10, 2022 – With an aim to better serve an increasingly strategic customer segment, Frost & Sullivan has appointed Robin Joffe as Partner-Managing Director of its Middle East, Africa, and South Asia (MEASA) operations. He brings over 25 years of...