Innovation Foresight - Our Publications
The Visionary Innovation Research Groups' publications present our visionary thinking on most important trends and topics that will influence the world today and shape our tomorrow.
Through extensive research and rigorous analysis, our team discusses thought-provoking facts and scenarios of the next decade that are essential for companies to consider. Our viewpoints are substantiated by market value estimates, opportunity analysis and case studies on groundbreaking ideas and breakthrough concepts that have become redefining practices for businesses today. Browse through our reports to view the trillion dollar opportunities created by Mega Trends and insights into what the visionary companies are working on.
How we can support and grow your future?
From strategy through execution, Frost & Sullivan delivers a visionary perspective on different industries and business verticals that allows its clients to track and analyze Mega Trends, sub-trends, and market disruptions. The team has developed applied and refined methods for delivering a comprehensive 360 degree perspective on future markets and trends that is powerful and unique.
Frost & Sullivan is not your typical trends forecaster:
With over 50 years of research experience, Frost & Sullivan's strategic trend development is based on in-depth analytics, balanced approach, recommendations and bold predictions through a cache of ethnographic approaches, quantitative tracking, expert panels, and more. Our analysis and consulting teams contribute to both regional specific insights and global aggregated perspectives that enable us to capture the "so what" implications tailored to each client. We further provide outcome-based scenarios that facilitate direct decision making.
Frost & Sullivan is not your typical consulting company:
As a major research firm, we generate critical data points, market insights and analysis with a clearly defined Macro to Micro approach that assists our clients to move from the big picture scenarios and trends to core specific implications pertaining to regions, industries or firms. Clients that work directly with the Frost & Sullivan Visionary Innovation Team benefit from very futuristic world class research and consulting services and further have direct access to analysts who provide some of the most intriguing, out-of-the-box strategies and recommendations. Our analysts are known to provide our clients with a deeper and a more nuanced approach for their growth strategies that allows them to look into newer untapped markets with scope for revenue generation through new business models.



Visionary Innovation Research
Generation Z as Future Customers, Forecast to 2027
Generation Z currently makes up 24% of the global population and are set to have significant spending power. This "digitally native" population cohort, born between 1993 and 2007, will be an important customer base in the future. This age cohort is expected to be the most ethnically diverse and…
Mega Trends in Nepal, Forecast to 2025
Nepal entered a phase of high economic growth of 7.5% in 2016-17, recovering from low economic growth post-earthquake and trade disruption. Nepal is undergoing significant economic transformation, uncovering investment opportunities across a wide array of sectors. The country seeks to sustain the…
The Future of Insurance
This study looks at the changing landscape of the insurance industry in terms of emerging insurable markets, new business models, evolution in operations, and the value chain, as well as disruptors and opportunities to various lines of insurance. Readers of the study will come away with insight into…
Asian Innovations in Logistics, Forecast to 2030
Innovations in logistics are aplenty with APAC fueling a lot of this activity from its home ground. From self-running trucks to automated contracts, the supply chain is ripe for innovation and homegrown APAC start-ups are plowing the way. The market is seeing the rise of these new breed of…
Supply Chain Thematic Viewpoints, Forecast to 2030
Technological revolutions in the logistics space have resulted in minimizing the current complexities and creating new opportunities for value-chain participants. Key future themes, including artificial intelligence, autonomous technologies, digital platforms and Blockchain are expected to create…
Future of Personal Robots AI Advancements Drive the Use Case of Robots in Personal Environments, Forecast to 2025
Expanding use cases of autonomous solutions are expected to make future homes very smart. Evolution of Artificial Intelligence will entail the use of robotics across myriad functions that cater to various industries. The increasing number of start-up firms and M&A activity parallels the growth…
Digital Platforms and New Business Models in Global Aerospace, Defense and Security Market, 2018
This study will benefit those who are interested in learning about the evolving business models in the aerospace, defense, and security industries. This study discusses the key aspects of the transformation of business models in the digital economy and how companies are aligning their strategy to…
Future of Global Digital Reality Market, Forecast to 2021
The immersive technology market, including augmented and virtual reality, is expected to see huge growth in the next 5 years. Technological advancements such as 5G and artificial intelligence will transform the augmented and virtual experiences in the future. 5G will bring improved mobile broadband…
The Future of Drilling Systems
Upstream oil & gas is increasingly focused on cutting costs and improving recovery rates through radical innovation and digital transformation. Our Future of Drilling Systems study provides an overview of emerging technology areas, industry shifts, company profiles, and ensuing business model…
The Future of Last-mile Delivery Bots
The logistics market is currently undergoing a major transformation with new innovative solutions determining the way goods are being delivered from point A to point B. The market is witnessing influx of new breed of tech-savvy startups that are coming up with unique business models and services…
Our Methodology
Our Macro to Micro methodology is an output driven process that provides clients with a link between mid- to long-term trends and the precise ways in which companies will be impacted today. Our team tracks the evaluation of each Mega Trend over time, continually analyzing and identifying sub trends that are driving that trend. We then look at how the sub trends will affect various industries, assessing the degree of importance, certainty, and unique implication of the trend on each industry. Drilling deeper, we work with clients to understand the direct effects on their products and technology. Finally, we identify future areas of focus for investment and development that will best position the organization for success.
Our visionary approach includes three important aspects – analytical, balanced and co-creative:
Analytical: Our insights are based on industry leading intelligence that delivers more reliable and accurate outcomes. The Frost & Sullivan's research team closely associates and communicates with business leaders from all walks of life – C level managers such as CEOs and directors; prominent venture capitalists; theoretical physicists, research and educational institutes across the globe. This allows us to build and deliver strategies pertaining to the immediate, midterm and long term time spans ranging from five to twenty years into the future.
Balanced: We are dedicated to providing our clients with very futuristic long-term trends and visions that assist them in driving strategic initiatives and exploring newer opportunities. Our analysts are committed to work closely with clients to build future vision road path, not only guiding them but also assisting them in prioritizing initiatives based on the viability of trends and challenges that firms face and how compelling the opportunity is expected to be.
Co-creative: Frost & Sullivan is known to leverage expertise in a co-creative environment through its collaborative workshops and consulting engagements. Our hands-on tools, methodologies and functioning help us to create value driven solutions that are considered as core catalysts in providing systemic innovation.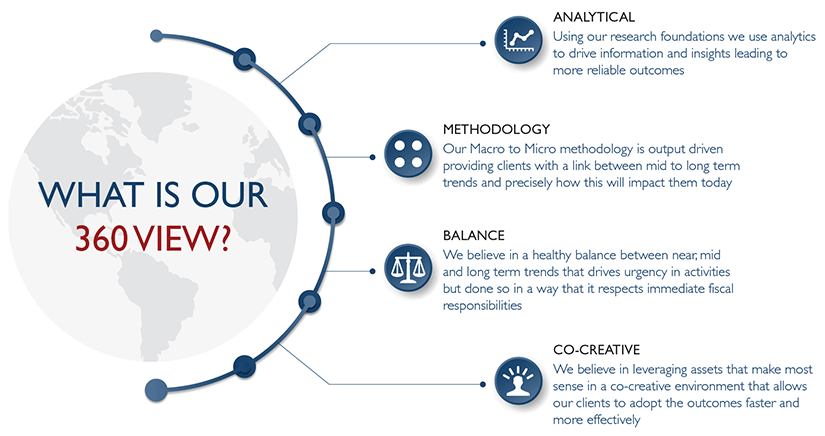 Our Research Thought Leadership
Our Visionary Service Content has three perspectives– Global, Regional and Industry- to drive your team's future knowledge.
Global: Global studies provide analysis and updates on key emerging topics. Mobile Robotics, Connected Living, Urban Logistics, Future of Bricks & Clicks, Future of Smart Cities are examples of some of the major annual global study updates that Frost & Sullivan is known for. Our global research studies consults, and programmes are focused with an objective to assist clients to transform their organization to cater to newer competition.
Regional: We also perform in-depth analysis of global Mega Trends in key geographies. Future trends in Africa, India, China and the UK are some of the major studies that have received massive traction. Analyzing newer economic trends and emerging markets will assist our clients in addressing where the next new market opportunities lie. Our macro to micro analysis highlights key trends such as urbanization, infrastructure and connectivity to provide our clients with new investment strategies and divestment of core businesses to new regions thereby paving the way for newer growth channels for firms that are looking to expand their business lines.
Industry: Our services further include delivering research on niche industries and personalized consulting projects with major clients. Some of the current hot topics are car sharing, mobility and 3D printing focusing on areas of technological convergence, supply chain, market leaders and penetration, customer needs thereby allowing us to effectively roll out strategies to maximize clients' future investment potentials.