Strategy Optimization - Our Advisory Services
Complimentary to our powerful research content, our dedicated consulting services empower our clients with tailored information to address their specific needs.
60% of companies that will not see a ten year anniversary
Our Client understand that effective mega trend planning supports long term sustainable growth and drives a culture of innovation.
This acts as a form of insurance policy against future disruptive events that could impact gorwth both positively and negatively.

You are having difficulty finding white space growth

Your industry in fundamentally changing

You have a sub optimal innovation pipeline

Innovation is not an organizational mindset

New business models evade you but not others

You have no plan beyond 3 or 5 years

Organizationally you have become slot to react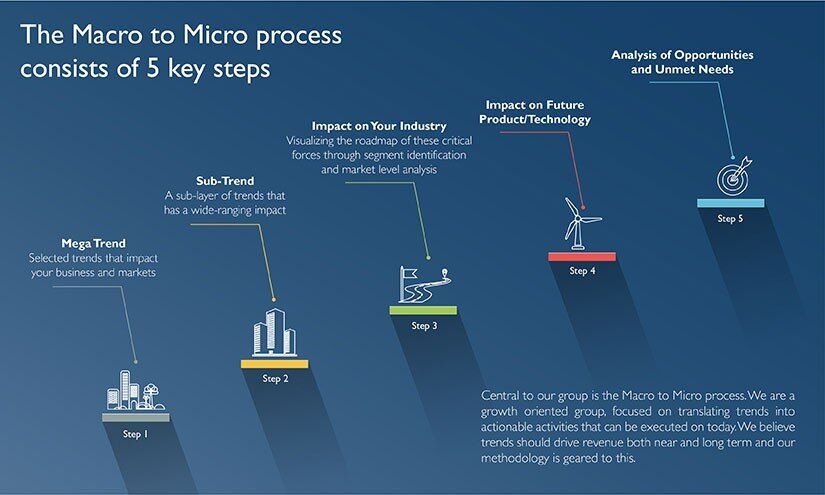 Step 1. Identify the Mega Trend and the sub trends within the Mega Trend. For instance it is important to understand that urbanization has three major sub trends of mega cities, mega regions and mega corridors which sustain the Mega Trend and drive the changes to the society. Use a data gathering tool to help collate and prioritize the immediate findings.
Step 2. Once the sub trends are identified, evaluate the implications to your industry. It is important to remember that you need to clearly define what business you are in. Car companies are not in business of making cars but in the market for providing personal mobility. Therefore evaluate the impact of the Mega Trends and its sub trends to personal mobility first if you work in the automotive industry. Create multiple of the Mega Trend and analyze the implications of the identified trend. For example, with cities of populations of over 15 million, commuters will need integrated, multi modal transport systems which provide point to point journey solutions.
Step 3. Once these scenarios are created, you must evaluate their impact to your industry and business, and size the market opportunity. Mega cities could provide opportunities for developing city cars which are positioned and targeted to the urban customer. With 60% of the world's population living in cities in future, it definitely is a mass market.
Step 4. Once the product is defined, it is then important to brainstorm technologies that can help you tailor the product or solution to the Mega Trend. It is also important to understand the convergence of several Mega Trends as most trends are connected and intertwined which suggests synergetic opportunities. For example cities of the future – thanks to 1200 satellites in space or 5G – will have wireless access, giving the opportunity to provide Internet in city cars or Facebook on wheels.
Step 5. Finally, it is important to understand what your current unmet needs are related to a Mega Trend and how you can innovate and develop new solutions to satisfy customers and industry stakeholders' requirements.
How can Frost & Sullivan secure your future?
It is typical that most projects fall into the following six areas:

Vision Assessment / Evaluation: Using our trends analysis we work with our clients to evaluate the vision of a specific product, technology, strategy or plan. Pressure testing visions using trends allow our clients to understand the geographic possibilities, the sustainability of the vision and the way it may or may not transform your customers.
Future Product Assessment: Products may win or fail based on many factors, but most important is the likelihood that the solution is married to trends that will drive ongoing success. Our market based trends assessments allow you to correlate success by looking at converging industries and the implications for your product to succeed.
Innovation Process Building: Very few entities we encounter have a clearly defined innovation process. It is most often confused with a Research & Development process which is rather about the creation of products. Innovation is more all-encompassing and as much about employee engagement in the entity as it is about creating good ideas.
Ongoing Trends Monitoring: To ensure long term success, many of our clients wish to develop a program to monitor trends over the coming years. This allows a company to better integrate market drivers and restraints faster than the competition by being ahead of developments.
Business Planning & Assessment: Many organizations' business plans have become repetitive and not differentiated. Our solutions in this space drive clients to implement innovative thinking and integrate a 360 degree perspective of the issues that will drive high growth in their business. This creates a more robust, justifiable business plan that is based on mid to long term issues.
Client : Leading Global Chemical Company
Aim and Objective of Project:
Identify the key issues impacting the long term success of the client's business by highlighting specific areas to concentrate product development and business development. The key aim of the workshop was to generate a short list of focused opportunities for research evaluation.
Project Methodology:
Frost & Sullivan deployed a three stage process to create outcomes for this client.
Stage 1: Using our Mega Trends research we identified all the key trends impacting the global chemical business.
Stage 2: Senior management and Frost & Sullivan convened in a growth workshop to analyze findings from Stage 1 and delineate the primary trends and sub trends driving their business over the next ten years. We used a series of analytical tools to perform this analysis.
Stage 3: Once key areas had been identified and agreed on, our team created forecasts and roadmaps for each area based on potential impact and likelihood to succeed.
The project involved using various Frost & Sullivan resources from both primary and secondary sources.
Results:
Our client through our process identified several key areas for growth that have been explored in further research. Each of the opportunities is in the R&D process and going through diligent IP analysis and technology scouting. It is anticipated that 75% of the opportunities will reach the market.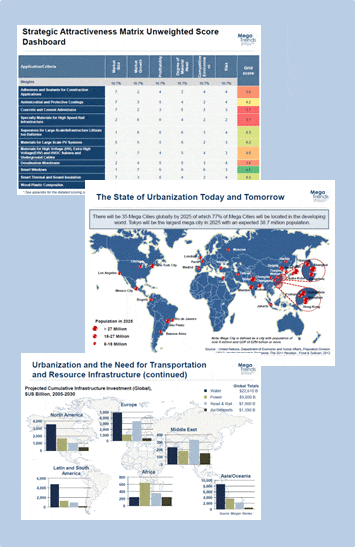 ---
Client : Leading Global Industrial Company
Aim and Objective of Project:
Bring together the 80 global heads of this worldwide pump company to explore areas of product development and to feed an ongoing system of innovation at the company using a standard methodology.
Project Methodology:
Frost & Sullivan deployed a two stage process to create outcomes for this client.
Stage 1: First we profiled the current product pipeline approach to familiarize ourselves and identify best practices already in existence.
Stage 2: We convened the 80 heads together for a three day growth strategy session that focused on using real time examples whilst teaching a portfolio innovation process. This included Frost & Sullivan presenting key market and trends information first. We then used live examples to educate the management on the new approach to continuous innovation. This approach ensured that we put into practice real initiatives rather than focus on theory.
The project involved using various Frost & Sullivan resources from both primary and secondary sources. The key was the strategy session putting into practice real life situations.
Results:
Our process improved product innovation efforts considerably. The session resulted in a standardized process that generated significant new product areas but also allowed them to see potential failing products. Our methodology is now being used company wide.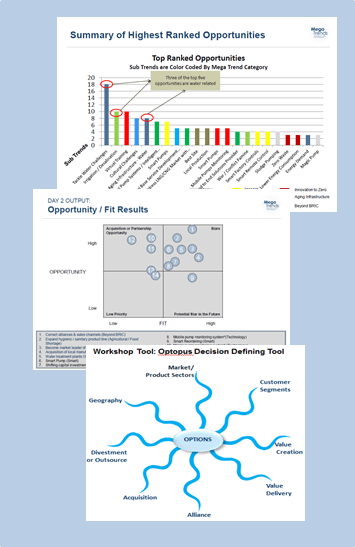 ---
Client : Leading Global Healthcare Company
Aim and Objective of Project:
Create a process that stretches the traditional strategic planning timeframe from 3 years to 10 years, allowing for more innovation.
Project Methodology:
Frost & Sullivan created a collaboration process to address the key developmental areas of the strategic plan. We purely focused on the topic of how to grow the client's core business and also new white space areas for additional growth. To do so we utilized a variety of different tools and research all geared towards integrating long term initiatives into nearer term goals.
Information used varied from market analysis presented to give a grounding on the current status to trends information to identify what may disrupt the traditional plan.
Frost & Sullivan utilized various tools such as the Growth Excellence Matrix and the Decision Support Matrix to refine areas of focus and evaluate them based on risk, cost, strategy, stakeholders and customers.
The project involved using various Frost & Sullivan resources from both primary and secondary sources.
Results:
Our client was able to create a plan that identified how near term activities would impact mid and long term goals. This enabled them to stretch their planning process by focusing on efforts that would have a disproportionately bigger influence on business results over a sustained period of time.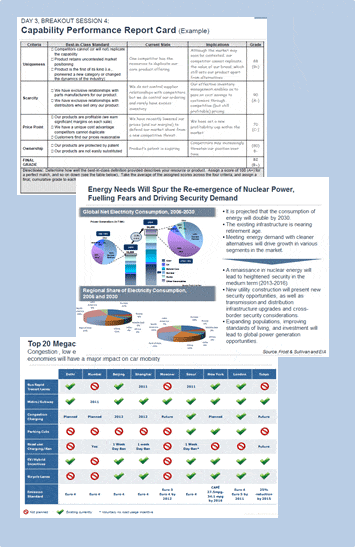 ---
Client : Leading Global Technology Company
Aim and Objective of Project:
Immerse a team of executives in a deep understanding of a region and culture, and prototype new ideas and concepts for quick customer testing.
Project Methodology:
Frost & Sullivan created an immersive experience drawing on multiple types of activities to illustrate challenges. Showed to the right is a workflow of the session. Each component is designed to feed each other to ensure the team has exposure to thought leadership and activities that spur creativity, but more importantly an understanding of how to execute.
A several day process was designed: the first half focused on creating profiles of future needs by visiting and experiencing situations, the second half focused on testing and analyzing each profile. The final product consisted of a series of specific technology needs that identified hard challenges which this client would need to solve in order to create additional value in the future and capture market share.
The project involved using various Frost & Sullivan resources from both primary and secondary sources.
Results:
Following the workshop our client had an established process and clear goals for the long term. Most importantly, management and executives understood the unique challenges of the region and were able to drive future technology development in white space areas.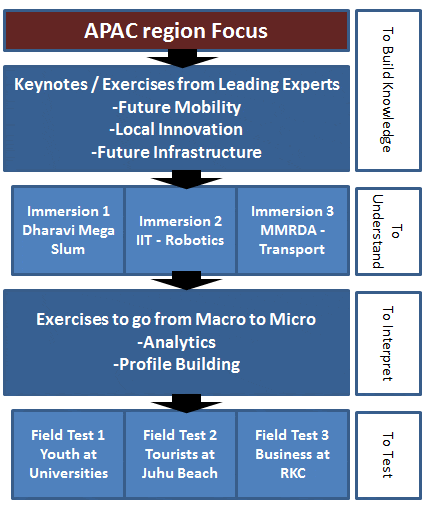 ---
Client: Global Leader in Diesel Engines
The Challenge
The company's R&D department had established a best-in-class process, when evaluated from a lens of incremental innovation, but was facing increasing threats from industry disruptors. The company also needed to enhance its capabilities in longer term innovation and better prepare for converging industries and markets of the future.
Project Objectives
Develop an innovation process and toolkit to allow the R&D group to create a constant flow of innovative and impactful technologies. The focus of the process was to uncover disproportionate areas of R&D growth for the company that would lead to long-term strategies with strong shareholder return.
Our Approach and Work
Frost & Sullivan began by evaluating the company's current R&D process via extensive corporate interviews, as well as a custom survey measuring the perceived importance and application of innovation techniques. This phase was underpinned by Frost & Sullivan's comprehensive Best Practices Library and team, with current client practices benchmarked against innovation best practices and gaps assessed. An innovation toolkit was then developed that addressed 12 areas of improvement and included 35 tools. A process for integrating the tools into the annual process was recommended as well. To ensure success of the toolkit, a collaborative tool testing workshop was conducted in order to gain feedback from the client and refine tools as needed. The completed toolkit was supported with both manager and executive training to ensure understanding and shared objectives.
Outcome and Business Impact
The client immediately began incorporating the tools into their process, which resulted in a significantly enhanced, more robust consumer and market perspective. The process also led to a more balanced short and long term R&D portfolio.