Biomedical adhesives promise more efficient and less painful wound closure as compared to conventional wound closure tools
Staples, sutures (absorbable and non-absorbable), ligatures, and wires are all too familiar to experienced general and orthopedic surgeons. Conventional closure methods for surgical and traumatic wounds have several advantages, but they also pose practical difficulties by being time-consuming in application, and require exceptional skills as an art. Moreover, being invasive to the target and surrounding tissues can be significantly painful, physically stressful, and prone to infections.
Certain body sites are complicated by diverse body fluids (apart from blood and serum) – bile, intestinal contents, feces, cerebrospinal fluid, infectious discharges, and so on. Mechanical methods (such as sutures and wires) may not be able to completely close such wounds, and leave gaps that are at risk of leakage and intense hemorrhage.
Polymeric adhesives and sealants are tested and certified for bio-applications. Also called bioadhesives or biomedical adhesives, they involve direct contact with the patient's body that is, skin, organs, tissues, or blood. Biomedical adhesives include tissue adhesives, hemostatic agents, and tissue sealants. Bioadhesives targeted at conditions that are internal to the body (intra-corporal) are formulated to be effective, safe and non-toxic despite direct contact to the internal environment including tissues, organs, blood, and other body fluids. Such conditions include chronic organ leak repair and bleeding complication reduction.
Though the definitions of external and internal bioadhesives are not very well demarcated, the specifications for internal bioadhesives when compared to external bioadhesives, are expected to be more stringent in terms of biocompatibility and adhesiveness and bond strength to wet surfaces/environment. External bioadhesives are expected to have higher specifications for bonding or closure time and intensity or durability.
A major advantage of medical-grade adhesives is that they can prevent fluid leakage for surgical incisions and wounds. Medical adhesives and sealants that are clinically demonstrated to reduce the healing time and that are also inexpensive will have a higher potential for growth. Developers are also keenly working on applicator and dispenser designs for their bioadhesive products, as the efficacy of a bioadhesive can critically depend upon the functional efficiency of the applicator for success in the surgery room.
Key desired attributes for biomedical adhesives are listed below:
FDA-related combination of bench testing, biocompatibility, animal testing, sterility, and labeling
Efficient bonding of target tissue without leakage into other areas
Wound closure must be robust without dehiscence over time
Lack of adverse tissue reaction and chemical burns
Lack of infection
Lack of applicator malfunctions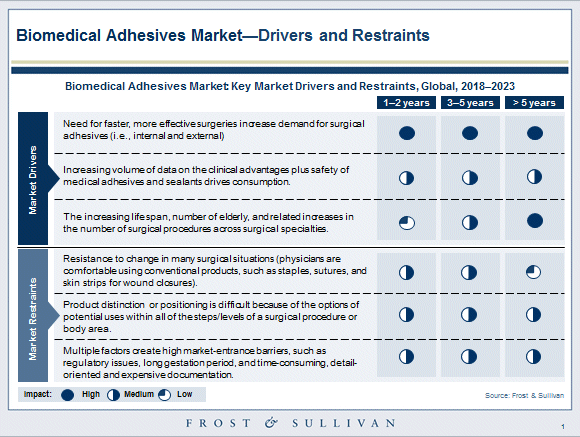 Applications for biomedical adhesives cut across various healthcare practices due to diversity in natural and synthetic materials
Commercially, biomedical adhesives and sealants typically include bonding and sealing materials that are used in the following medical practices:
Internal medicine
External medicine
Dentistry and orthodontics
Other medical practices
Biomedical adhesives may be based on synthetic or natural materials. Synthetic materials include cyanoacrylates (for example, Ethicon's Dermabond, B. Braun's Histoacryl), polyethylene glycol/PEG (for example, Baxter Biosurgery's Coseal), acrylics, polyurethanes, epoxies, and other polymers. Natural sourced adhesive materials are mostly based on proteins and peptides such as fibrin (for example, Baxter Biosurgery's Artiss and Tisseal), thrombin (for example, Omrix/Ethicon's Evithron, Baxter Biosurgery's Floseal), albumin (for example, CryoLife's BioGlue combines purified bovine serum albumin and glutaraldehyde), collagen, and some lysine and other amino acid based derivatives. Cellulosic ethers (for example, hydroxy ethyl cellulose, hydroxy-propyl methyl cellulose, carboxymethyl cellulose) are natural and originally plant based adhesives.
Cyanoacrylates and PEG are the two major polymeric bioadhesives with high growth potential, due to their superior and competitive biological profiles, safety, biocompatibility, and ease of application. Cyanoacrylates can be developed into tissue adhesives or wound closure adhesives that form a strong bond across apposed wound edges, allowing normal healing to occur underneath the adhesive film.
Emerging adhesives include blended adhesives that combine synthetics such as polyacrylic acid with a natural substance such as starch. Some denture adhesives combine naturally derived cellulose ethers (CMC/carboxy methyl cellulose) with polymers such as vinyl ethers. Examples of denture adhesive brands are Poligrip, Secure, Sea-Bond and Fixodent.
Sealants are usually based on fibrin, collagen, and a few synthetic polymers. Hemostats and sealants are similar in action, though sealants have a wider activity. Hemostats are biological products that stop blood loss, while a sealant typically helps in preventing air, fluid, and blood leaks from the specific injured tissue. There is a growing demand for sealants in comparison to existing hemostats that have a narrower scope.
Biomedical adhesives with greater validation for biocompatibility, ease of application, non-irritating to tissues, low risk of hypersensitivity, and forming stronger bonds or seals are opening niches in challenging medical and surgical applications. In case of bioadhesives, the product life cycles are expected to be fairly long compared to materials in other medical sectors, mainly due to their wider scope of applications, making the market stable in terms of growth, margins, and expectations.
The North American medical adhesives and sealants market is estimated to be more than $180 million in 2018, growing with a CAGR higher than 10%. In the United States, 50-60 million inpatient surgeries are performed every year. Of these, cardiovascular surgeries are over 7 million, and digestive system surgeries over 6 million.
Musculoskeletal system surgeries are over 5 million in the US, among which, orthopedic and joint replacement surgeries are increasing in frequency due to their higher success rates and patient benefits. Over 1 million each of the following surgeries are performed – integumentary (skin) system surgeries, nervous system surgeries, respiratory system surgeries, and urinary system surgeries. Other significant surgeries are eye surgeries, ear surgeries, nose, mouth, and pharynx surgeries. Cosmetic and plastic surgeries that are related to the skin and superficial organs and tissues are the growing application areas for biomedical adhesives and sealants.
The aging baby boomer population is also contributing to an increase in road and workplace accidents and trauma in the United States, driving the demand for innovative and more efficient materials to formulate medical adhesives and sealants.
Internal medicine is a major sector with a high potential for growth. The top three primary application areas for medical sealants are: cardiothoracic surgery, vascular surgery and neurosurgery. Cardio-surgery is expected specifically to contribute to this sector's revenue increase. Customization of adhesives for target-specific applications, such as spine sealants and vascular sealants, is a growing trend in the market.
In addition, a growing demand exists for sealants used for preventing wound infection and for ensuring a faster healing process. Difficult to treat wounds that are associated with chronic and/or bed-ridden patients (and need biomedical sealants) include diabetic wounds and bed sores.
Dental adhesives and sealants is a well-established market, which is expected to grow at a slower pace than other market segments. More than 90 percent of U.S. adults have some degree of dental caries that benefit from fillings. The aging population also has a tendency to opt for dentures that need denture specific adhesives. Pit and fissure sealants are expected to will have strong gains as a result of the role they play in cavity prevention.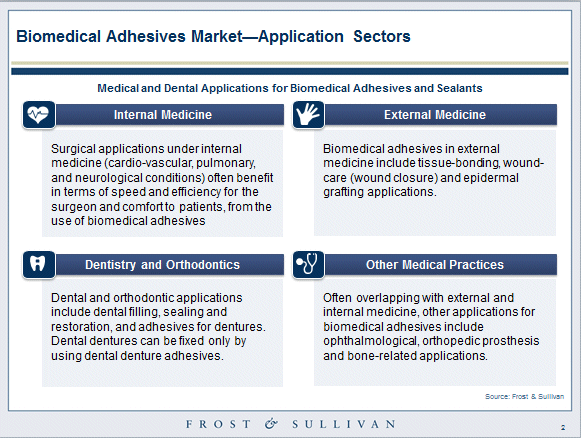 Regulations and industry standards for biomedical adhesives revolve around efficiency, safety, and lack of toxicity and hypersensitivity over the short and long terms
Regulatory standards for biomedical adhesives and sealants industry are stringent as they are connected to healthcare, with regulations overlapping with FDA rules and regulations for drugs and pharmaceuticals. Their applications being medical or biological, they are required to meet specific biocompatibility standards. The key approval needed is from the U.S. Food and Drug Association (FDA), and industry participants consider these specifications as basic.
According to the FDA, special controls (when combined with general controls) are needed to provide reasonable assurance of the safety and effectiveness of tissue adhesives used in the topical bonding of skin. For bioadhesives used topically, conforming to the general controls of the Federal Food, Drug, and Cosmetic Act, including the premarket notification requirements must be complied with. Additionally, addressing the specific health risks associated with the tissue adhesive for the topical approximation of skin is required.
The risks associated with tissue adhesives (and thus needing assurance of avoiding or mitigating) by the FDA include:
Unwanted bonding or product leaks into eyes
Bond failure and wound dehiscence
Adverse tissue reaction and chemical burns
Infection
Applicator malfunctions
Consequently, the recommended mitigation measures from the FDA include a combination of bench testing, biocompatibility, animal testing, sterility, and labeling.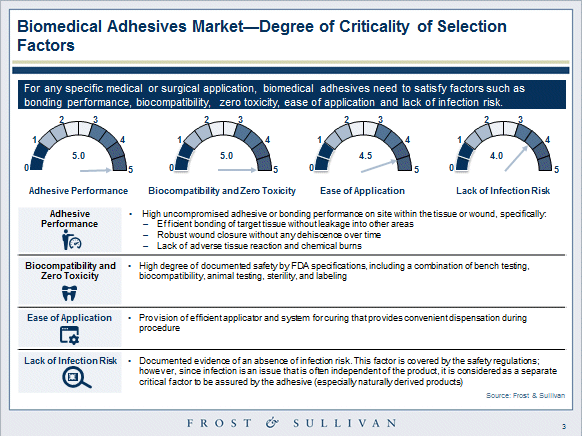 Conclusion
Natural and synthetic biomedical adhesives are gaining prominence among surgeons, dentists and the medical community in general, while patients are benefitting in terms of faster healing with less pain and inconvenience. There is an increasing body of medical research on biomedical adhesives establishing that they are more efficient and less painful in wound closure as compared to conventional wound closure tools. The range of applications for biomedical adhesives cut across various healthcare practices (for instance, dental, internal and external medicine, orthopedics, and plastic surgery) due to diversity in natural and synthetic materials. The regulations and industry standards for biomedical adhesives revolve around efficiency, safety, and lack of toxicity and hypersensitivity over the short and long terms, with a focus on preventing unwanted bonding, bonding failure and wound dehiscence, adverse tissue reactions, infections and applicator malfunctions.