Climate change, finite resources, and public health demand impact every country, every company – large and small – and every person on this planet. Does your business have a plan when it comes to sustainable growth?
Growth Opportunities: Sustainability Edition
All organizations have a stake in developing effective sustainability plans that can lead to significant benefits. By partnering with Frost & Sullivan, organizations can identify growth opportunities that drive an increase in profitability, efficiency, and cost savings, while reducing product waste. Our experts can help measure, analyze, and track growth progress with the ultimate result of minimizing the impact to on the environment.
Sustainability Tracking & Reporting
Sustainability Assessment/Audit
Sustainability Analytics
Sustainability Reporting
Regulatory Assessment
End-to-end Visualization
Sustainability Benchmarking
Operational Benchmarking
Sectoral Benchmarking
Sustainability Sourcing & Procurement Strategy
Sustainability Assessment/Audit
Sustainability Analytics
Sustainability Reporting
Regulatory Assessment
End-to-end Visualization
Sustainability Growth Opportunity
Market Opportunity Analysis
New Value Proposition Development
Customer Analytics
Portfolio Diversification & M&A Support
Sustainability Narrative
Sales and Marketing Activation (Brand and Demand)
Sustainability Strategy & Roadmap
Sustainability Strategy & Roadmap Creation
Transformation Pathway to Decarbonization
Sustainability Investment Advisory
Time to Drive Sustainable Growth
Darrell Huntsman, Frost & Sullivan CEO, sits down for a fireside chat about Growth Opportunities in Sustainability with Ravi Krishnaswamy, APAC.
What's Your Sustainability Story?
Sustainability represents both a challenge and an opportunity for all businesses. Corporations struggle to tell a compelling story around their sustainable agendas, and often focus on an intellectual angle supported by trends and data points. Frost & Sullivan can provide unique insights and help you connect the dots around challenges, opportunities, and what it means to your customers, where powerful narratives can derive from it.
Building Your Narrative: Hot Topics
Global organizations are increasing investments in sustainability, and with good reason: Social responsibility, government legislature, innovation and the rise of smart cities have brought sustainability to the forefront, but where should you focus your agenda?
As companies become increasingly aware that their manufacturing, distribution, supply chain and sourcing decisions have critical environmental and human impacts, two foundational components rise to the top: Decarbonization and the embrace of the Circular Economy.
Making Decarbonization Happen
Decarbonization refers to the steady reduction of CO2 emissions and eventually its elimination. The deployment of decarbonization technology aids emission-intensive industries in minimizing carbon emissions and meeting net-zero emissions protocols in the long term. To cut down carbon emissions and combat climate change, governments across the globe are counting on the five pillars of decarbonization: the rise of renewables, hydrogen economy, direct electrification and renewable heat, carbon capture utilization and storage (CCUS), and energy efficiency.
Principles of Circular Economy
The circular economy, in contrast with the prevailing linear economy, promotes the efficient use of resources and cleaner production methods in the production and consumption of goods and services.
This restorative and regenerative economic model ultimately aims to use zero virgin resources in manufacturing and industrial processes and create a closed-loop system when it comes to using resources.
Let us be your guide to sustainable growth
Let's Connect
Learn more about Sustainability, its inherent growth opportunities, and how Frost & Sullivan can partner with your company to build and implement an effective, powerful Sustainability Agenda. ​
Thought Leadership on Sustainability
Translating Sustainability into Growth
Explore trending technologies and services across the sustainability spectrum. Frost & Sullivan has global, deep expertise to help address your needs.

Sustainability Services
Actively engaged in identifying, researching, and developing opportunities, growth models, and strategies that enable clients to accelerate growth.

Circular Economy of Waste to Value
Municipal Waste, Plastics Recycling, Hazardous, Waste Electrical & Electronic Equipment (WEEE), Construction & Demolition (C&D), Waste to Energy Plants, EV Battery Reuse and Recycling.

EIoT (Environment Internet of Things)
IoT enabled solutions and Software as a Service (SaaS) for Smart Cities, Real-time monitoring, Sensors, Cloud, Big Data, Artificial Intelligence, Blockchain, EHS and Supply Chain Software Services.

Industrial Water Services
Water intensive and water critical industrial sectors such as power generation, oil& gas, mining, food & beverage, pulp & paper, petrochemicals, textiles and tanneries, pharmaceuticals, semi-conductors.

Smart Water Utilities
Drinking Water and Wastewater Treatment, Asset Management, Smart Water Metering, NRW /Leakage Management, Sludge Treatment and Resource Recovery, Treatment Chemicals, Pipeline Network Rehabilitation and Management.
Global Expertise on Sustainability Needs
See what's next on the Sustainability Front
Frost & Sullivan has a dedicated Sustainability Practice Area that monitors trends, competition, industry convergences, technology intelligence, decision support, actionable insights and growth strategies. We leveraged our global, cross-functional expertise and proprietary frameworks to build an extensive database of published reports, Frost Radars, and information on topics like the ones below. Fill out our contact form to request more information!

Environmental Management
Land and water remediation
Oil spill management
Reforestation

Water and Wastewater Technologies
Water production
Water and wastewater treatment
Wastewater recycling and reuse
Wastewater resource recovery

Air Quality Technologies
Air pollution control
Indoor air purification

Solid Waste Management
Solid waste treatment
Solid waste upcycling
Waste-to-energy
Circular economy

Green Buildings & Services
Energy efficient and net-zero-energy buildings
Heating, ventilation, and air-conditioning
Building energy management
Green building materials
Sustainable cities

Climate Change
Environmental monitoring
Climate change mitigation, including carbon capture
Climate change adaptation
Disaster response and management technologies

Environmental Sustainability
Food-energy-water-nexus
Resource recovery technologies
Sustainable agriculture

Industry Transformation
Energy Transition
Transport Electrification
Material Transition
Defense Energization
Manufacturing
Food & Agriculture

Carbon Services
CCUS
Carbon Emissions Assessment
Carbon Trading Markets
Carbon upcycling
Carbon offset activities
Low Carbon Strategy
Nature Based Solutions

Cities & Built Environment
Smart Cities
Sustainability in Hospitals
Datacenter Decarbonization
Waste Management

Digital Sustainability
Metaverse/Sustainability 4.0
Tech in Sustainability
Tech driven supply chain
Sustainability Cloud
Track & Trace for sustainability

Bio-based Resources
Bioplastics
Alternate fuels/biofuels
Sustainable food ingredients
Bio-based feed stocks

Water Scarcity
Industrial Water Services​
Smart Water Utilities
Check Out Our Latest Research
Corporations and governments are increasing their awareness and activity around mitigating environmental issues, trying to find ways to ensure clean air and water while still growing businesses and economies. New technical solutions can help reduce usage and wastes through smart Water and smart metering for example, which will extend into pumping stations, municipal water, and wastewater treatment infrastructure. Recycling and resource recovery opportunities will be central across several segments as well to help create a stronger business case beyond regulatory compliance. And new opportunities around growing freshwater demand and concerns will help drive markets such as desalination and fracking water remediation.
Frost & Sullivan's Environment and Water program area includes environmental and water technologies & services, both municipal and industrial, as well as waste to energy and recycling.
This global smart gas meter market research service is an update on the 2016 study and will provide insights on the latest developments within the market, including forecasts on unit shipment and associated revenue for all the major regions. The forecast period is from 2016 to 2026, providing a comprehensive view about the timeline for crucial smart meter roll-outs, which…
The global LED lighting market is highly competitive and is driven by the demand for energy-efficient lighting, advanced lighting control, reduced prices and increasing awareness on the potential health benefits to human beings. LED manufacturers are adopting new business models to combat the drastic fall in prices of LED light sources. The global LED lighting market was estimated at $52,139…
Smart thermostats are a key component of the fast-growing connected homes ecosystem. In the next 5 years, the broadening range of products on offer will attract customers wanting comfort, convenience, and energy savings offered with home automation. The improving quality of Wi-Fi in homes will boost the smart thermostat market; it will also benefit from the growth in other connected…
The technologies under evaluation fall into the following broad categories: advanced vapor compression, advanced heat exchangers, emerging non-vapor compression, and integration of energy storage and air conditioning. Within these broad categories, multiple technologies under development have been analyzed. Some of the over-arching themes across these developing technologies include reduced carbon footprints, product and system efficiencies, low global warming-potential (GWP) technologies…
The facilities management (FM) competitive landscape in Australia is mature yet highly competitive. The high outsourcing rate and mature end-user sectors continue to position the Australian market attractively to service providers. The domestic market is led by several established service providers, most of which observed strong performances during 2014-2016, resulting in minimal change in market share during the period. Despite…
The North American energy saving and performance contracting market is currently in the growth stage and is expected to witness healthy growth between 2017 and 2024. The market is expected to grow at a CAGR of 7.34% between 2017 and 2024. A high rate of growth is due to the government support and policy initiatives toward energy performance contracting and…
The Indian smart kitchen appliances market, which includes refrigerators, ovens, hoods, blenders, coffee makers, scales, cookers and dishwashers, is estimated to increase revenue at cumulative annual growth rate (CAGR) of 11.8%; unit shipments will increase at a CAGR of 10.5% during FY2019–FY2026. The study is segmented based on the product types and region (North, South, East, and West). The base…
This research on the European fire detection (sensors and alarms that detect and warn against fire) and fire suppression (water-based, gas-based and foam fire suppression systems) market offers an overview of the fire safety market in Europe for the period from 2015 to 2025. In this research, revenue represents manufacturers' sales of fire and safety products and does not include…
The Singaporean FM market is well developed with a comprehensive regulatory framework in place to drive the market. The strong outsourcing culture across the country, together with a conducive business environment, encourages both local and foreign service providers to establish their footprint in the country. The mature FM market in Singapore experienced strong consolidation trends. Much of the mergers and…
This research service offers in-depth understanding of the practices, challenges, process influencers, and opportunities pertaining to intelligent building (IB) design and implementation. The concept of IBDI processes was examined from the perspectives of building owners, occupants, vendors, service providers, and industry associations. It was found that the lack of efficient design and communication among the key stakeholders was the major…
Switchgear is an integral part of the electrical power value chain. Increase in power demand and replacement of aged equipment in the Transmission and Distribution (T&D) grid infrastructure is driving the demand for switchgears globally. Need for continuous, uninterrupted power supply and to protect the electrical equipment from fault currents, switchgears are employed. Further, they are also a key component…
With the rising penetration of energy-consuming native direct current (DC) loads in commercial and residential applications, and the increasing focus on the adoption of energy-efficient systems to fulfil ambitious national goals, the debate over the relative merits of AC- versus DC- based systems has intensified. Whilst the DC power distribution market is growing at an accelerated pace, it is currently…
The energy and environment industry, once staid and steady, has seen new and rapid changes across the market's varied and increasingly diverse sectors. Renewable energy has now become a significant portion of the world's energy production, natural gas has found multiple adherents and controversies with the expansion of the market through fracking, and services to the industry are evolving to leverage the huge influx of information through the Internet of Things and related data analytics solutions. Energy storage will continue to be a growth market while, further in the future, water and wastewater are likely to be pivotal concerns and opportunities for both emerging and existing economies.
We work closely with the world's largest OEMs, utilities, service providers and IT firms to help them find the opportunities in this sea of change. Tailored, customized solutions provide clients with the best strategies for growth, supported by the right key data points researched to meet the client's needs and the specific engagement. Key projects have included helping clients expand their businesses into new geographies, with new customer groups and by developing new solutions. We can provide services at any point in the business strategy cycle: from ideation to implementation, data collection to strategy creation, the voice of customer insights to marketing services.
Frost & Sullivan's team can support your organization on each of the following areas:
Geographic Expansion
Ideation and Mega Trend Growth Workshops
Voice of Customer and Customer Strategies

Brand and Demand Marketing Outreach and Solutions

New Product Launch
Presenting Thought Leadership and conducting strategy workshops at your yearly business planning or customer events
Sourcing and supply chain development and market analysis.
Project Examples
Supply chain strategy for major utilities, to enable them to better plan budgets and negotiate supplier contracts
Voice of the customer with power plant owners/operators to help an OEM develop new service solutions

Brand and demand suite of services to enable major international conglomerates to target new services to selected verticals

A full analysis of the value chain for fuel cells, generators, steam turbines, gas turbines, wind turbines and solar power to ascertain environmental practices and areas of corporate social responsibility, for a major global standard firm in order to develop a long-term global expansion strategy in the energy industry

Go to market strategies for deploying new and innovative solutions in digital oil fields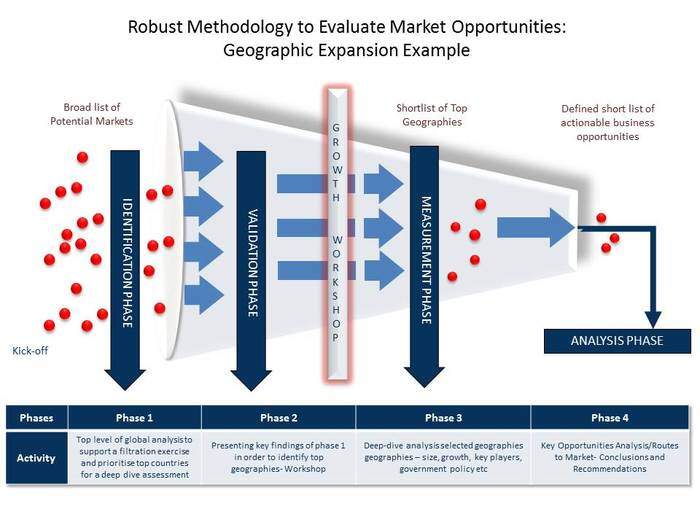 We specialize in running growth workshops with our clients which help us take a cross-functional team of our client, within a span of a day from information to implementation.
Preparation of the workshop includes:
Identify key project stakeholders
Align on the workshop agenda, objectives and activities
Conduct stakeholder interviews/surveys
The workshop itself includes the following:
Share relevant research findings and stakeholder interviews
Hold an ideation and filtration phase to identify the universe of opportunities, then quickly determine those with best fit based on internal and external forces
Conduct an interactive and thorough rating and ranking process to further identify the top one to three go-to-market solutions
Prioritize implementation plans and assign owners for next steps
Post-workshop activities include:
Compile findings and next steps from a workshop
Recommend action steps/follow-on work
Additional services: Provide implementation, integration, and marketing solutions to support the strategic outcomes of the project.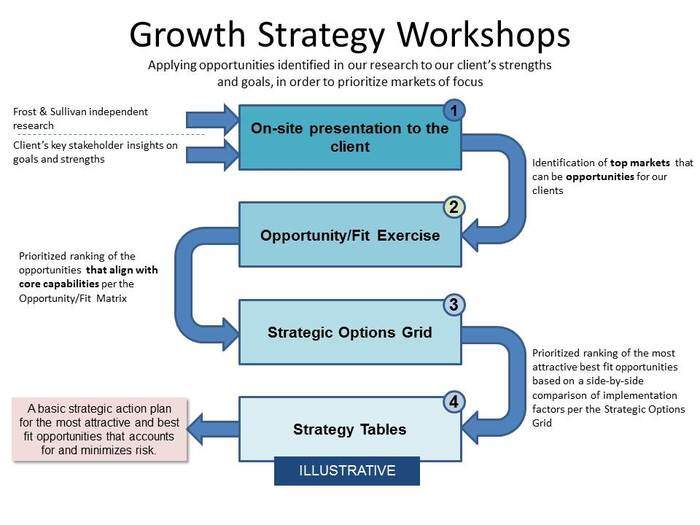 "The report Frost & Sullivan did for us …proved to be invaluable in helping our team understand the opportunities in the market place for our product.  Based on the results, we have the support of our leadership to accelerate efforts and a roadmap where to focus resources."

"Frost & Sullivan ran a strategy workshop with Procter & Gamble to help our New Business Creation teams to understand the developing personal mobility market. The workshop consisted of Frost & Sullivan professionals presenting and informing us of the evolving opportunities across the industry value chain and then facilitating group plenary sessions to explore potential opportunities in this market. We found the information provided very insightful, strategic and tailored to our needs and appreciated the facilitation skills and tools used in the workshop, which helped us achieve our goals. We plan to be engaging with Frost & Sullivan in the future on other areas of interest."
Chief Innovation Catalyst, Proctor & Gamble
"Frost Research is compact, comprehensive, and easy to understand. Most of the reports are presented in presentation form which is easier to be digested compared to traditional report format. The insight information can be utilized to plan technology and procurement strategy to stay ahead from others and to give more value to the stakeholders especially end customer. The interaction with analyst and Frost & Sullivan team is very good and almost prompt responses. Overall partnerships are positive and encouraging. Even some of the topics which are not covered in the Energy and Power are also made available based on our request."
Business Development Manager, Procurement Division, Leading Power Utility Company
"Frost & Sullivan's technical insights reports have been instrumental in keeping me in line with the newest technologies. It will allow me to help develop our products in a way to best serve our future clients."
Vice President & General Manager, Batteries Company
"For almost 10 years, Frost & Sullivan has been our valuable partner in providing high-quality and timely market information for the various industries in which we are participating. We have come to appreciate Frost & Sullivan's research as early and reliable indicators of industry trends that support our strategic decision making. We appreciate the wide range of services offered, the close co-operation we enjoy with their analysts and their ability to quickly adapt to customer needs."
A leading company in Building Technologies
"Frost & Sullivan's team were a pleasure to work with and exceeded the already high expectations we had for this project. It's very refreshing to work with a high group that not only 'get' your business model but are able to challenge intelligently and help crystallize your thinking…we wouldn't hesitate to use them again."