Growth Pipeline
Leverage Growth Opportunities. Transform Your Business.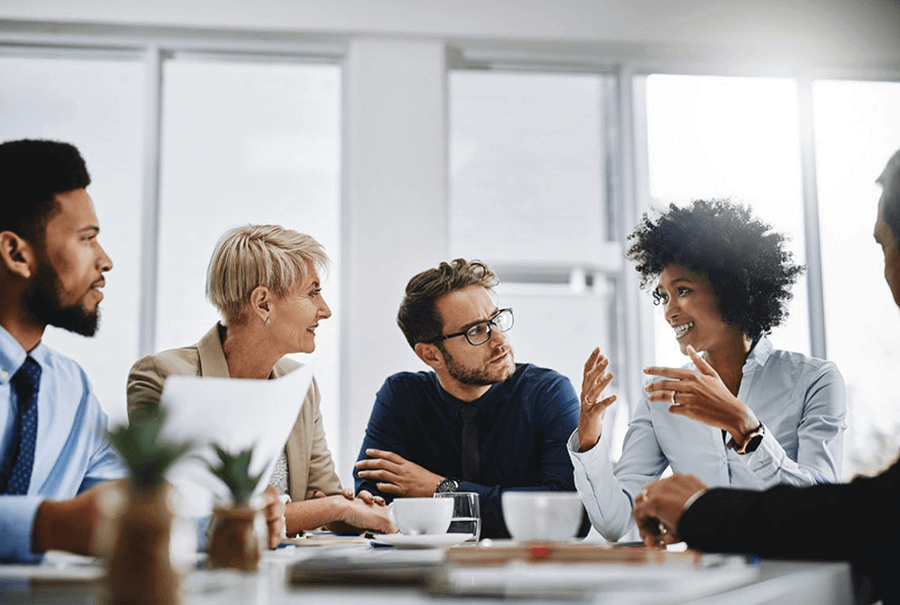 Growth is hamstrung by strategic distraction.
A company whose revenue increases more slowly than GDP is five times more likely to succumb, usually through acquisition, than a company that expands more rapidly than GDP. To outperform competitors and succeed in the long term, companies must achieve top-line growth by competing in the right places, at the right times, with the right solutions.
Frost & Sullivan works with organizations to accelerate their growth by eliminating strategic distractions. We help business leaders answer fundamental strategy questions to build a collective vision of future business, level complex challenges in rapidly changing landscapes, optimize resource allocation, and leverage key growth opportunities.
Envision the Future. Plan the Present.
The Frost & Sullivan Growth Advisory Model lays the foundation for your strategic planning. We accelerate your growth by connecting the five integral phases of business development into a loop of continuous improvement & innovation.
Our framework guides organizations through various challenges – from specific tactical decisions to broader strategy initiatives of different sizes, scopes, and stages. We systematically evaluate your universe of growth opportunities, assess critical business model factors, and connect key milestones to create an action plan for your business.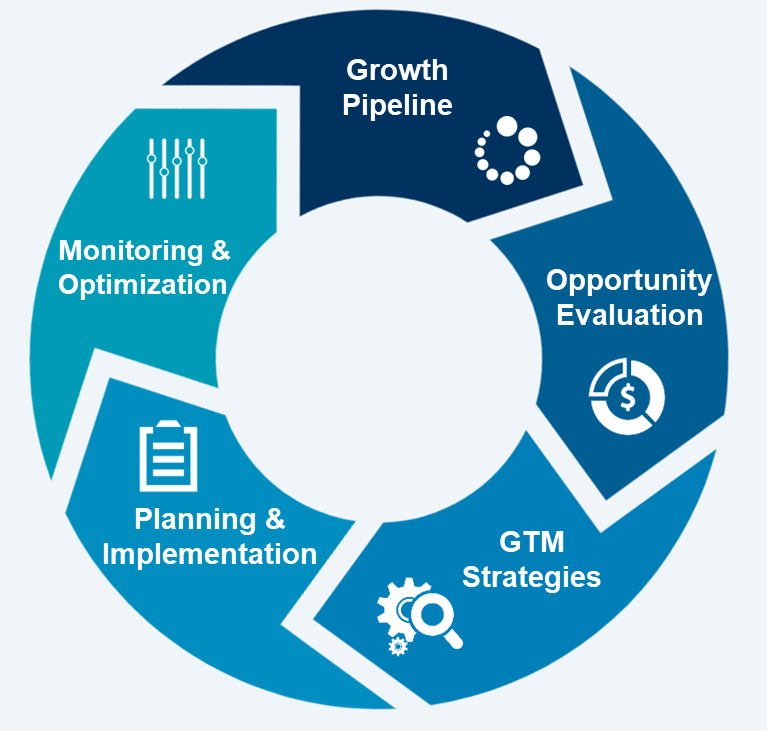 Growth Pipeline
Determination of the opportunity universe.
Opportunity Evaluation
Deep analysis of prioritized opportunities.
Go-to-Market Strategies
Translation of strategic alternatives into a cogent strategy.
Planning & Implementation
Implementation of specific plans with milestones, targets, owners, & deadlines.
Monitoring & Optimization
Optimization of strategies & implementation actions.
The Frost & Sullivan Growth Advisory team will map your current business position to locate your Growth Zone – the strategic space filled with opportunities core to your company's mission.
We pinpoint your Growth Zone by weighting the business landscape against your own objectives and capabilities. The qualitative & quantitative evaluation optimizes your decision-making and eliminates strategic distraction.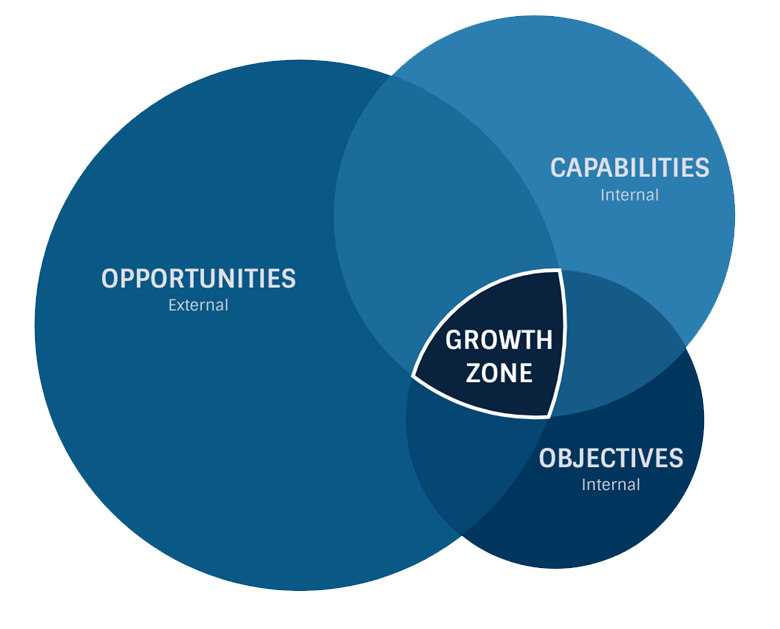 In-depth analysis
Access unparalleled breadth of primary Growth Opportunity Analytics coverage across industries from 800 industry analysts & 40 global locations.
Select interviews
Gain perspective from internal & external sources to build a 360⁰ view of your brand, competitive position, & perceptions.
Data analysis
Create intelligence by systematically evaluating statistical & logical patterns & generate unbiased, data-driven growth opportunities.
Focus groups
Test core hypotheses of potential solutions with live participants. Receive feedback & adjust solutions in real-time. 
OUTPERFORM THE COMPETITION
Differentiation, cost-effectiveness, and sustainability are the core tenets of successful strategies. We help our clients direct time & resources to the key growth opportunities matching their own core capabilities. Our analysis frameworks push business leaders to assess their own strengths, weigh the competitive situation, and formulate appropriate responses. Frost & Sullivan understands how to course correct ineffective strategies, which fail to produce profitable top-line growth, and how to model decision-making & implementing processes to move the needle for our clients' economic and competitive strength.
Competitive
Assess landscape, formulate an optimal response, & produce profitable top-line growth.
Customer
Achieve the ideal level of customer insight, engagement, and communication.
Technology
Overcome the fear of betting on the unknown & incorporate technology into long-term plans.
Partnership
Realize major performance uplifts by connecting with key collaborators & partners.
Product
Assess product viability & determine critical success factors for development and launch.
Expansion
Shorten learning curve & provide a robust pipeline to fuel future growth.
Merger & Acquisitions
Invest in upfront research, detailed integration analysis & coordinate due diligence.
SUPPORT EXECUTION. MAXIMIZE VALUE.
Many companies develop promising growth strategies, only to see them fail due to unsuccessful implementation. Frost & Sullivan guides clients through development & support programs to improve the efficient and successful implementation of your growth strategies. We offer a range of tools, organizational design expertise, and coaching capabilities to help clients assess their implementation skills, identify challenges, and devise improvement strategies. Our Growth Advisory services team supports clients' strategy execution efforts through tailored best practices implementation programs, networking events, and other solutions.
Best Practices
Why reinvent the wheel when you can learn from the experiences of others? Generate major savings in time and money, and reduce risk by avoiding mistakes made by other companies.
Strategic Roadmap
Analyze critical success factors. Outline next steps (i.e. "how to get started) . Highlight key milestones: 1-2 years, 2-4 years, & 4+ years.
Organizational Development
Baseline assessment of organizational potential. Evaluate your executive team's strengths, challenges, strategies, and cohesiveness.
Growth Think Tanks
Interactive, on-site sessions designed to engage & train your team on implementation tools and techniques.
SHORT-TERM GOALS. LONG-TERM FOCUS.
Ultimately, our clients aim to achieve executive-level consensus on the organization's mission and vision. A strategic plan sets an organization's long-term focus, shorter-term goals, objectives, and performance measures. However, strategy is not a static concept. Ritual revisions are required as shifts occur across the market, industry, and world. Thoughtful, measured adjustments ground an organization's growth approach in a reality.
Frost & Sullivan works with business leaders to move an organization forward along its desired path, incorporate change management principles, and foster organization-wide commitment to optimizing strategic performance. Our Growth Advisory Model connects the 5 integral phases of business development into a loop and sets the stage for continuous improvement.
MEASURE PERFORMANCE
Monitor core strategy performance against competitive benchmarks & company objectives. 
FOCUSED ADJUSTMENTS
Focused adjustments data-driven, & tested strategy solutions over time. 
GENERATE INSIGHT
 Leverage measurement insights to optimize your tactics & reinforce your growth pipeline.
PRACTICE INNOVATION
Benchmark innovation practices against industry peers.  Pinpoint high-priority improvement opportunities.
Are YOU ready to embrace transformation?
Frost & Sullivan has six decades of experience analysing industry transformation and identifying innovative growth opportunities. Start your transformational journey that, fuelled by four powerful components, will ensure your success in navigating the ever-changing landscape of your industry.
Schedule a Growth Dialog with our team to dive deeper into transformational strategies and explore specific needs within your company.
Become a Frost Growth Expert in your area of specialization and share your expertise and passion with the community through our think tanks.
Join Frost & Sullivan's Growth Council and gain access to leading global executives and think tanks focused on the transformational growth strategies of your industry.
Designate your company for evaluation as a Company to Action to increase exposure to investors, partnership potential, new M&A opportunities, and other growth prospects for your business.