Mobility Knowledge Partners & Speaking Engagements
Frost & Sullivan is proud to be partnering with leading trade associations and best-in-class event organizers for the Mobility industry. Our regional teams support your marketing activities with latest market research, bring your delegates up-to-date by presenting latest industry developments and take pride in promoting your conference or association to our clients.
HSR ASIA 2023
31 October – 1 November 2023 | Kuala Lumpur

This prestigious event will bring together decision-makers, policymakers, practitioners, rail operators, government, industry experts, and researchers from around the world to explore and discuss the latest advancements, challenges, and opportunities in the high-speed rail and other rail transport systems in the Asia Pacific region.
Jeff Tan, Head of Frost & Sullivan's APAC Supply Chain & Logistics (SC&L) Advisory Practice will highlight the impact of high-speed rail on the airline industry and how airlines adapt to the evolving landscape, where high-speed rail operators have become formidable competitors, in a solo presentation at the event.
The 2-day conference will track the rapid development of growth and network expansion of high-speed rail systems and will offer insights and analysis of the Asia Pacific rail market, covering the current situation, expected new developments, key trends, advanced rail solutions including AI technology, and opportunities. Click HERE for more details.
Car.HMI USA 2023
6 – 8 December 2023 | Dearborn, MI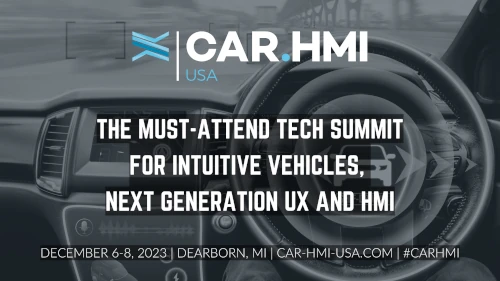 Car.HMI USA, America's leading event on automotive HMI & UX, brings together more than 300 most influential automotive user experience and human-machine interaction development experts and decision-makers. Together, we exchange knowledge, insights, and business ideas for the development of smart, intuitive HMI and innovative user experience in autonomous vehicles as well as future mobility concepts for the automotive industry.