Advanced Medtech Program
Advanced Medical Technologies had conventionally covered the implants, consumables, monitoring equipment, and infection prevention equipment. The sector includes all products that were the bricks and mortars of treatment and monitoring.
Today the provider, payor, and patients views of the product/ procedure have evolved. Hence, Advanced Medical Technologies not only includes the bricks and mortars of treatment and monitoring, but also the tools and solutions that improve quality of life of the patient and clinician both at care provider site and at home.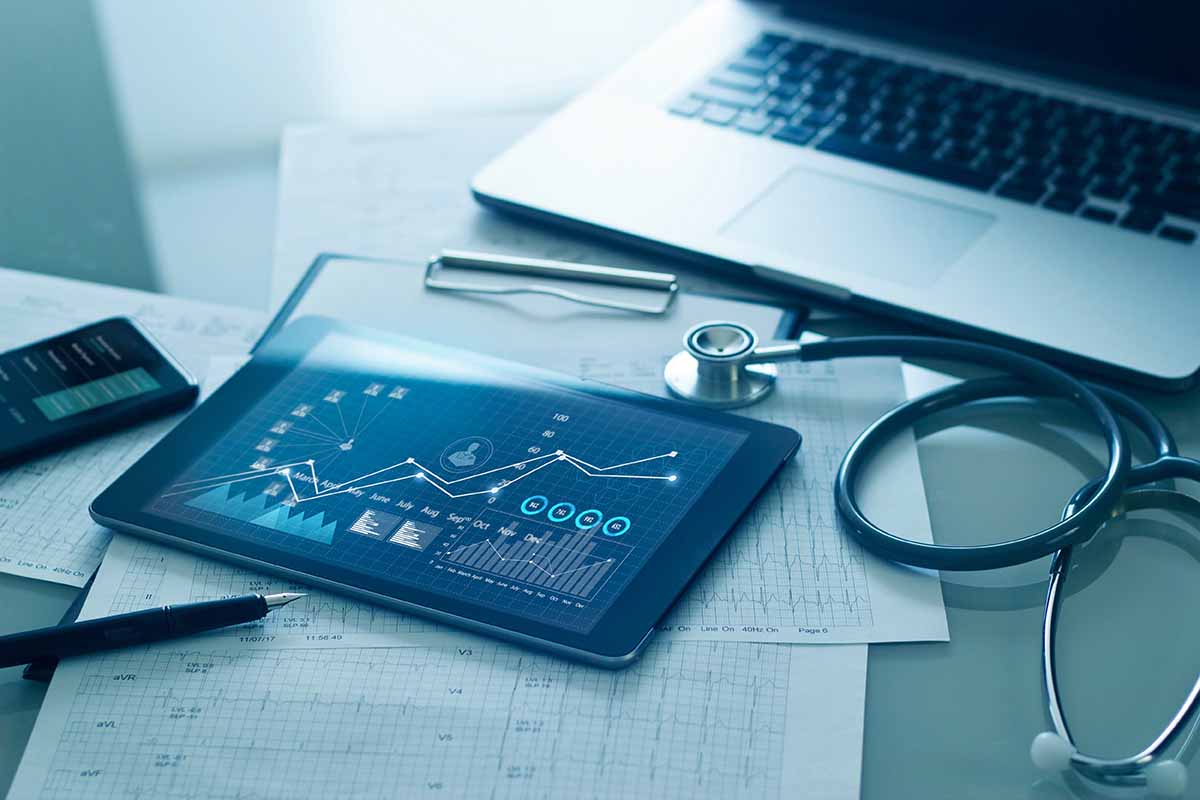 Frost & Sullivan's Advanced Medtech Research Program
At Frost & Sullivan we aim to capitalize our understanding of the transition in the industry and utilize our proven methodology that leverages Frost & Sullivan's proprietary forecast models, access to high-quality internal and external published content, and information gained from primary research interviews to comment on the opportunities for growth across products, services and solutions for the industry participants.
With the shift towards empowering patients and the clinician in health and procedural management, we are aware that ecosystem has moved beyond medical device manufacturers to digital solutions providers, service providers, logistics providers, payors and technology companies.
The focus is on patient centric health, disease management, efficiency enabling solutions. The coverage includes patient engagement devices, hospital service solutions, digital transformation of the medical technologies industry, artificial intelligence in surgical interventions.
Expertise Areas
Frost & Sullivan's expertise in advanced medical technologies research and consulting includes work in the following strategic and operational areas:

Chronic Care Continuum
Learn about how new sites of care is having an impact on access, quality, and cost and what are the key best practices that are being used within the key intervention areas of cardiac care, diabetes, skin health, mental health, orthopedics, rehabilitation, and oncology. In addition, we continuously evaluate how Medical Technology Providers are evolving from a productized approach to a more solution centric service offering, focusing on key areas of integrated workflow patterns, diseases, and patient centric health.

Care and Cost Optimization
Our research focus is to look at surgical ecosystem (operating rooms), critical care settings as well as service solutions, business models and technologies that would help optimize workflow and increase clinical and operational efficiency. Learn what are the new and innovative business models (such as risk sharing, e-commerce, product-as-a-service, device data utilization) that are improving margins as well as wallet share for both hospitals and OEM's.

Patient Management
Our focus is to identify, evaluate and explore key technologies, services, tools and opportunities that are enabling OEM's and hospitals to transition from traditional patient monitoring to a more holistic patient management outcome.
Book a complimentary one-hour Growth Pipeline Dialog™ session with our Healthcare & Life Sciences experts.
Greg Caressi
Greg Caressi has served in executive management roles, building and leading market analytics, growth advisory, and sales and business development teams. In addition to authoring numerous studies in his areas of focus, he has been involved in numerous strategic growth projects, with a focus on:
Next-generation technologies and technology adoption.
End-user and product/feature/pricing analysis.
International expansion strategies.
Competitive analysis.
M&A target analysis.
Detailed demand modeling.
Next-generation healthcare, with a focus on digital health, telehealth, data and analytics, and customer engagement solutions.
Healthcare and life science information technology.
Health IT infrastructure and platforms.
Greg has hands-on experience in international expansion strategies and implementation in Asia and Latin America and on-the-ground experience in China, Brazil, Mexico, Argentina, Colombia, and other developing economies. He has been a chairman, speaker, and trainer at industry conferences and events in the U.S., Asia, and Latin America.
Reenita Das
Reenita Das is a healthcare futurist and strategist, passionate about changing the healthcare industry. She was voted among the top 100 women in Femtech and Healthtech and the top 50 Healthcare strategists to follow in 2021. She has lived and worked in over 10 countries, focusing on healthcare issues and working with the public and private sectors to implement growth change strategies. She serves as Partner and Senior Vice President and is the first woman Partner at Frost & Sullivan.
Her areas of interest in identifying growth opportunities include:
Women's health.
Digital health.
Precision diagnostics and precision medicine.
Chronic disease management.
Dinesh Sampath Rangaraj
Dinesh is passionate about building organizations and helping them grow. He has over 20 years of experience advising clients across healthcare, semiconductors, and information, communication, and technology sectors. As Senior Vice President and Principal, Dinesh works as a trusted advisor to senior leadership at companies to drive growth and be ready for the future. His areas of expertise include:
Business strategy.
M&A and partnerships.
Business model transformation.
Sales and marketing strategy.
Product portfolio strategy.
Vice President, Growth Opportunity Analytics, Global Practice Area Leader - Healthcare & Life Sciences
Nitin Naik
With more than 24 years of industry experience, Nitin serves as Frost & Sullivan's Global Practice Area Leader (HLS). In this role, he is dedicated to executing strategy consulting, forecasting analytics, commercial due diligence and clinical R&D projects for healthcare companies.
Nitin has a strong understanding of the dynamics in the healthcare industry and possesses domain knowledge in the life sciences space. He has advised several mid sized companies and start-ups in numerous commercial transactions and IPOs to optimize market positioning and valuation strategies.
He has led strategic initiatives with Medical Device & Life Science companies:
Emerging markets go to market strategy , Innovative therapies portfolio analysis
Sales, Marketing, Distribution planning
Global Alliances, Public Private Partnerships, M&A.
Co-innovation programs, research
Sr Vice President, Growth Pipeline Advisory and Delivery Global Practice Area Leader - Healthcare & Life Sciences
Sujith Eramangalath
Vice President, Growth Pipeline Advisory and Delivery, Americas - Healthcare & Life Sciences
Charlie Whelan
Charlie leads Frost & Sullivan's growth consulting practice in the Americas supporting clients across the healthcare technology and services ecosystem. His responsibilities include project management, business development, strategic planning and subject matter expertise, particularly in the medical devices market.
Vice President, Growth Pipeline Advisory and Delivery, Europe - Healthcare & Life Sciences
Siddharth Saha
Vice President, Growth Pipeline Advisory and Delivery, Asia Pacific - Healthcare & Life Sciences
Milind Sabnis
Consulting Director, South Asia
Sowmya Srinath
Research Manager, Healthcare & Life Sciences
Siddharth Shah
Siddharth (Sid) Shah leads the global medtech research program of the Healthcare & Life Sciences practice, and has over ten years of healthcare market research & consulting experience. In his prior life he has also conducted wet lab research in stem cells at the prestigious Johns Hopkins University. Beyond medical devices, Shah also tracks innovations in radiology artificial intelligence, diabetes, and connected devices. He holds a Master of Science in Biotechnology from the Johns Hopkins University.
Unmesh Lal
Unmesh Lal has 20+ years of healthcare industry with expertise, primarily comprising of strategy advisory with global life sciences companies. His expertise lies in tracking game-changing companies, innovative business models and disruptive technologies while serving as a growth coach to clients in their precision health journey. He has authored thought leadership and presented at leading industry events like J.P.Morgan, BIO-Asia, CPHI World, Bio-IT, Medica Health IT, Medtec, Precision Medicine Exhibition & Summit, Basel Life, to name a few. His in-depth understanding of the precision health ecosystem enables him to guide companies in identifying growth opportunities across precision screening and diagnosis, personalized therapeutics, surveillance & monitoring, and discovery & development solutions/service. He holds a master's degree in biomedical engineering from the University of Michigan – Ann Arbor.
As a Growth Opportunity Analytics Director of Frost & Sullivan's Healthcare & Life Sciences practice, Unmesh's interests and areas of expertise include:
Pharma & Biotech (Targeted Therapeutics, Contract Discovery, Development & Manufacturing)
Digital Transformation (Life Sciences IT- Smart R&D, Flexible Mfg., Connected Patients)
Consulting Director, Life Sciences
Christi Bird
Consulting Director, Digital Health, Medical Imaging & Informatics
Daniel Ruppar
Consulting Director, Europe & Israel
Paljit Sohal
Senior Director, Growth Pipeline Advisory and Delivery, Asia Pacific - Healthcare & Life Sciences
Kiranjit Kaur
Consulting Director, Asia Pacific
Rathanesh Ramasundram
Consulting Leader, Growth Pipeline Advisory & Delivery, Middle East & Africa
Daniel I'Anson
Daniel leads the growth consulting practice for Healthcare & Life Sciences in the Middle East & Africa. This practice covers Healthcare Delivery & Operations, Medical Imaging & Informatics, Pharmaceuticals & Life Sciences, and Digital Health.
Daniel is a seasoned healthcare professional with more than 15 years' experience in the healthcare industry and has extensive experience supporting clients to achieve their strategic growth objectives through Optimization, Efficiency, Quality and Cost Initiatives; Market Analysis, Customer VOC/Perception studies, Due Diligence, and Service Expansion; Healthcare Data and Analytics; Change, Program and Project Management; and, Leadership Development.
Senior Industry Analyst, Medical Imaging & Informatics
Imran Khan
Imran has over 20 years of experience in market research and consulting, covering a range of information and communication technologies across multiple industry verticals and enterprise and consumer segments.
Industry Principal, Digital Health
Victor Camlek
Industry Principal, Digital Health
Koustav Chatterjee
Senior Industry Analyst, Digital Health
Chandni Mathur
Industry Principal, Americas
Patrick Riley
The Medical Technologies Industry is going through a period of rapid transformation and disruption. Care is moving outside the hospital into numerous sites driven by new technology and customer engagement models.
As health systems around the world evolve to meet the challenges of access, quality and cost, we have embarked on a journey to answer the burning issues and its impact for the different stakeholders in this ecosystem.