30sep11:00 AM12:00 PMDCP Midstream: Journey to Successful Open InnovationDigital Transformation: Success Stories, Partnerships, and Learning from DCP MidstreamWebinarCategory:Oil & Gas,Webinars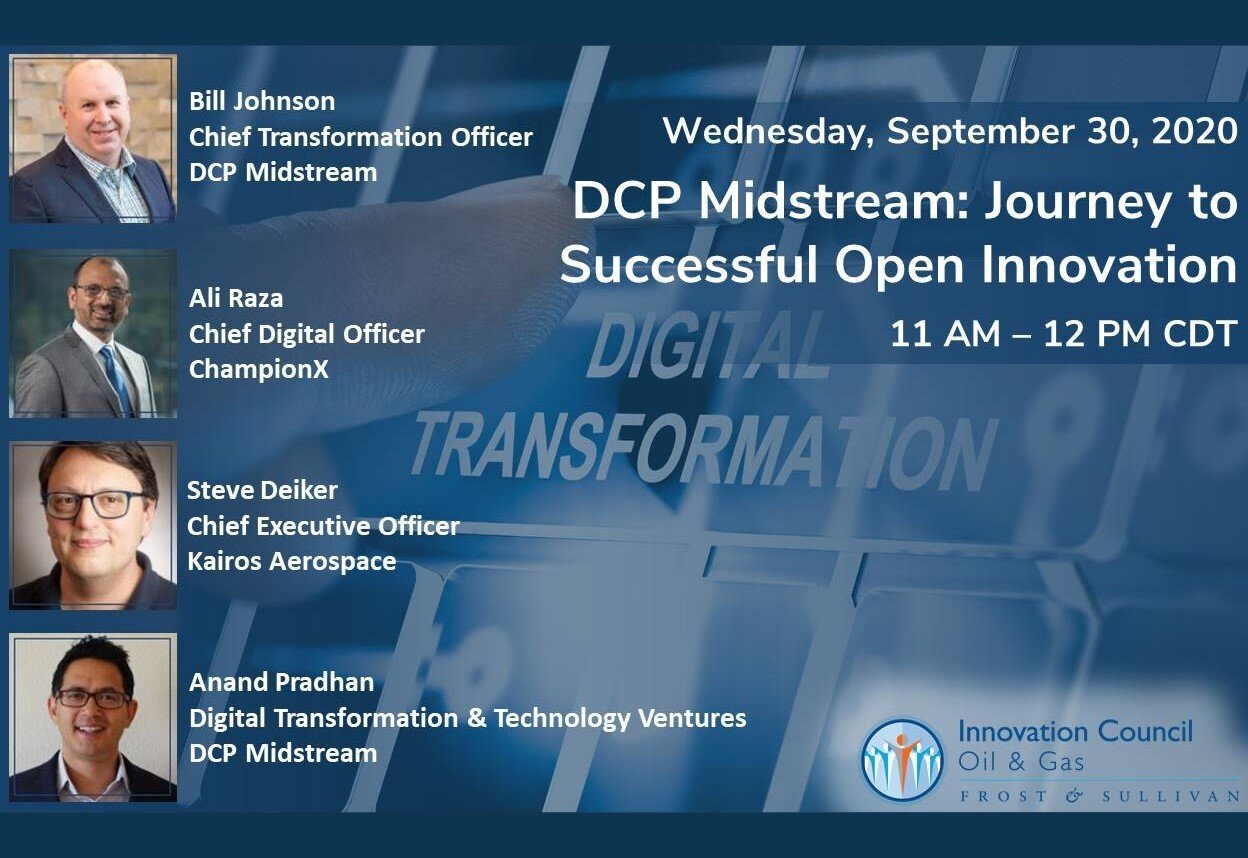 Time

(Wednesday) 11:00 AM - 12:00 PM
Location

Webinar

7550 1H, 10 W Dr Suite 400
Event Details

DCP Midstream is a Fortune 500 natural gas company dedicated to meeting the energy and consumer needs of our society. DCP Midstream operates a strong and diversified portfolio of logistics, marketing, gathering, and processing assets across nine states. DCP is one of the largest natural gas liquids producers and marketers, and one of the largest natural gas processors in the United States. With a focus on technology and innovation, DCP continues to break barriers to become the safest, most reliable, low cost midstream service provider. As a key component of our DCP 2.0 transformation, DCP Tech Ventures integrates emerging technologies and innovative solutions to strengthen DCP's core business, while looking for new opportunities for growth. DCP continuously leverages an open innovation platform to pilot digital solutions in partnership with the startup ecosystem. In collaboration with their strategic partners, DCP will share the DCP 2.0 transformation journey and the opportunities to include emerging technologies in improving processes and experiences.
DCP's leadership in digital transformation for the midstream industry
Developing opportunities through open innovation and a venture ecosystem
HOSTED BY THE FROST & SULLIVAN OIL & GAS INNOVATION COUNCIL:
The Frost & Sullivan Oil & Gas Innovation Council is the first member-driven, global executive network designed to help accelerate the pace of innovation in Energy and Oil and Gas.
The Oil & Gas Innovation Council spotlights innovations, new business models, processes, and best practices from all industries that have the potential to disrupt the status quo and put the members on the path for transformational growth.

SPEAKER:

BILL JOHNSON
Chief Transformation Officer,
DCP Midsteam

SPEAKER:

ALI RAZA
Chief Digital Officer,
ChampionX

SPEAKER:

STEVE DEIKER
Chief Executive Officer,
Kairos Aerospace

MODERATOR:

ANAND PRADHAN
Digital Transformation & Technology Ventures,
DCP Midstream

MODERATOR:
MUTHURAMAN "RAM" RAMASAMY
 Industrial Director,
Frost & Sullivan