28sep2:00 PM3:00 PMIndustrial Cybersecurity - Enabling Maturity in the OT EnvironmentWebinarCategory:Webinars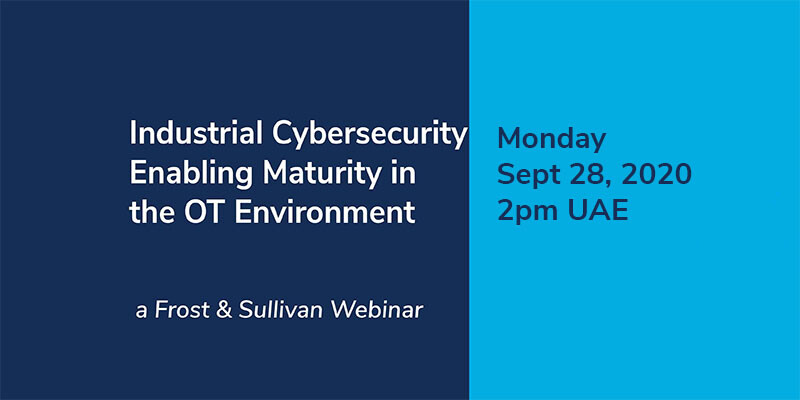 Time

(Monday) 2:00 PM - 3:00 PM
Location

Webinar

7550 1H, 10 W Dr Suite 400
Event Details
The Middle East is witnessing rapid population growth, urban expansion, and a manufacturing boom.
This unprecedented growth is driving investments in operational technology (OT). Traditionally, OT networks were air-gapped. However, organizations are increasingly connecting their OT networks to optimize their processes and gain a competitive strategic advantage.
With the growing information technology (IT)–OT convergence, significant compliance requirements, and relentless targeting by threat actors, the risk exposure of OT environments increases. Also, industries worldwide face regulatory and financial pressures to establish a holistic approach to managing safety, cybersecurity, and governance, resulting in a strong demand for OT security.
However, with labor costs on the rise and a growing shortage of appropriately skilled security resources, companies face unprecedented challenges in protecting their OT networks. Globally, the OT sector expects significant threats as we move forward, and the C-Suite is slowly getting involved in managing the OT risks. Organizations today, therefore, are focused on gaining visibility into their OT security posture and driving the overall maturity of OT security.
As they do that, organizations face several challenges and complexities:
Significant end-to-end system integration issues
Unpredictable and unforeseen cybersecurity risks
Increasing cyber threats from competent and motivated adversaries
A massive increase in workloads of security operations teams
More complex compliance requirements and increased vulnerability from non-compliance
In this webinar, Digital14, in collaboration with Frost & Sullivan, will discuss the emerging OT trends, IT and OT convergence challenges, and risks associated with the ever-evolving cybersecurity and threat landscape.


In Cooperation with:


Featured Industry Speakers:

Abhay Bhargava
Senior Director and Regional head – Industrial practice
Frost & Sullivan MEASA

Sumit Dhar
Vice President
Cyber Advisory Services
Digital14

Abhay is a business expansion specialist, with thought leadership across the Industrial and Environmental domains – specializing in the core themes of digitalization and sustainability. Holding 20 years of global experience across diversified industries, Abhay has worked across multiple industries, spanning across Energy, Environment, Manufacturing, Professional services & Industrial automation.
He specializes in advisory and enablement, around areas of investment promotion, localization strategies, & mega trends. He focuses on the central themes of digitalization and circular economy in his work, and has pioneered consulting and advisory engagements to some of the region's leading companies.
Abhay's knowledge leadership is reflected not just in his speaking engagements, but also in how he has been invited to actively participate as a jury member for a number of prestigious awards in the Middle East region – ADIPEC (Oil and Gas) and MESIA (Solar) – and in how his opinions on the industry have been frequently quoted in leading media publications across the Middle East.

Sumit has twenty years of leadership experience in security, enterprise risk management and resilience. He is currently the Vice President within the Cyber Advisory Services at Digital14. At Digital14, he leads engagements to assist clients define their security strategy, create a roadmap aligned to business priorities and provide client leadership with visibility into the overall security posture of their organization. In the recent past, the Cyber Advisory Services team has led large, complex, multi-year projects to assess the IT / OT environments of various entities.
In his previous roles, Sumit  led teams for product and enterprise security, business continuity and risk management. He was also a  part of the Reserve Bank of India's working group on Cyber Security Assessments as well as the Council Leader for the BCI Think Tank on Cyber Resilience. As a Chief Information Security Officer (CISO), he has been honored and recognized for his contributions to the industry. He has also received multiple certificates from various companies for responsible & ethical disclosure of vulnerabilities. Sumit has been invited as a speaker at various large global conferences, seminars and summit and his articles on security & risk management have appeared in various international journals.