At a time when consumers buy their groceries, electronics and fashion online, not to mention that's where your lunch money is going too (check out my post on the online food delivery industry), automotive companies have slowly been inching closer to giving customers a truly differentiated vehicle purchase model….online.
The vehicle subscription model is already well on its way to revolutionizing how customers flip between cars and make payments, all through the convenience of an app. To that now add the retail purchase of vehicles which, by heading online, has also started to become far less traumatic and much more convenient.
A new study by Frost & Sullivan estimates that almost 825,000 new vehicles were sold online globally in 2019, either through online financing or by making a part payment online. By 2025, it is estimated that 6 million vehicles will be sold through online platforms. eCommerce aggregators are driving online vehicle sales in China, while Tesla, ever the disruptor, remains the leader in Europe and North America. Renault leads in South America, while Hyundai is initiating online bookings in India.
Driven primarily by Tesla's volumes, 66% of online sales today involve making the full payment for the vehicle, online. About 34% of online retailing is fulfilled through a booking fee paid online.
Transitioning To A Personalized Process
The transition from a well automated online process to a personalized one will be key to accelerating the adoption of online retail. Value does not necessarily mean the lowest price, and this is clearly evident in the over 100 million customers who pay an annual premium of $119 for Amazon's Prime service in the U.S. In essence, Prime customers end up spending about $1,300 annually – that's more than twice what a non-prime customer pays – to gain value. Meanwhile, Amazon is already getting into the electric vehicle value chain to promote charging installations in partnership with Kia and Audi, and has also been selling new vehicle leases for ALD in Spain.
The automotive online retail model will also need to become personalized in order for customers to see value. Carwow has done its bit to personalize vehicle prices in the U.K. and other European markets where it operates. Personalization and responsive communication has resulted in over 75% of its customers finalizing a car deal that is not the cheapest but that is actually higher on average by $850 or more on average than one conducted through traditional channels.
Other Factors Come Into Play
There are other factors that are more important to the customer than just the price of the vehicle. Among them are proximity of the dealership to the customer, the reputation of the dealer, and the price offered for the used vehicle part exchange.
Research indicates that part exchanges are a crucial element in determining the failures and successes of online vehicle retail platforms. It is estimated that for every 100,000 part exchange valuations performed online, about 5% of customers open a customer ID by logging in and 0.5% proceed to process finance online.
The part exchange valuation needs to hold true under the physical examination of the vehicle, no doubt. But if the price calculator tool allows for a 2-3% higher valuation than quoted on the vehicle valuation tools, this would incentivize the customer to continue online knowing he is getting the most value on the online platform. This 2-3% loss is not really a loss; these savings just make the customer trust the online platform.
This is similar to how a customer would behave on Amazon. And, again, just like an Amazon Prime customer spends more than his non-Prime counterpart, online vehicle retail ends up being more about upselling from the base vehicle. The customer ends up recommending the online platform having seen a more than fair process and the dealership gains from the net margin gain in upselling to the customer. It's too soon, but I am tempted to say 'and they rode off into the sunset.'
Today, almost every major car manufacturer—BMW (one of the earliest to buy into the idea of an online vehicle retail platform), Mercedes Benz, Jaguar Land Rover, Daimler, Peugeot, Citroen, Hyundai, and Ford, among others—has created a sales platform on their official website in order to sell vehicles directly or through their dealerships. However, the personalized experience is possible only with the active participation of the dealerships who can adjust vehicle pricing based on existing demand and existing inventory in stock. Digital retail platform developers like Gforces, Roadster and Fastlane are helping dealerships digitize their sales platform, providing potential customers 24×7 access to purchasing vehicles online, and generating newer leads.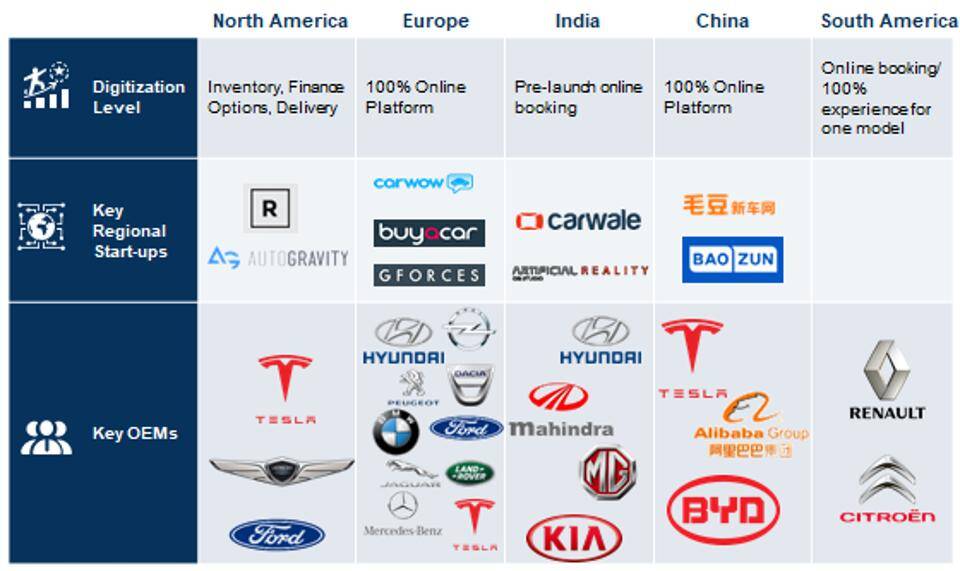 Hyundai's Online Retail Journey So Far – A Learning For Others
Hyundai UK has been among the pioneers in digitalizing the customer experience: first through its association with Rockar, and then with its national online sales platform. The Rockar store did wonders by iincreasing the visibility, brand awareness and market presence of Hyundai in the U.K. Yet for a digital store with an online booking platform, its reach was very local with 95% of buyers living less than 10 miles from the store.
Hyundai identified proximity to a dealer and dealer relationship as key purchasing factors, with the power of bricks-n-clicks outreach done right understood to be the biggest learning from the Rockar experience. Expanding this philosophy to its entire dealer network conceivably propelled the idea of ClickToBuy – a national online sales platform that empowered and enabled potentially all Hyundai dealers to go online and reap the benefits of having a seamless brick-n-click experience through a central new platform. However, the platform's customer acquisition has been quite low considering over half a million visitors to its platform have translated into cumulative sales of under 2,000 vehicles.
Car manufacturers like Volvo, Dacia and a few others have also launched their online sales platforms with their own process flows and now there's enough data to fix the gaps in selling vehicles online. With each iteration, the online platform is becoming more dynamic and soon to be a natural alternative to visiting a dealership.
The Dealership Of The Future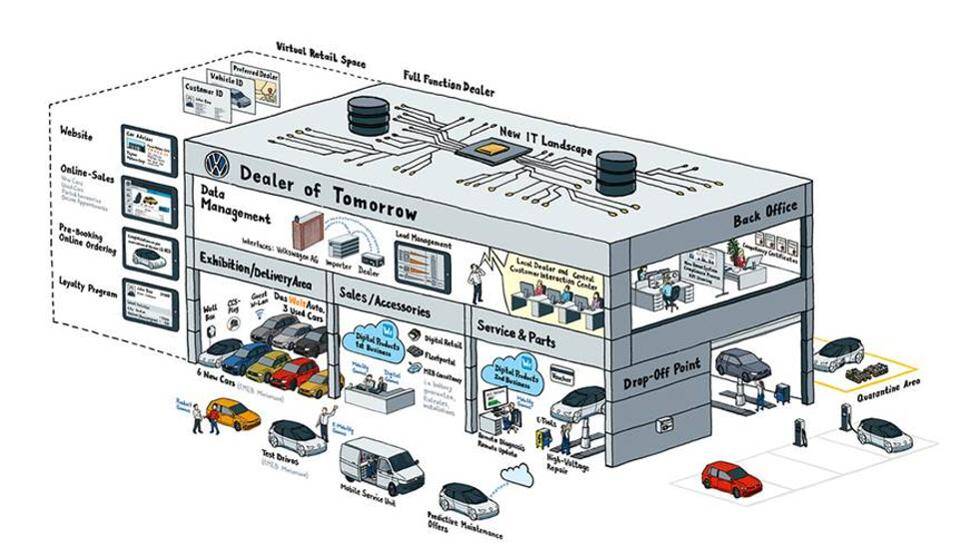 I'm not among those naysayers who predict the death knell for physical dealerships. On the contrary, I believe they will thrive as critical elements of new bricks-n-clicks retail paradigms, transitioning into vibrant touch points that will be integrated into the customer's digital journey. As Volkswagen has envisioned, they will become experience centers and test drive centers, among other things, and, fittingly, places from where customers collect the vehicles they have purchased online.
This article was written with contributions from Isaac Abraham, Senior Consultant – Automotive Retail & Business Strategy at Frost & Sullivan, and lead author of a recently published study titled Global Vehicle OEMs' New Online Retail Strategies.
Article was originally published on Forbes.com