Contemporary Amperex Technology Co. Ltd. (CATL) started 2022 by formally entering China's oligopolistic battery swap market. Its wholly-owned subsidiary Contemporary Amperex Energy Service Technology Ltd. (CAES) rolled out a modular battery swapping solution – EVOGO – taking the competition to front runners, Aulton New Energy Automotive Technology Co., Ltd. (Aulton), Nio, and Hangzhou First Technology Co. Ltd. (Botan).
CAES's three-pronged solution includes battery blocks, fast battery swap stations, and an app. interestingly, the battery is being sold under the moniker "Choco SEB" since the swapping electric block (SEB) has been designed to resemble a bar of chocolate!
This is only the most recent development in China's increasingly competitive battery swapping space. In September 2021, Geely announced plans to set up 5,000 battery swapping stations in China by 2025 with fellow Chinese automaker Nio declaring its intention of establishing 4,000 battery swapping stations globally by 2025.
And now, there is news about Bosch, Mitsubishi Corporation, and Blue Park Smart Energy (BPSE) partnering to develop business models that support more efficient battery swapping. The partners are now working on a pilot project for the Chinese market with their Battery as a Service (BaaS) approach targeting reductions in the initial capital as well as subsequent operating costs, thereby encouraging fleet electrification.
Our research into China's battery swap market projects a compound annual growth rate (CAGR) of 73% from 2020 to 2025 while estimating an increase in the number of battery swap stations from around 555 stations to 8,600 over the same time.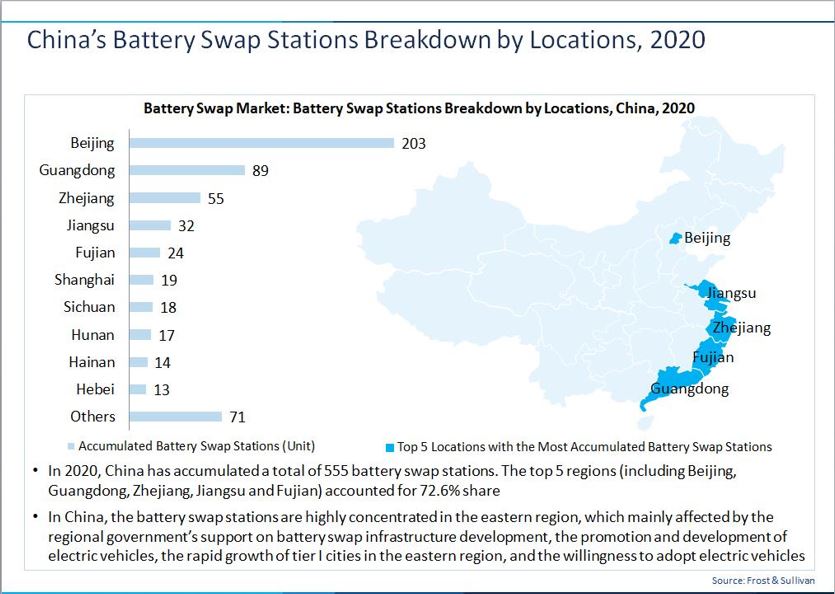 To learn more about developments in this space, please access our research report on the Chinese Battery Swap Market.
Such forecasts notwithstanding, the question remains whether battery swapping is the future of EVs or whether it has reached the limits of its potential.
Our Perspective: The Dilemma of Traditional Plug-in Charging Vs. Battery Swapping
As was the case when it first came out nearly a decade and a half ago, battery swapping remains a highly polarizing idea. Critics have dismissed it as a market dead-end, claiming that it remains cumbersome despite the ease and rapidity of the process. Nevertheless, it is worth noting that, today, battery swaps can be completed in less than five minutes at automated battery swapping stations. The EVOGO battery station promises a swap time of one minute for a single battery block. Added to this is the convenience of a drive-through service in safe and clean stations for battery swaps. In short, time-saving can be observed with battery swapping technology.
Another contentious theme relates to the environmental and economic viability of maintaining enormous volumes of charged swappable battery packs. There's the additional issue of battery swapping's success being dependent on getting automakers to agree on a common standard for battery packs and vehicle architectures.
The Choco SEB attempts to address some of these concerns, claiming to be compatible with 80% of currently available global BEV platform-based vehicle models and with BEV platform-based models that will be introduced over the next three years.
Flexibility is another feature that has been highlighted; customers have the choice of renting between one to three batteries based on their range requirements. EVOGO is also being promoted as an "all scenario power refueling solution," complementing fast charging and household charging.
On the other hand, improvements in battery technology mean that range anxiety is becoming less of a concern. Charging times and range are improving dramatically, particularly with fast DC charging.  Companies like Tesla, which briefly dabbled with battery swapping, have dropped it in favor of setting up Tesla Supercharger networks. Meanwhile, in a bid to boost EV adoption, automakers are coalescing around common EV charging standards.
As battery swapping and plug-in/wireless charging face-off, investments in battery swapping show little signs of drying up. Faster battery swapping times compared to traditional charging, strong government support for EVs and infrastructure, and rising EV sales are boosting the market prospects, particularly in the world's largest EV market – China. Simultaneously, Chinese OEMs like BJEV and Nio are stepping up their presence in the battery swap market.
"Over the long-term, increasing EV ownership will spur demand for rapid battery replacement. Growth will be driven by improvements in technology, rising interest among automotive OEMs, falling prices, and intensified competition" – Prajyot Sathe, Industry Manager, Mobility Practice, Frost & Sullivan.
Uptake is also likely to receive a fillip from low technology costs. Geely, for instance, claims that the swap between a depleted to a fully charged battery would average only €7. At the same time, new business models like battery-as-a-service (BaaS) seek to alleviate the challenge of high battery costs. Here, the EV owner does not own the battery but pays a monthly lease for a battery pack and a pre-determined number of battery swaps. This not only means a reduction in EV purchase prices but also allows the consumer to stay current with improvements in battery technology.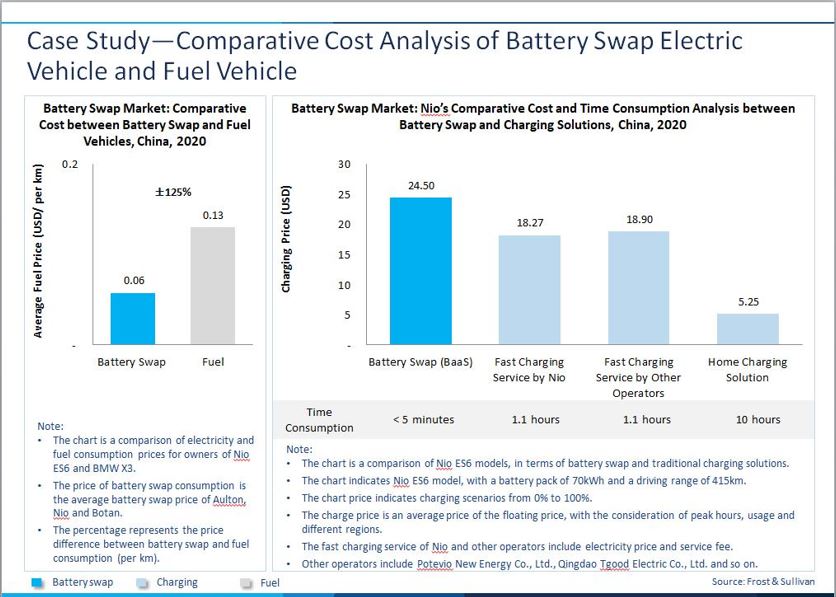 In this electrifying battle, only time will tell who will triumph – battery swapping or DC fast charging technology.
Schedule your Growth Pipeline Dialog™ with the Frost & Sullivan team to form a strategy and act upon growth opportunities: https://frost.ly/60o.