Cloud Computing Growth
In 2011, Amazon Web Services (AWS) launched three Availability Zones in Brazil to support its global cloud computing platform, while its competitors continued to serve LATAM customers from Miami data centers for several more years. This was the eighth region launched by AWS globally, and demonstrated that LATAM was a focus area for growth. The company has since expanded in the region and operates commercial activities in most countries and offices in seven of the largest regional economies.
In 2021, AWS established local business operations in Peru and Costa Rica, introducing dedicated offices and teams to support local ecosystems. In addition, in Argentina and Chile, the company's growth led it to move to new office locations with improved facilities. As of March 2022, AWS' cloud presence in LATAM far exceeded its competitors'.
The company aims to democratize cloud computing for companies of all sizes and economic sectors; contribute to the region's resiliency for adverse scenarios, such as the COVID-19 pandemic; and drive countries' economic diversification and prosperity. Figure 1 shows AWS' offices in LATAM and their respective years of launch.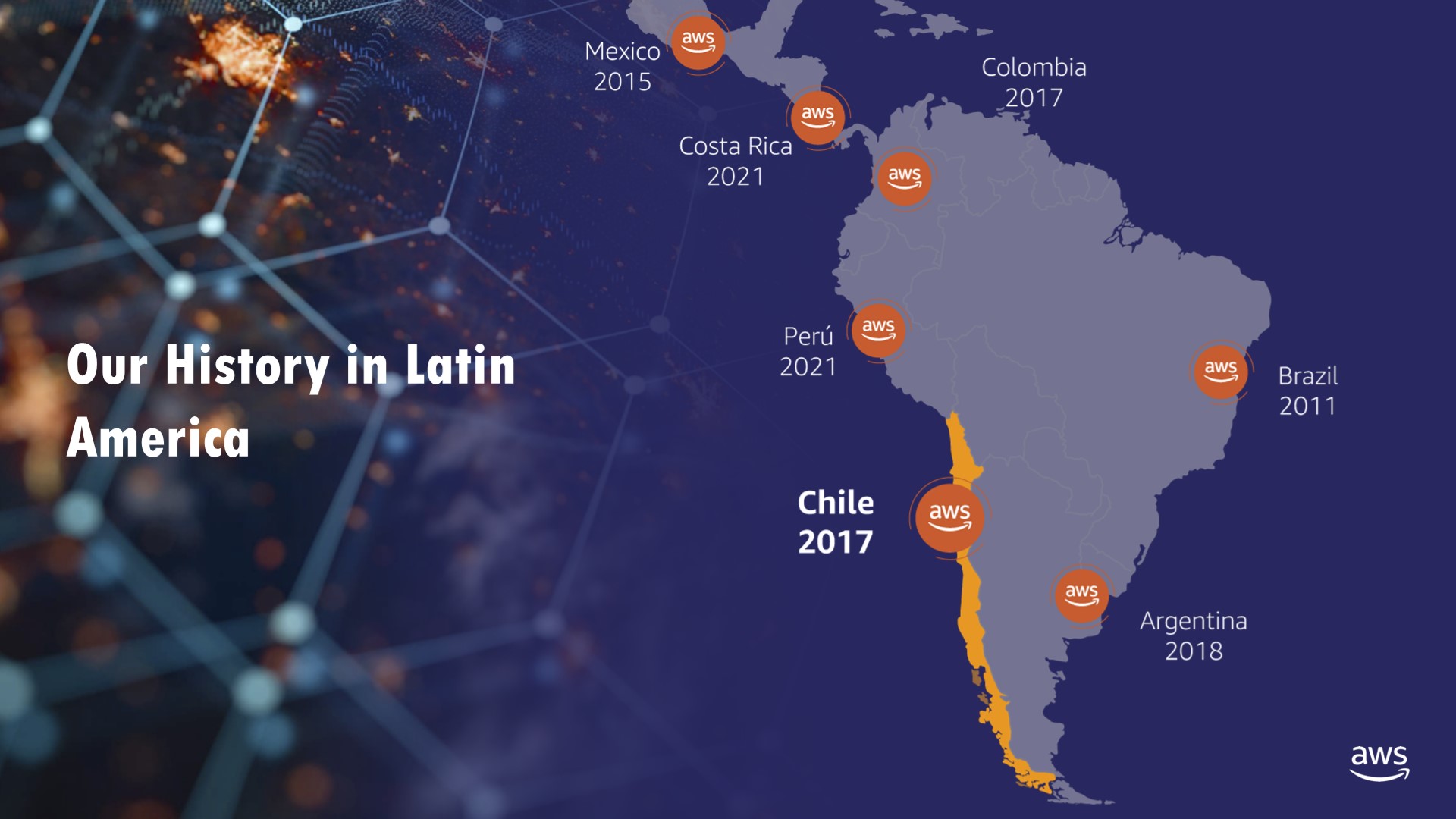 Figure 1 – Source: AWS
According to the latest Frost & Sullivan end-user survey in 2021, approximately 52% of LATAM companies adopted Infrastructure-as-a-Service (IaaS), with significant demand from various segments and economic sectors. However, as digital transformation accelerates, there are still many workloads to be moved to the cloud, applications to be modernized, and infrastructure to be deployed. Another 36% of companies plan to adopt IaaS by the end of 2023, which would increase the adoption rate to 88%.
LATAM's tipping point was 2020. The region's organizations invested a significant percentage of their information technology (IT) budgets (50.1%) on new technologies other than legacy IT maintenance and upgrades. Achievement of this increase was because of the acceleration of digital transformation processes during the COVID-19 pandemic, where companies needed to continue supporting their employees and clients through digital channels by launching new services and improving experiences. This trend is continuing as companies innovate and invest more in emerging technologies.
Frost & Sullivan expects the IaaS and Platform-as-a-service (PaaS) market in LATAM to increase from $7.3 billion in 2021 to $79.2 billion in 2028, with a compound annual growth rate of 40.1% in the period (including public and hosted private cloud operations), more than other regions.
Edge Cloud Computing Growth
Edge computing is a foundational technology for industrial enterprises as it offers shorter latencies, robust security, responsive data collection, and lower costs. In this hyperconnected industrial environment, edge computing (with its solution-agnostic attributes) can function across various applications, such as autonomous assets, remote asset monitoring, data extraction from stranded assets, autonomous robotics and vehicles, and smart factories.
Approximately 90% of all industrial enterprises will use edge computing by 2022, according to Frost & Sullivan¹. Only in the LATAM region, throughout 2021, 36% of companies had started technology initiatives around edge architectures to run applications. Another 45% planned initiatives for 2022 to 2023, which will result in 81% of LATAM companies utilizing edge computing in 2023².
To support companies' increasing interest and demand, AWS built six CloudFront edge locations (Rio de Janeiro, Sao Paulo, Fortaleza, Bogota, Buenos Aires, and Santiago), and in February 2022, AWS announced plans to launch new AWS Local Zones across LATAM, in countries such as Argentina, Brazil, Chile, Colombia, Mexico, and Peru.
Local Zones are infrastructure deployments to extend AWS compute, storage, database, and services closer to customers' demand and provide ultralow latency (less than 10 milliseconds) for applications such as gaming, augmented and virtual reality, and computer vision. The new AWS Local Zones will be in:
Bogota, Colombia

Buenos Aires, Argentina

Lima, Peru

Queretaro, Mexico

Rio de Janeiro, Brazil

Santiago, Chile
Besides ultra-low latency for mission critical applications, additional benefits from Local Zones include organizations' ability to meet data residency requirements for regulated industries, such as healthcare, finance, life sciences, and the public sector, and to increase resilience and tackle challenges surrounding the continuity of operations during increasing cyberattacks.
With fifth-generation and edge computing deployment in the region, Frost & Sullivan expects great developments in innovation and significant advancements in terms of user experience for customers using their smart devices to access applications.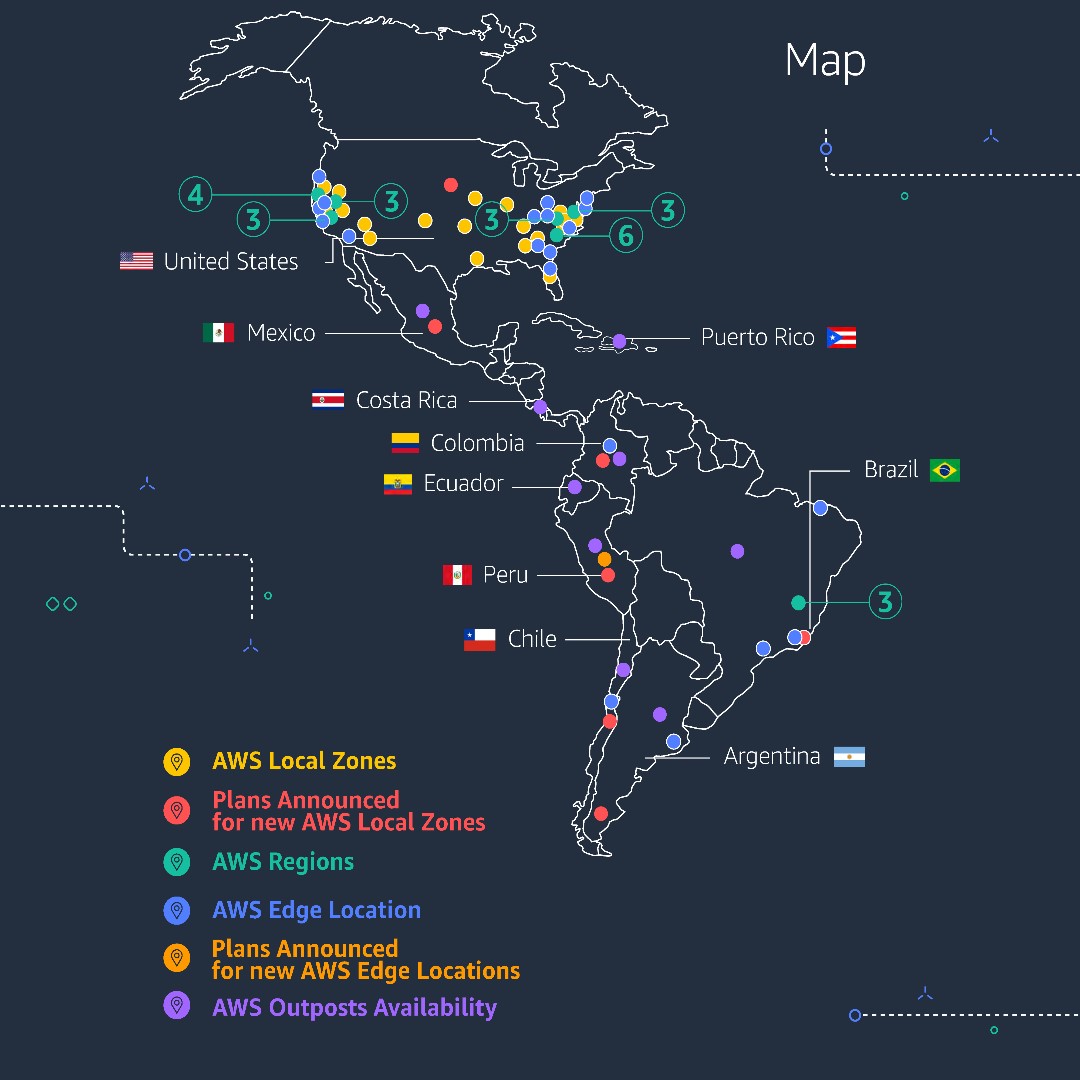 Source: AWS – Map of AWS infrastructure in LATAM, including the locations for the new AWS Local Zones³
Education and Technology Literacy
According to Frost & Sullivan's annual end-user survey, the top reason (45%) companies chose a cloud provider in LATAM was the functionality or tools it provided, such as analytics, artificial intelligence, networking, and security. AWS offers more than 130 services to meet the requirements of various applications in its LATAM data centers⁴.
In addition to offering services, cloud providers must educate their channels and developers on current and new technologies to drive innovation and increase the adoption of value-added services. Our annual survey showed that "easy-to-use developer tools/platform" as the third most popular reason (38%) to choose a cloud provider.
In amidst of the COVID-19 pandemic, and in order to provide ongoing support for the future workforce, AWS announced in December 2020, during its re:Invent 2020 event, that it would help 29 million people globally (more than 200 countries and territories, including LATAM) to "increase their technology skills with free cloud computing training by 2025,"⁵ meaning a sizeable financial investment of  hundreds of millions of dollars. In addition to existing training programs, AWS will design new courses (from self-paced online courses to intensive refresher programs). Examples of such programs are:
AWS ReStart

AWS Educate

AWS Academy

AWS Education Technology Start-up Accelerator (EdStart)

AWS DigiGov

AWS Training and Certification

AWS Skill Builder
AWS ReStart is a free 12-week training program, which local partners administer in Brazil, Chile, Argentina, Colombia, Costa Rica, Mexico, and Peru. Following its AWS EdStart program in Brazil in 2019, the company announced in 2021 that the program, which helps innovative educational technology start-ups bring their services to the market, was available in Mexico and Colombia.
Local presence from cloud providers like AWS translates to local jobs and community investment, supporting the region's goals to embrace the digital economy. Regional AWS offices also act as a base for local technicians, sales, marketing, professional services, and technical support teams.
What do AWS Announcements Mean for the IT Industry and LATAM Countries?
LATAM continues to show rapid cloud adoption and, more recently, edge computing, as private sector companies and public sector stakeholders realize the benefits of moving workloads to this flexible infrastructure.
Brazil was the initial data center hub and interconnected several cloud providers, but other countries (e.g., Chile, Colombia, and Mexico) have made significant advancements in this area.
AWS is Latin America's cloud computing leader and continues to build on its decade-long commitment to the Latin American region, making significant investments in infrastructure, service availability, and resources (e.g., human resources, offices).
Countries benefit from the advancement of digital services from the government, the establishment of digital ecosystems, and gains in productivity in manufacturing, agriculture, and services. Successfully doing so helps them become digital hubs that foster innovation generate scalable companies that can become global.
Thanks to this advancement, countries can improve economic and social indicators, especially regarding qualified employment creation aligned with the future of work and positive externalities that technology adoption generates.
LATAM is entering a new era of digital transformation. The region embraces new ideas and technologies that will help drive economic progress and create jobs.
For AWS in LATAM, it is still Day 1. Amazon founder Jeff Bezos defines Day 1 as a constant search for ways to become and stay relevant to customers, building on learning experiences. AWS is continually evolving and expanding in LATAM, launching new services and solutions and helping customers overcome challenges surrounding digital transformation. It also invests in programs that support start-ups and train the next generation of technologists for the future. The AWS infrastructure was essential to guarantee resiliency during the COVID-19 pandemic and is now instrumental for the future of nations and companies developing in the region.
Want to discover more predictions about cloud computing services in LATAM? Schedule your Growth Pipeline Dialog™ with the Frost & Sullivan team to form a strategy and act upon growth opportunities! Visit: https://frost.ly/60o
Sources:
¹ 5G and Edge Computing—Cloud Workloads Shifting to the Edge, Forecast to 2024.
² Frost & Sullivan State of the Cloud 2021: The Hybrid, Multicloud Forms the Foundation to Digital Organizations.
³ https://aws.amazon.com/pt/blogs/publicsector/aws-announces-local-zones-latin-america/
⁴ 2022 Frost & Sullivan Company of the Year Award – The Latin American Public Cloud Industry.
⁵ https://aws.amazon.com/pt/blogs/publicsector/aws-announces-local-zones-latin-america/