Baidu's recently held "Apollo Day" was meant to showcase the Chinese search engine and technology giant's astonishing progress in autonomous driving technology development, enabled by its open-source, autonomous driving software platform – Apollo. The Apollo technology stack has been in various levels of testing since 2017 and has attracted over 100 collaborators, including leading automakers like Toyota, Geely, Daimler, BMW, Hyundai, and Ford as well as other industry partners such as Nvidia, Bosch, Intel, and TomTom.
The platform has played a pivotal role in accelerating the development of self-driving cars and has made possible the bold pronouncements made at the event. Among them, the launch in 2023 of "Apollo Go", touted to be the world's largest fully autonomous ride-hailing service and Baidu's ambition of becoming the world's largest robotaxi operator, leapfrogging over fierce US rivals, Alphabet Inc.'s Waymo and General Motors Co.'s Cruise as well as homegrown competition in the form of Alibaba-backed start-up AutoX, DeepRoute.ai, Pony.ai, and DiDi Chuxing.
'Apollo Go' is envisioned as being a fully driverless ride-hailing service. As a first step to this goal, Apollo and Pony.ai were awarded awarded groundbreaking licenses by Beijing city authorities to pilot driverless, ride-hailing services without a safety driver behind the steering wheel (although a safety monitor is still required onboard). In August 2022, it began operations of fully autonomous commercial taxi services in Wuhan and Chongqing.
Currently, Apollo-powered robotaxi services operate in over 10 cities across China, including Shanghai, Shenzen, and Guangzhou and have given over 1.4 million rides to passengers, autonomously.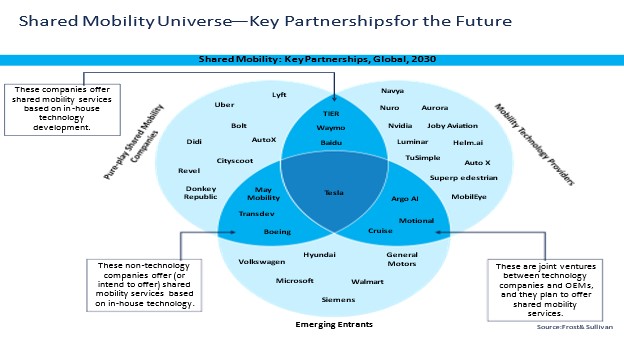 To learn more, please access our research reports, 2030 Vision of the Global Shared Mobility Industry, Strategic Overview of Start-ups Disrupting the Global Autonomous Vehicle Market, Global Autonomous Shared Mobility Growth Opportunities, Global Advanced Driver Assistance Systems (ADAS) and Autonomous Driving (AD) Industry, Outlook 2022 or contact sathyanarayanak@frost.com for information on a private briefing.
Our Perspective
China, the world's largest automotive market, has been at the forefront of the electrification and autonomous revolution.  It has been consistently supportive of commercial L4 robotaxi and shuttle operations.
That said, several key issues will determine the future of how big and how fast the market for fully autonomous ride-hailing services will grow, not just in China but globally as well.  Efficiencies are one consideration. Baidu, for instance, claims that its autonomous robotaxis can rack up a daily average of 15 rides, comparable to conventional, ride-hailing car services with human drivers. Over time, productivity efficiencies could rise linked to higher utilization rates since such vehicles could, theoretically, operate 24/7 and not be limited by regulated working hours or driver fatigue. At the same time, there is the promise of cost-efficiencies associated with savings on driver salaries.
Another concern is safety.  This is a major factor in autonomous vehicle development since fully driverless ride-hailing vehicles, such as the Apollo Go, eventually foresee operating without any manual intervention and safety drivers onboard.  In turn, technology is a crucial enabler of safety. The ability to safely operate an autonomous ride-hailing service in dense urban centers requires multiple, intelligent, fail-safe features using AI, machine learning, cloud computing, and edge processors. In the case of Apollo Go, this quest has been anchored in technological advances—from high definition (HD) autonomous driving maps for accurate path planning and a closed loop data system that supports enhanced decision-making capabilities to an AI model capable of identifying edge cases.
Scaling is crucial to the successful commercial roll-out of autonomous vehicle technology.  While Waymo and Cruise have been scaling their driverless ride-railing operations at a gradual pace since 2020, Baidu has stated that Apollo's AI model is safe and intelligent enough to start services in a new city in as few as 20 days.
Progressive regulations will be critical to the deployment of commercial self-driving vehicles. In a landmark ruling in January 2022, the UN revised the Vienna Convention on Road Traffic sanctioning the use of driverless vehicles – a decision that will make it legal to operate fully autonomous, driverless vehicles. To support the transition to mass commercialization of robotaxis, regulations will only have to keep pace and reflect a constantly evolving autonomous mobility environment, focus on ensuring clarity, and work towards standards harmonization.
Autonomous vehicles are often hailed for their potential to reduce accidents related to human errors. But these are early stages yet. For instance, in the US, automakers reported nearly 400 crashes involving cars with partially autonomous driver assistance systems over the period July 2021 to May 2022.  Therefore, core safety technology will have to be continuously refined to ensure that robotaxis realize their promise of enhanced road safety, while assuaging consumer anxiety over their safety profile.
Final Word
Baidu's aggressive growth plans are a stark contrast to companies and government regulators in North America and Europe who have chosen to take a slower approach to robotaxi commercialization. Self-driving companies outside China have had to deal with more restrictions which determine where they can test, whether they can operate self-driving vehicles without a driver in the car, the lack of comprehensive regulations, and whether they can charge fares or not. However, with competition rising in China, Baidu's announcement can be treated as a shot in the arm for the robotaxi industry and may spur other players in China and the rest-of-the-world to accelerate their robotaxi plans.