The past few months have been hard on the global automotive aftermarket. Battered by the COVID-19 pandemic, overall market growth projections for 2019-2020 have been downgraded, with growth rates expected to dip anywhere between 4.9% in an optimistic scenario to 11.6% in a conservative scenario. However, there are two factors—an aging vehicle parc and more widespread digitalization—that, we believe, will underpin the market's response. Both will be lynchpins in bolstering aftermarket demand once the more immediate effects of the pandemic wear off.
Two Scenarios, Two Outcomes
Exhibit 1: Impact of COVID-19 Outbreak on Global Aftermarket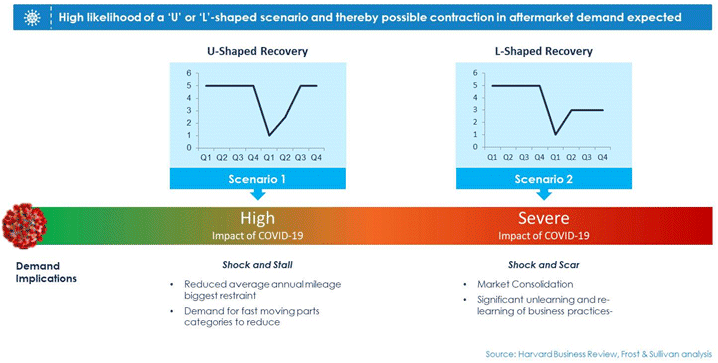 We foresee two possible scenarios in which COVID-19 might impact the global aftermarket. The first is an L-shaped recovery marked by extensive disruptions across supply chains, manufacturing, logistics, retail, and service delivery, ultimately leading to greater market consolidation. Demand will be defined by "shock and scar" trends, while recovery will be an arduous and difficult process necessitating significant revamping of business practices.
The second, and according to our research, the most likely scenario—is an optimistic one where U-shaped recovery will have a "shock and stall" impact on demand. Here, reduced average annual mileage will emerge as the biggest restraint to aftermarket demand, exacerbated by medium-term shortages of replacement parts in some markets. We envisage decreased demand for fast-moving parts categories like tires, brake parts, lubricants, consumables, and accessories in the short to medium terms.
What is becoming increasingly clear is that irrespective of the scenario, none of the segments in the overall aftermarket will register growth this year. Tires, maintenance-related parts, and accessories will be the worst-hit categories in the replacement aftermarket. Tires, in particular, will hit major speed bumps with growth rates expected to decline by 5.7% in an optimistic scenario.
Current Realities are Challenging
There's no glossing over the fact that aftermarket participants are working in an extremely challenging, potentially recessionary environment.
Across most markets, lockdowns and the lingering impact of COVID-19 on lifestyles will likely mean an average reduction of 10%-12% in vehicle miles traveled. In fact, during the period between January-April 2020, annual average mileage fell by almost 50%.
New vehicle sales have slowed down considerably, which has translated to a slower expansion of vehicles in operation (VIO). Shared mobility, which offered tremendous potential demand, has been devastated by social distancing imperatives.
Disruptions in manufacturing and supply chains are likely to persist over the next six months. In an uncertain economic climate, customer spending power has contracted. Against this backdrop, channel partners, including dealerships, independent automotive aftermarket (IAM) warehouse distributors, and retailers will be left weakened and will require industry support to survive.
A New-Look Aftermarket
The impact of the pandemic on aftermarket demand will be much milder than that being experienced by the automotive industry. By affecting different areas of the aftermarket, however, it will fundamentally alter the way business is conducted.
Arguably, the most visible change will be the digitalization of parts and services retail across the customer purchase journey. Such trends will accelerate, catalyzing the recovery of the aftermarket. We estimate the adoption of digital channels in parts and accessories retail to pick up the pace, expanding by 17% in 2020.
Apprehensions over contamination at workshops will boost the uptake of digitally enabled, on-demand service models, giving rise to contactless options. Accordingly, mobile and contactless delivery of parts and services will surge. This will be accompanied by the development of online marketplaces for booking parts and services.
If digitalization spurs recovery, so will an aging vehicle parc. The average vehicle parc age in the US is about 11.8 years, 9.5 years in Germany, 17.1 years in Poland, and 13.4 years in Russia. Such trends are echoed in other parts of the world. In the current climate, people are likely to postpone new car purchases and continue using their existing vehicles. This will translate to higher investments in the maintenance and upkeep of existing vehicle parc, benefiting IAM participants.
More Changes Ahead
As the door closes on some aftermarket business opportunities, new doors will open. For instance, robust electric vehicle (EV) sales and expansion in related EV parc will generate opportunities for battery refurbishment. Simultaneously, the increased demand for in-vehicle Health, Wellness, and Well-being (HWW) parts and accessories will create niche product categories. For example, advanced cabin air filters could experience rapid adoption among both original equipment installations and IAM.
Simultaneously, the increasing penetration of advanced driver assistance systems (ADAS) vehicles in the global VIO, particularly in Western Europe and North America, will create growth in related service categories such as sensor recalibration.
Meanwhile, we are anticipating greater consolidation across the value chain. Small to medium-sized channel participants, including suppliers, resellers, and service providers that are reeling under financial stress, are ripe to merge with or be acquired by their larger, more financially stable counterparts.
Work Done by Frost & Sullivan on COVID-19:
To know more about Frost & Sullivan's analysis on COVID-19 from across the globe, visit – https://www.frost.com/insights/covid19/.
Should you have any queries on the impact of COVID-19 across industries, need more information, or would like to schedule an interview/interaction with our spokespersons, please email Priya George at priyag@frost.com.