By Dr. Brian Balmer, Industry Director, Performance Materials, Frost & Sullivan
Last month, Frost & Sullivan hosted DOMO Engineering Plastics at its European awards banquet. DOMO received an award for its development of a solution to supply polyamides made from recycled post-industrial feedstock. It was a fantastic night, showcasing innovation across a range of sectors, and speaking to DOMO galvanised my own opinion that this is a truly pivotal moment for the polymer industry.
In the few weeks since then, we have seen a number of industry announcements that continue the trend: Eastman and Ineos have both announced new technology for recycling plastic waste.
The plastic waste issue is a huge topic, not just within the plastic industry, but for society in general. These news items are just the latest in a long list of announcements that confirm what I said in my previous article: the expertise of polymer producers will remain invaluable, even if the "make more virgin plastic from crude oil" business model will not.
For example, earlier in 2019, Sabic announced a major milestone in its project to commercialise a circular economy for plastics. Meanwhile, Total announced its acquisition of Synova, a leader in manufacturing high-performance recycled polypropylene parts for the automotive sector.
The use of recyclate as a raw material is a major trend. However, it isn't the only big change happening in the plastic industry. These changes are coming to the industry from many directions, reflecting the different types of companies involved in the plastic value chain.
As illustrated in the graphic below, processors are the linchpin, where all of these trends in the plastic industry converge.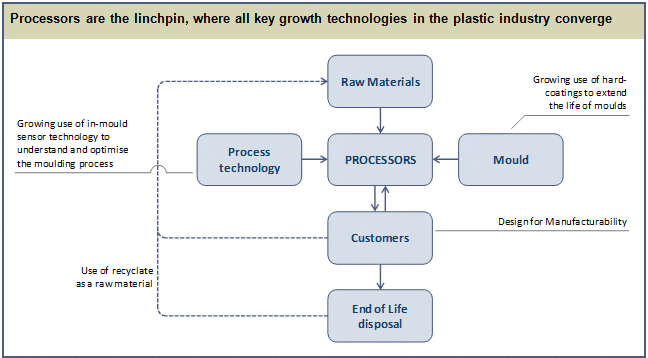 Processors are the linchpin, where all key growth technologies in the plastic industry converge
As this shows, at least four major disruptions are occurring in the plastic industry today. Since we've already discussed the use of recyclate as a raw material trend, here's a summary of the other three.
Mould Coatings
Hard coatings on moulds are becoming increasingly common. Whilst many moulds have no coating, this is changing due to many factors, including:
The moulding process becoming more abrasive over time (for example, through the growing use of long glass fibres).
Increasing demand for class A surface finishes on parts.
Hard chrome and electroless nickel are the traditional choices, but newer technologies are rapidly growing their share of the industry. These include nitriding and PVD coatings. These mould coatings are seeing considerable growth in demand in the plastic industry.
Design for Manufacturability
This topic doesn't receive as much attention as the other factors discussed here. Nevertheless, it is still a critical consideration and emphasises the need for processors to work closely with customers and polymer suppliers.
There have been several cases recently of brand owners and automotive tier 1 companies acquiring an injection moulding company, simply to bring the technology in-house and enable better communication between the people designing the part and those responsible for making it.
By doing so, the manufacturability of new parts can more easily be factored in from the outset.
Sensor Technology
The past year has seen Industry 4.0 initiatives really take off in a number of forming and fabrication industries. From metalforming to plastic injection moulding, sensor technology is enabling unprecedented levels of information to be gathered about the process.
Sensors are increasingly built into moulding equipment, enabling a whole range of enhancements. Not only will the process itself be enhanced, but polymer producers can use the data to design better compounds, customised to the needs of an individual mould.
Research projects such as PREVIEW and BEinCPPS took sensor technology in the moulding industry to a new level in 2018, and this concept of using sensors in the moulding process is poised to take off.
Conclusions
This article presents Frost & Sullivan's view on four of the big changes currently disrupting the plastic industry. Of course, there are other trends—additive manufacturing, new end products like electric vehicles—but these four are transforming the industry.
They are also coming to the industry from different sources, including moulding equipment makers, polymer producers, customers, and the recycling industry. A major question remains: how will processors cope with these issues?
These processors are the linchpin, and their involvement will be critical to the success of all these new technologies.
More on this story
Frost & Sullivan is proposing a major survey of plastic processors to discuss their opinions on the major trends affecting their industry. Which trends do they see as most important? How will trends affect them? How might trends affect their relationship with suppliers?
The aim of the survey is to provide suppliers to the plastic industry (especially, but not limited to, polymer producers) with real, actionable insights into the needs and pain-points of processors as your direct customers and how you could improve your own competitive position by helping them navigate the biggest challenges facing them today.
Contact us to learn more about our proposal and to find out how you can become a member of the consortium, help us design the survey, and benefit from the findings.