In May 2022, DSM and Firmenich announced their plans to merge together. The move, seen as "the merger of two equals", is expected to create a true powerhouse of innovation in the Nutrition, Wellness and Beauty space.
Background
Netherlands-based DSM, one of the top health & nutrition ingredient suppliers, is set to combine forces with the largest privately-owned fragrance and flavor house  – Firmenich. The merger, which is expected to be completed by 2023, will form a new entity called DSM-Firmenich that will be segmented into four strategic business units:
Perfumery & Beauty
Animal Nutrition & Health
Health, Nutrition & Care
Food & Beverage/Taste & Beyond
The companies expect a combined mid-term organic annual growth of 5%-7% with most of the sales expected from the combination of DSM's Food & Beverage and Firmenich's Taste & Beyond business units.
Expected Synergy to be expected
DSM has a vast portfolio of F&B and nutritional ingredients that will be complemented by Firmenich's Taste & Beyond business. DSM-Firmenich is expected to focus more on developing solutions that will offer nutrition and enhanced taste and texture across a range of application areas.
The two companies balance each other in terms of their expertise across the botanicals space. DSM has a strong portfolio of bio-based ingredients that will be complemented by Firmenich's long-standing experience in natural and biotechnology-derived ingredients. Also, the two players are equally focused on plant-based alternatives/solutions that will result in the development of highly sustainable, healthy and clean-label ingredients.
Firmenich's Perfumery and Ingredients business will work with DSM's Personal Care & Aroma business and the new entity will have a higher penetration in the beauty space.
A strong IP portfolio and access to different production and extraction technologies would result in higher innovation.
What Does it Mean for the Industry?
Market Consolidation: The deal is a strategic move to organically gain higher market share in the Nutrition, Wellness and Beauty space. In general, the Aroma Chemicals, Flavor and Fragrance (AFF) market is highly consolidated, with the top four companies holding approximately. 55% of the market share (as shown in the graph below). This merger would further consolidate of the AFF market with the expansion of Firmenich's penetration in the personal care and home care sectors through DSM's exhaustive portfolio of aroma chemicals.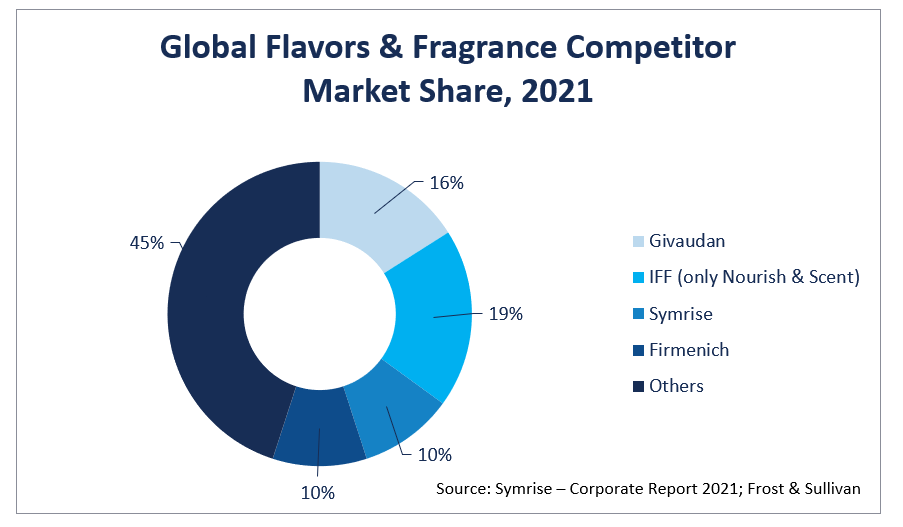 The Nutrition, Health & Wellness space has witnessed a series of mergers and acquisitions over the past few years driven primarily by changing customer requirements and increased competition. Of the many examples, this deal closely follows the IFF and DuPont Nutrition & Biosciences merger that was completed in 2019.
DSM's exit from traditional chemical businesses and its transition into a pure Food & Nutrition company indicate strategic transformations the company has made over the past 150-plus years.
Expanded Global Market Reach –The extensive global market reach of the combined company would benefit customers, as they will have access to a large network of R&D centres (15), application labs (78), and creation centres (40) across the globe. The new entity would be better positioned to address changing customer requirements and will ensure more sustainable and secure supply chains. In the present volatile situation, supply chain security is one of the key competitive differentiators for ingredient suppliers.
Increased Focus on R&D and Innovation:  –  The synergy created by the two companies' research capabilities will result in an expanded product portfolio with more focus on sustainable, clean-label and health-promoting ingredients. Innovation will remain the core focus of DSM-Firmenich. The new entity has an opportunity to leverage cross-technology expertise in biosciences, fermentation, process engineering, sensory perception and formulation and others to accelerate growth.
Plant-based ingredients/foods, functional food and supplement ingredients (e.g., probiotics, postbiotics), medical nutrition ingredients, next-generation supplement formats (e.g., gummies), microbiome and advanced biotechnology tools are expected to be some of the key areas that will receive higher research and investment focus under DSM-Firmenich.
Conclusion
The complementary capabilities of the two companies are the biggest competitive advantage and will offer higher innovation and growth acceleration opportunities in the Nutrition, Health, & Beauty space.
For more information on DSM, read our report 'Shift toward Organic Synthesis of Vitamin K2 Powers the Global Vitamin K Market' here.