Its enviable geographical position connecting the west and east, coupled with its well-connected air and sea routes, attracts businesses and tourists to Dubai in large numbers. Not only is Dubai regarded as a transportation and logistics hub, it is also seen as a gateway to target the developing markets of Africa and Asia.
It is the biggest re-exporter and importer in the region and plays a major role in the Gulf Cooperation Council's (GCC) trade.
The transportation, logistics, and storage industry in Dubai consists of passenger transportation, cargo transportation, warehousing, freight forwarding and other value-added services for cargo.
The UAE is ranked number one in road infrastructure, globally. Passenger transportation has assumed great importance due to the growing population. Traffic congestion is a daily aggravation that the Government is attempting to solve on an urgent basis. The Roads and Transport Authority's (RTA) goal is to boost the share of public transport in the city to deal with this issue. While the Metro (the most widely used form of public transport) and tram are expected to become the most convenient options for city travelers, the future focus is on integrating the entire transport network.
The number of taxis has grown at a CAGR of 6 per cent between 2012 and 2016. While this has added to pollution levels, the RTA also has plans to introduce hybrid taxis and convert at least 50 per cent of its taxi fleet to hybrid engines.
Bus services link residential and industrial areas. While passengers could use a smart 'Nol' card to travel by Metro and bus, it is free for the disabled. In 2016, Dubai had about 1,500 buses plying across 125 routes and is expected to reach 2,000 by 2020.
Trams are another popular option and the RTA plans to expand this network to reduce traffic congestion on roads.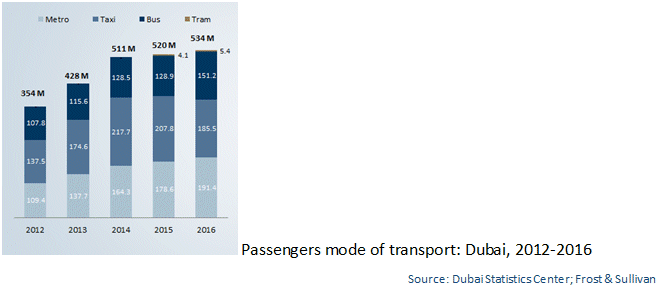 Marine transport in Dubai includes water taxis, water buses, and abras. The opening of the Dubai Canal from Business Bay to Jumeirah is expected to boost the marine transport system in the Emirate due to improved connectivity. Luxury yachts are also a big market, and Dubai Harbor is planning a special marina with 1400 berths for yachts.
Cruise tourism is also popular with the Dubai Harbor planning a cruise terminal to handle more than 6,000 passengers.
The demand for passenger air transport services in Dubai is set to increase in tandem with the expected growth in tourism and EXPO 2020. It is a key contributor to the economy and plays a crucial role in supporting business and tourism in Dubai. Emirates Airlines is the largest in the region, with Dubai International Airport acknowledged as the world's busiest airport in terms of international passenger traffic.
Dubai's strategic location also makes it a logistics hub with several cargo companies making this Emirate their base. Dubai Trade is the single window for cross border trade in the Emirate. It works with the objective of making the city a preferred destination for trade through the adoption of e-services.
Increasing investments aimed at developing cargo transportation and logistics infrastructure are expected to drive growth in the logistics industry.
Linked to this is freight forwarding which is a growing market. Increasing trade opportunities will, in turn, boost the adoption of smart technologies that maintain efficient procedures and sustain the growth of this market.
In the UAE, Dubai charges the highest rent for warehousing facilities due to the high volume of trade activities. Growth in ecommerce, retail trade, and manufacture are expected to spur demand for modern warehousing in order to achieve better supply chain visibility.
Value-added services are becoming a very important component of the logistics industry with logistics operators expanding their operations in response to changes in consumer behaviour and retail requirements. Labeling, packaging and tracking have an edge over the other services offered by logistics providers. Expansion in logistics infrastructure, free zones, and logistics parks are expected to support the growth of value-added services during the forecast period.
Frost & Sullivan believes autonomous transportation and modern warehousing facilities will be the key growth drivers of the industry.