As we settle in to the era of hybrid work, it's abundantly clear that video conferencing will remain a key tool to connect distributed teams. People working in the office on any given day will need to seamlessly connect over high-quality audio with others who are in different locations. How can AV and IT leaders make this happen?
Meeting rooms must evolve: they need to be compatible with the cloud-based video conferencing services that companies are investing in to keep people connected. After all, users have become familiar with contemporary cloud services such as Microsoft Teams, Zoom, Webex by Cisco, and Google Meet, which are designed to fully include all meeting participants regardless of how they join.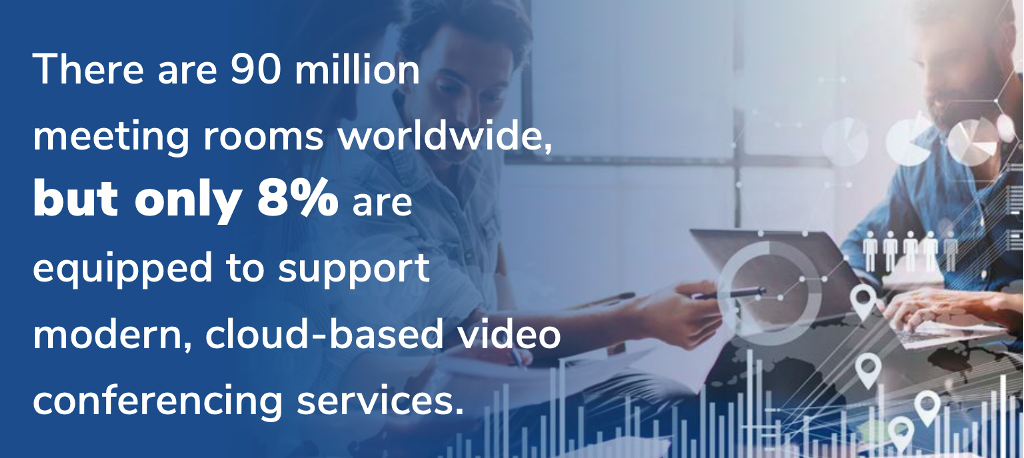 But, video conferencing is only part of the picture. You wouldn't go to the cinema simply to watch images on a big screen—you want the cinematic sound experience that goes with it. The same thinking applies to the new hybrid work model. Without flawless audio, meetings become unproductive and attendees suffer the proverbial "meeting fatigue."
What's the solution? Collaboration spaces come in all shapes and sizes, from large conference rooms to small huddle spaces and everything in between. To deliver an audio experience
in which everyone can hear and communicate effectively, many of these rooms require a comprehensive ecosystem of audio solutions that are designed to right-fit the collaboration space. Understandably, however, IT admins do not want the added complexity of integrating and managing multivendor products, nor do they want to invest in expensive professional customization services for every room.
The best way forward is to select a portfolio of curated products that work together and integrate with your chosen video conferencing platform to create a seamless, high-quality, and unified experience. Certification and approved compatibility with the conferencing devices and platforms you've invested in are a must. It's how you maximize your investment while ensuring a high-quality, reliable communication experience.
What benefit does mixing and matching audio components from a single portfolio deliver? You gain capabilities that are not possible with legacy room AV systems or from most of today's multivendor solutions:
Consider maximum effectiveness for each space. While deploying modern, all-in-one tabletop audio devices works well in small meeting rooms, when outfitting midsize, large, or challenging collaboration spaces it's best to integrate the all-in-one tabletop devices with additional components, including tabletop room controllers and wall and ceiling-mount speakers and microphones, for complete room control and coverage.
Empower all participants to seamlessly join meetings with confidence from personal and group workspaces to share their ideas and expertise, and to hear and learn from each
Increase utilization and return on investment by designing multipurpose rooms with full audio coverage for a variety of setups and use cases, such as front-of-room sessions (e.g., presentations and training) and roundtable discussions (group interaction).
Implement web-based management and monitoring utilities for all audio components that are accessible to administrators from anywhere at any time and provide the ability to quickly adjust audio settings for different meeting types and seating
Overall, standardizing performance, quality, and support across your meeting rooms is imperative to creating reliable, user-friendly, and scalable collaboration environments.
Hybrid work has flipped the meeting scenario. Going forward, most meetings will be a blend of in-room and remote participants. These new dynamics require businesses to rethink and redesign the workplace. Flawless audio must be central to this. Begin by ensuring that everyone can hear and communicate effectively, no matter from where or how they join the meeting.
Stay tuned for more content designed to help you design and enable your collaboration spaces for engaging meetings.