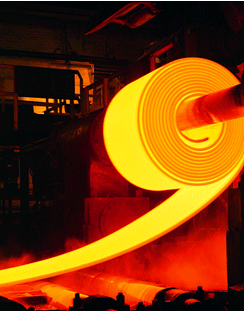 The EU-28 steel industry is cumulatively the second largest producer of steel globally. It has a turnover of around $170 billion, directly employs more than 300,000 people, producing more than 160 million tonnes of steel year-on-year. According to EUROFER, total crude steel production in EU-28 was estimated at around 134 million tonnes by the end of September 2019. Germany, Italy, France, and Spain were the major producers, accounting for around 50% of crude steel production in the region in 2019. In terms of product type, flat steel products accounted for over 60% of the overall steel production and the rest was long steel. The overall demand for finished steel is expected to register a meagre growth of 0.5% in 2019 from the previous year. This slowdown has been driven by a deceleration of the automotive sector, and cut in steel production by major manufacturers like ArcelorMittal.
Exhibit 1: EU-28 Demand and Forecast for Finished Steel Products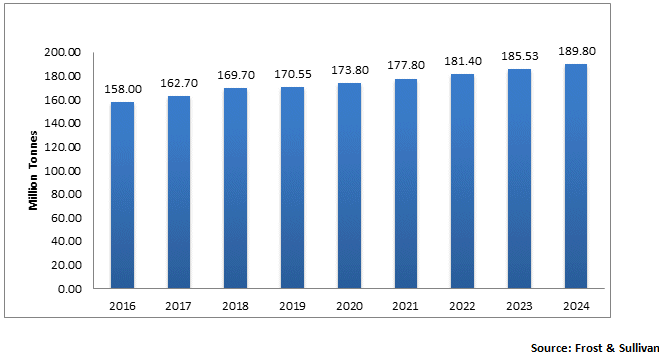 Construction, automotive, industrial machines were major consumers of steel in 2019; cumulatively, these three industries accounted for almost 70% of the overall steel consumption. Currently, the EU steel industry is facing a severe crisis due to geopolitical factors like Brexit, economic slowdown and higher imports from countries like Turkey, China, and Russia. These factors have also led to the decline of EU steel prices in 2019. However, the EU-28 steel industry is eyeing a quick recovery from the crisis with the help of new government regulations on anti-dumping and is also expecting a higher demand from the construction and automotive industries in the future. Additionally, the EU green deal will also boost the production of steel by lower-emitting technologies.
Demand forecast for flat and long steel products
The demand for flat steel products has been witnessing a slow growth since 2018; the slowdown is mainly due to weaker demand in automotive industries in the region. The demand for long steel products has registered a relatively higher growth since 2018; it is supported by ongoing construction activities in countries like Germany. The demand for flat steel products is expected to grow at a CAGR of 2.17% during the period 2019-2024. Growth will be largely supported by increasing demand for Advanced High Strength Steel (AHSS), Ultra High Strength Steel (UHSS), and Press Hardenable Steel (PHS) steel products in the electro-mobility industry. Similarly, the demand for long steel products is expected to grow at a CAGR of 3.40% during 2019-2024. Demand for long steel will be driven by ongoing construction activities in the region.
Exhibit 2: Demand and Forecast for Flat and Long Steel Products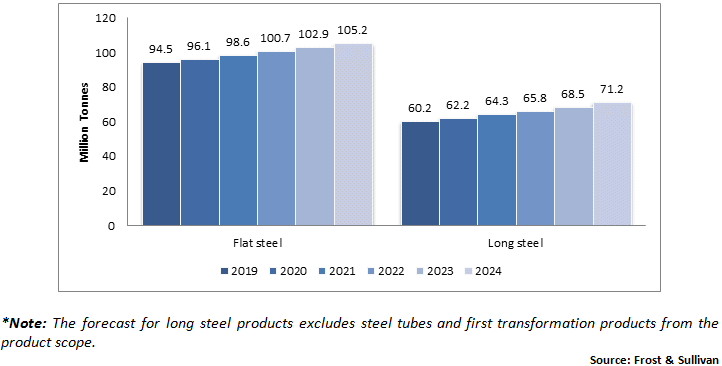 Competitive scenario
ArcelorMittal, Liberty Steel Group, ThyssenKrupp, and Tata Steel are some of the major suppliers operating in the European steel industry. The market is facing consolidation: major players like ArcelorMittal are involved in continuous brownfield investments. For instance, ArcelorMittal completed the acquisition of Exosun and Ilva S.p.A. in 2018. Similarly, ThyssenKrupp and Tata Steel announced a deal for forming a joint-venture entity in 2019. However, the JV deal between Tata Steel and ThyssenKrupp was dismissed by the EU commission stating that JV poses a threat of major price hike of flat steel in the European steel industry and it might affect competition and several other end-user industries. Also, Liberty Steel Group completed the acquisition of seven major steelworks and five service centres across seven European countries from ArcelorMittal in July 2019. Such strategic brownfield investments from domestic suppliers will increase their operational efficiencies and help them combat the pricing pressure they face from Chinese exporters.
EU-28 steel industry – Growth drivers and trends
Strong demand for long steel products in domestic and foreign markets – According to EUROFER, total EU construction output is forecast to increase by 3.5% in 2019 and by 1.2% in 2020. The construction industry has largely been performing well in Europe despite the economic slowdown. For instance, housing orders in Germany have seen a strong recovery since 2018 and were at the highest in almost 20 years. Similarly, exports of long steel products for construction were also high in 2019. For instance, the EU's rebar exports to Algeria increased by more than 54% in 2019 from 2018. Therefore, steady growth in the construction industry will spur the demand for long steel products in the future.
EU green deal will support lower-emitting steel production techniques – The European Commission announced its proposed green deal in December 2019, aimed at reducing emissions to net-zero by 2050. The deal is intended to support green initiatives such as transitioning to electric vehicles (EVs), a circular economy, lower-emitting steel production technologies and reducing freight emissions. As a part of this initiative, the EU intends to provide financial support for lower-emitting steel technologies, to reduce the risk of carbon leakage. Also, EU steel manufacturers have called on the EC to introduce tariffs on imports from steel producers in countries that are not subject to the same types of emissions controls as of the EU. This may perhaps benefit EU steelmakers after a challenging 2019, with staggering import levels still putting domestic suppliers under pressure. Such initiatives and recommendations under the EU green deal will help in the increased production of steel during the predicted period.
OEM manufacturers like BMW, Volkswagen, and Tesla are switching back to steel for their EV portfolios – The switch by OEM manufacturers back to steel envisages that the steel industry will be the biggest beneficiary of the ongoing EV revolution. The demand for steel is expected to increase with the development of AHSS that secures the material's future in the automotive industry. Steel helps EV manufacturers to achieve goals including weight reduction, recyclability, and economic efficiency. Though steel is facing stiff competition from aluminium in the electro-mobility industry, it is expected that steel will be the prime choice of EV manufacturers in the future. EV manufacturers are already in the phase of switching back to steel from aluminium. For instance, Tesla uses 86% of the steel in its Model 3 EV, of which 44% is high strength steel.
Exhibit 3: Tesla 3's Body-in-White Metal Distribution

For instance, BMW will be constructing its model i5 in steel and light alloys from 2021, rather than using carbon fibre reinforced plastic (CFRP), which dominated in the i3. Steel also plays a crucial role in the motor and drive. Non-grain-oriented electrical steel (40 to 100 Kg) is used in the construction of motors for a purely electric vehicle. This could increase the demand for this magnetically-soft material to over a million tonnes a year in the EU. Hence, it is expected that the steel manufacturers will ramp up the supply of AHSS, PHS, UHS and lightweight finished steel products in the future.
EU steel industry – Market restraints
Exploding imports eliminating competition in the domestic market – The consumption of steel in the EU-28 was estimated at around 169.7 million tonnes in 2018. However, a large part of that consumption was catered by imports; imports of finished steel products in the EU grew by 12% in 2018. However, the EU-28 steel industry growth was a meagre 3.3% during the same year. EU-28 is facing a severe threat of import deflection triggered by the US Section 232 import tariff in a context of persistent global overcapacity. In July 2019, EC imposed a provisional safeguard measure on imports of steel products. The provisional measures concern 23 steel product categories and for each of the 23 categories, tariffs of 25% will only be imposed once imports exceed the average of imports over the last three years (from 2016). Nevertheless, these measures were able to control the import of steel in EU-28. Due to the staggering import volumes from third countries, domestic suppliers were forced to cut production in the region in 2019. This resulted in a fall in the overall market supply of finished steel in the EU in 2019. The situation is expected to continue until the EC introduces stringent import tariffs and anti-dumping policies. The EU's steelmakers and lobbying groups are demanding swift action from the EC on the same.
Weaker demand for traditional steel from the automotive industry – Similarly, steel consumption in EU-28 fell by 2.5% year-on-year in the first quarter of 2019 and amounted to 42.6 million tonnes. According to EUROFER, the negative trend in steel demand in 2019 has primarily affected domestic steel producers in the EU. In the first quarter of 2019 domestic deliveries from EU mills to the EU market fell by 4% compared with the same period in 2018. During the same period, new car sales dropped by 7.9% to 1.49 million cars. France and Spain had more than 8% sales drop, while German and UK sales fell 4.7% and 4.9%, respectively. The decline in new car sales continued in August 2019 as well and affected the demand for steel in the automotive industry. Stringent government norms to reduce CO2 emissions from vehicles have affected the production of passenger cars. As a result of this regulation, OEM manufacturers are focusing on ramping up production of EVs in the future. Therefore, traditional steel is expected to slow down.
EU-28 steel industry – progression – The EU-28 steel industry is expected to grow at a CAGR of 2.28% during the period 2020-2024. The industry was almost stagnant in 2019 due to various factors such as persistent global overcapacity, cut in domestic production, exploding imports and weaker demand from the end-user industries. However, the outlook for the steel industry in EU-28 is expected to recover in 2020. The demand for long steel products is expected to be high in the construction sector in countries like Germany and Italy. Similarly, the demand for AHSS, UHSS, and PHS will be high in the electro-mobility industry. Overall, the EU-28 steel industry will register a steady growth rate during 2020-2024.