Logistics services are crucial for the healthcare industry to deliver time-critical medical equipment and pharmaceuticals that require cold storage facilities. Some of the primary factors for vaccine logistics include cargo monitoring with supply chain visibility and traceability, vaccine temperature monitoring, and stability testing.
The United States, India, China, UK, Germany, and South Korea are some of the major vaccine-producing countries, with a production capacity of over 11 billion doses. As the distribution of vaccines requires a strong global supply chain network, due to its geographic location, GCC could soon become one of the major logistics hubs by developing vaccine distribution infrastructure at some of its key seaports and airports.
National Vaccination Program
To contain the spread of COVID-19, National Vaccine Programs are being implemented by many countries globally.  Currently, the world average of daily administered vaccine is estimated at 1092 per million as of March 2021, with Israel, Chile, and United States leading vaccination administration. India's vaccination program, which started on 16 January, is attempting to vaccinate 1.36 billion people.
In phase one of the Coronavirus vaccination drive in India, healthcare workers were given priority, while in the second phase, frontline workers associated with the containment of the virus were vaccinated. This will be followed by vaccinating people who are 60 years and above and also the population residing at hotspots where the prevalence of COVID-19 is high. People with comorbidities will be given preference in this phase. As India moves to the next phase of vaccine administration, the number of daily vaccines administered is expected to improve significantly. 
Exhibit 1: Vaccines Administered per Million Daily, March 2021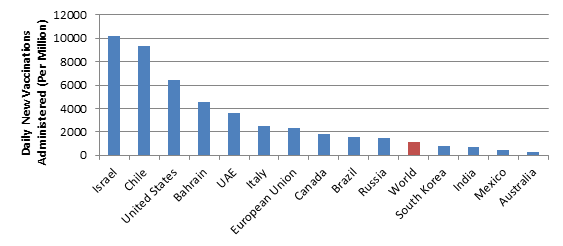 Source: Ourworldindata and Frost & Sullivan
Key Challenges and Growth Drivers
An adequate supply chain and logistics infrastructure, real-time visibility along the supply chain, micro-level planning to organize the administration of vaccines, effective planning and coordination among the agencies involved in vaccine administration, etc. are some of the factors expected to assist in overcoming vulnerabilities in the vaccine supply chain.
Vaccine production in India is expected to benefit from the financial support announced by the Quad nations to increase COVID-19 vaccine manufacturing by 1 billion doses. The stock of items such as syringes and gloves for the frontline healthcare workers is to be aligned with the expected increase in vaccine production in India in the next two years.
Currently, cold chain infrastructure is highly concentrated in urban areas. The inter-state disparity in the distribution of cold-chain points is another area that needs to be focused on to overcome challenges associated with vaccine distribution.  With an increasing number of COVID-19 cases in several states due to the second wave of the virus, a wider vaccination program is becoming critical for controlling its spread. As a result, the vaccine supply chain network in India is expected to undergo transformational changes and open up opportunities for cold chain logistics service providers to meet the increasing demand for sourcing, procurement, manufacturing, distribution, and last-mile delivery of vaccines.
For more information on this topic or to schedule an interview/interaction with our spokesperson, please email Priya George, Corporate Communications at priyag@frost.com.