Sunday, April 7th is World Health Day and this year's theme is "Universal Health Coverage: Everyone, Everywhere" that is Health for All. The day is seen as an opportunity by the organization to draw global attention to a subject of major importance to health each year.
With regards to 'Health for All', the Government of India launched Ayushman Bharat – National Health Protection Scheme (AB-NHPS) on September 23, 2018 as a part of National Health Policy 2017, in order to achieve the vision of Universal Health Coverage. AB-NHPS aims to provide comprehensive healthcare services to over 10 crore (100 million) poor and vulnerable families (approximately 500 million beneficiaries), accounting for roughly 40% of the nation. It is an attempt to move from sectoral and segmented approach of health service delivery to a comprehensive need-based healthcare service. This includes primary care through Health and Wellness Centres, and insurance coverage of upto INR 5 lakh (approximately USD 7,200) per year for secondary and tertiary care through the Pradhan Mantri Jan Arogya Yojana (PM-JAY).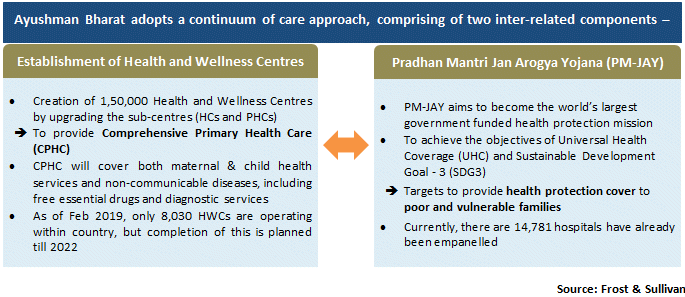 AB-NHPS has the potential to change the Indian healthcare landscape assuming it is implemented in a systematic manner. The most profound impact is an outright reduction in out of pocket (OOP) expenditure for the patients. The scheme promises to be a huge success, owing to the high level of political commitment, backed by increasing funding for the scheme, shift from sectoral and segmented approach of health service delivery to a comprehensive need-based healthcare service, and public perception of the shift in targeting of social sector program from 'poor only' to an expanded approach of vulnerable and deprived population (increasing the target beneficiaries significantly).
The Indian healthcare industry, though excited, is also unsure of the opportunity the scheme presents for them. Large corporate hospital chains are employing the 'Wait and Watch' policy, but many smaller players are now committing to the scheme. The current reimbursement rates for services and procedures under PM-JAY seem to be a major challenge. Many opine that the AB-NHPS is still evolving and the prices/reimbursement will, likely, stabilize over the next two years. While there will be pricing pressures, an increase in 'foot falls' will, likely, make it a profitable model for the healthcare players to engage with the scheme.
For more information on this topic or to schedule an interview/interaction with our spokesperson, please email Priya George, Corporate Communications at priyag@frost.com.