The global industrial hydraulic equipment market research (2017-2023) by Frost & Sullivan identifies the technical and economic trends in the global industrial hydraulic equipment industry. This research service studies the competitive landscape and analyzes the key end-user markets that are driving the industry.
This study offers readers a comprehensive view of the regional markets and segments those by product type and end-user industry. This research service helps the reader understand the market from a technological and an application perspective. In terms of product type, the market is segmented into pumps, motors, valves, cylinders, transmissions, accumulators and filters, and others (hoses, fittings, tubes, couplings). The industrial hydraulic equipment market has been segmented into various end-user industries such as machine tools, hydraulic press, plastics, water and wastewater, automotive, food and beverage, renewable energy, entertainment and simulators, and others.
Market Overview: Industrial Hydraulic Equipment Market, Global, 2017-2023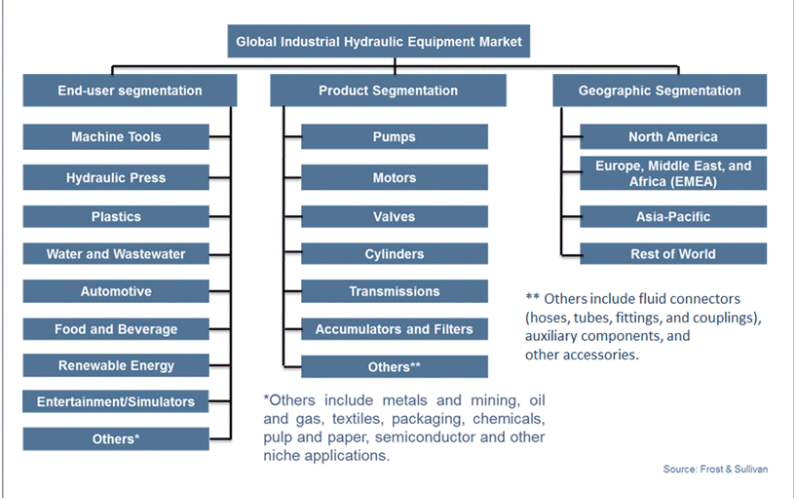 Hydraulic systems have been employed in industrial applications across a number of industries for decades. Machine tools and hydraulic press machines form the backbone of a large number of industrial applications across a wide range of industries. These segments have historically been the largest users of hydraulic equipment, and will continue to be so in future. The durability and power density of hydraulic equipment are unmatched by alternative technologies such as electric solutions. This is of particular importance to the machine tools segment whose growth is linked to increasing activity in downstream industries such as automotive and aerospace. The demand for high force pressing applications in the automotive, aerospace, food and beverage, and marine industries continues to ensure the adoption of hydraulic equipment in press machines. However, the growth of servo presses, especially in the lower power applications, is expected to restrict the growth of hydraulic equipment in this sector.
While demand for smarter machines is expected to increase the adoption of electro-hydraulic equipment in the plastics sector, increasing focus on energy efficiency is also expected to challenge the growth of hydraulic equipment in plastics processing machines. While high purchase costs help slowdown the threat posed by electric solutions, focus on lowering the total cost of ownership is likely to increase the threat posed by electric solutions over the forecast period. This trend is also visible in the automotive and food and beverage industries, which are capital-driven industries. The global renewable energy sector is primed for growth over the forecast period, as countries around the world are increasing their investments in de-carbonization of the energy sector. With more renewable energy capacity set to be added in the future and renewable energy costs expected to decline due to economy of scale, hydraulic equipment market is poised for growth in this sector.
The Industrial Internet of Things (IIoT), which envisions a connected world with continuous real time process monitoring and smart decision making, is expected to revolutionize the manufacturing sector. Increasing penetration of Big Data analytics and predictive maintenance is expected to result in greater investments across the manufacturing sector. IIoT penetration is expected to increase across all of the aforementioned end-user industries as end users look to increase energy efficiency as well as operational efficiency.
This research service breaks down the global market into 4 geographic regions. Regional analyses and growth forecasts are provided for each end-user industry. Similarly, growth forecasts for the individual product segments are also provided for each region. The EMEA region has been the largest market for industrial hydraulic equipment, driven by a large manufacturing base in Europe, and is expected to continue its leadership over the forecast period. This study also discusses in detail the major economic and technological drivers and their regional impacts over the forecast period. This research service also highlights some of the upcoming growth opportunities in this market and suggests strategic imperatives for the market participants.
Despite the threats posed by electric solutions, the global industrial hydraulic equipment market is expected to post slow but stable growth over the forecast period. Watch this space for a detailed report soon.