The security industry has already gone through its share of major transformations over the last decade. Going from hardware-centric systems to more digitized, software platforms, as well as the ongoing shift from CAPEX-style purchase options to more flexible, OPEX-style payment models, the security industry continues to pivot nimbly to meet the new and growing customer needs and remain vigilant against an ever-changing threat landscape.
COVID-19 & Its After-Effects
As we close in on almost 8 months of the COVID-19 pandemic gripping the world, the security industry has found itself undergoing yet another transformation in response to the public health needs of organizations and the public safety ecosystem. With planning for 2021 already in-progress, it would be prudent for security stakeholders to think about what exactly has happened over these last few months, how customer and technology preferences have changed, and what this could all mean for the 2021 industry landscape.
Despite the pandemic, the global security industry is still expected to grow albeit lower than rates which had been seen throughout the last decade—2020 growth is estimated at 4.47% versus close to 7.0% in 2019. Much of this growth will remain tied to ongoing projects that will be completed and paid in full this year, even if they did see some delays in installation and integration timelines.
Where the industry will really see the effect of the pandemic is in its long-term growth trajectory. Pre-COVID, the industry was in the midst of an uninterrupted growth streak, achieving year-over-year growth rates averaging 7-10% over 10 years. What the COVID-19 pandemic appears to have done is pause the rapid industry growth and force a market correction of its growth to more modest rate of 3-5% year-over-year after witnessing a minor decline in 2021 as the world waits for the eventual rollout of a vaccine and a new normal can emerge for customers.
Planning for Resiliency
Aside from growth, the pandemic has caused a dramatic shift for customers regarding the types of security solutions they are demanding to better protect their employees, customers, and their digital ecosystems. Many businesses are seeking security solutions that can meet a variety of critical needs: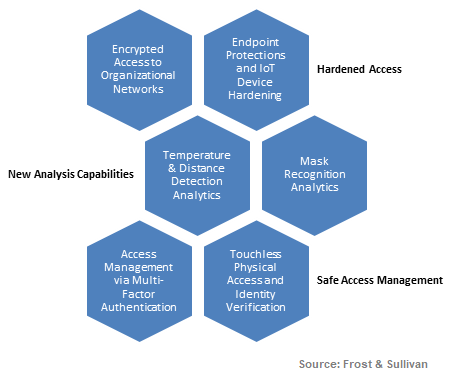 From a technology perspective, the pandemic is actually causing renewed interest in multiple technology capabilities, ranging from video surveillance and analytics to identity and access management solutions that include both digital and physical access, and in event management and security operations center (SOC) solutions. Video surveillance, particularly those systems that include integrated analytics solutions, will be critical to enabling customers to reopen physical locations for employees or customers, while also ensuring that public health protocols governing social distancing or occupancy limits can be actively monitored.
With many businesses still operating under a hybrid operational model that limits staffing capacity in physical locations and hots a large remote workforce, hardening digital access and strengthening digital identity protocols to prevent fraud or theft will be critical. Additionally, physical access solutions are shifting away from touch-based solutions to touchless access points, such as facial or behavioral biometric access, rather than physical tokens or fingerprint scanners that require a user to touch a reader or scanner. SOC and event management platforms, particularly those that can enable an organization's security team to visualize and allocate resources to respond to detected incidents, all while compiling data analysis to generate either process data or event-specific data, will allow for a more comprehensive perspective on an organization's security posture.
The COVID-19 pandemic has also inspired a new wave of innovation among security technologies, although these innovations may not be resulting in completely new systems that a customer will have to purchase. For many vendors, they are looking at their existing solution portfolios to see where they can add new COVID-specific functions, such as changing temperature detection analytics to detect fevers or using queue management functions to count occupancy levels within a space. Facial recognition solution vendors are looking to add or reconfigure their recognition algorithms to conduct identity verification checks with a face mask still in place or if specific analytics can detect when a person is or is not wearing a mask within a facility.
The pandemic, in addition to changing how organizational security teams view specific technology systems, has caused dramatic changes in which customer groups have the budget available for new security spending. While all customer segments, like the broader industry, will see declines in their pre-COVID growth projections, commercial and enterprise businesses, as well as airports and aviation customers, will see the sharpest budget declines due to the stoppage and delayed return of passenger traffic, as well as localized lockdowns that led to citizens forced to stay at home.
Growth Opportunities Beyond the Pandemic
With all of these market and technology shifts, where exactly does this leave the short-term future of the security industry? As mentioned before, 2021 will be an exceedingly rare instance for the security industry, witnessing its first market contraction in over a decade, albeit a very small decline—estimated to only be 0.01% less when compared to 2020. This is the first time in decades that the security market will see a decline, with much of the blame squarely on slower economic recoveries from the pandemic period.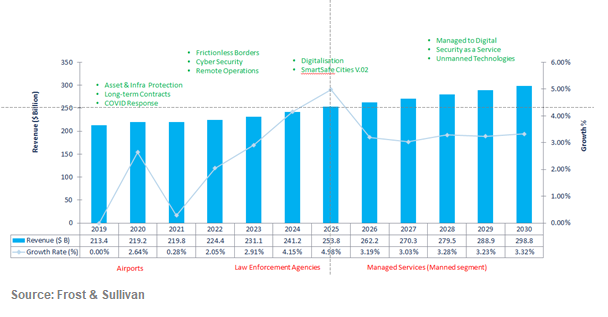 Consequently, with the airports and commercial sectors both having the sharpest declines in their security spending due to the pandemic's effect, many of the growth opportunities still present in the market will rely on spending from public sector industries, such as law enforcement, mass transportation, and disaster & emergency management. Growth opportunities will still be present in all markets, but the aggregate total for projects and funding available in 2021 will be nowhere near what they were for the pre-pandemic period.
Additionally, another major security opportunity will come about as the eventual COVID-19 vaccine is developed and the global distribution of it begins. This significant distribution and logistics mission will require major short-term security investments by airports, ports of entry, and logistics suppliers who will be charged with protecting the vaccines as they are distributed across the world and must go through customs clearance, be monitored for potential tampering or theft, and hardening the digital and physical defenses of all stakeholders throughout the supply chain. The looming industrial espionage and black market targeting of any supply chain organization by state and non-state actors could lead to many of these organizations seeking out more flexible service-based security solutions rather than seeking to purchase more permanent security systems.
While 2021 will be its own version of a novel experience for the market, the security industry has proven markedly resilient over the last 8 months, not only proving its vital importance to its customers' operational practices but using this pause as an opportunity to refine and enhance its strategies to prepare for a remarkably changed market landscape once the post-pandemic period begins.