With innovations sparking consumer demand, global manufacturers have enormous opportunities in terms of solutions and services by evolving in several ways making the traditional view of manufacturing completely obsolete.
Automation has been prevailing in the industrial market segments for a long time now, but succeeding in the era of Industrial Internet of Things (IIoT) is not just restricted to technology connectivity but also demands business disruption requiring transformed operational and business models that are tailored around the ever-changing customer needs and also to enable manufacturers to potentially compete in the market. Therefore, IIoT, also referred as Industry 4.0, is making way to a future with scenarios such as zero inefficiencies, no machine downtime, and accurate remote diagnosis while disrupting the conventional ideas about manufacturing.
The IIoT is a major trend with momentous effects on the global economy. Moreover, the IIoT's potential payoff is massive. For manufacturers to truly leverage the opportunities presented by IIoT, a manufacturing enterprise must fundamentally transform its business and strategy culture.
Operation efficiency is one of the key drivers and attractions for IIoT and companies are focusing extensively on its benefits. However, their story does not end here. Although many companies view IIoT as a merely operational efficiency strategy, the potential it offers to generate new sources of revenue by introducing new automated and digital products and services is also enormous. With the introduction of automated techniques and flexible production and assembly procedures, manufacturers could improve their productivity by close to 30 percent and incur huge savings.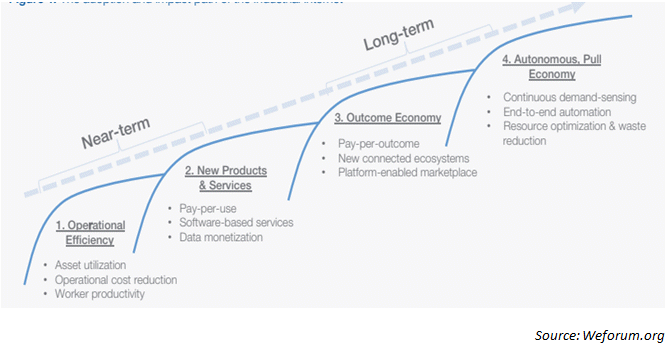 The wave of technology disruption from the IIoT is opening up a plethora of opportunities and demands broad transformation of the company's operations and business models. The value of IIoT not only comes from generating insightful data, but also from sharing the data across supply chain. The digitization and interconnection of products and services offer significant additional value by providing tailor-made solutions and fulfilling customer requirements. The essence of Industry 4.0 is the ubiquitous interconnection of the virtual world and the physical objects in the real world.
The industrial Internet encourages not only business revamping and transformation, but also promotes repositioning of products and service portfolios. Though implementation of Industrial Internet and its technologies requires considerable investment, the potential uses of the same are much more than just optimization of manufacturing techniques.
The next few years is expected to witness a huge investment, close to $140 billion annually for Industrial Internet applications. Frost & Sullivan estimates that by 2030, IIoT could be worth $10 trillion. Today, IIoT is not only helping improve productivity and reduce operating costs but also enhancing worker safety and annual savings.
Case study:
Any delay or cancellation for any commercial or cargo airlines incurs heavy maintenance, logistics and customer costs. Taleris is an intelligent airline fleet optimization service that identifies and predicts aircraft issues before they occur. It inspects aircraft parts and components using sensors and applies analytics to identify irregularities and analyse the root cause of the anomaly. Taleris also offers services such as periodic maintenance and avoid unscheduled maintenance and thus minimizes additional maintenance costs incurred due to sudden cancellations and delays.
Vision for future
Innovation is the key to success. With IT-OT convergence, manufacturers should venture into new products and services and decide what product, service and value can be delivered to the customers based on their requirements.
Companies should work with a different set of partners not only to deliver innovative solutions but also to expand their customer base and reach out to potential clients.
It is important to scrutinize the pros and cons of a new technology before implementing the same within the existing architecture and framework. Manufacturers must evaluate which platform suits the best to operate new products and services across multiple channels.
The transition from a traditional business model to a new business model incurs heavy investment. Evaluating the financial model for optimum return on investment is highly recommended for companies.
Effective customer support and service operations complemented with company's diverse dealer and distribution network lay the foundation for a successful growth strategy for any company.
The IIoT is all set to reverse the traditional trends of manufacturing and is fuelling new energy and excitement into the world of industrial products and services. Companies are reassessing their organisational operations and structures and are revamping manufacturing processes to compete in the market.