Demand grows for improving the energy efficiency of wind turbines
Wind turbine manufacturers are highly focused on developing lightweight onshore turbines with increased rotor diameters and hub heights to improve the energy efficiency and reduce the cost of harvesting wind energy. Moreover, with increasing energy demand worldwide, the offshore wind sector has emerged as one of the vital sources of renewable energy. Offshore wind turbines are much bigger in size and more energy-efficient compared to their onshore counterparts and are expected to experience significant rise in demand.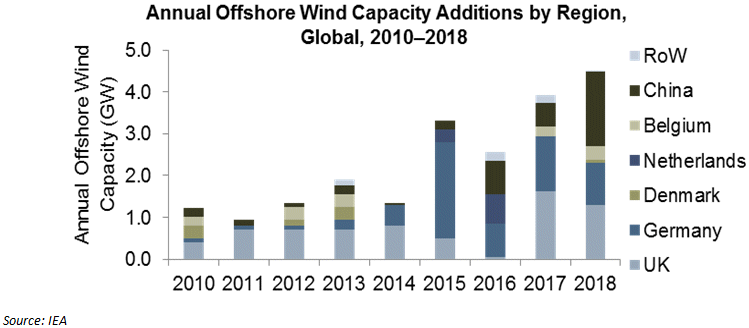 As per the International Energy Agency (IEA), the worldwide offshore wind industry witnessed approximately 30% year-on-year growth between 2010 and 2018, owing to rapid technology development. Moreover, nearly 150 additional offshore wind projects are expected to be completed globally during the next five years, driven by the rising focus on effective wind energy generation.
How are wind turbine material manufacturers responding to this demand?
Rather than developing alternate chemistries, material manufacturers are focused on improving existing technologies in terms of reducing curing times and overall material usage while also imparting higher processability and strength-to-weight ratio. These factors, in turn, help companies develop cost-effective materials with advanced features, such as lighter weight, higher load withstanding capability, better weather resistance and longevity. Such innovations make the materials more optimized and suitable for next-generation wind turbines with increased blade length and tower height. Moreover, to cater to offshore customers, material manufacturers are highly focused on developing materials with higher standards and premium quality that can perform well against severe corrosiveness.
Key regional trends in the wind turbine materials industry
Developing countries are expected to witness significant energy demand in the future, owing to the increasing population and industrial activities. These factors are likely to propel the demand for renewable energy alternatives, which will drive the growth of wind turbine materials for onshore applications. The market is likely to witness high growth in countries including China, India, Vietnam, Indonesia, Philippines, Saudi Arabia, Oman, Brazil, Colombia, Chile, Mexico, South Africa and Turkey. Some of these countries are further expected to increase their focus on offshore wind turbine installations with increasing government support and funding.
The mature markets of North America and Europe are increasingly focusing on value-added materials that are more sustainable while providing improved performance across diverse domains. The offshore market in North America is still at a nascent stage, whereas in Europe, countries including the UK, Germany, Belgium and Denmark witness significant offshore installations every year, owing to favorable government policies and investment. Moreover, the onshore market in North America is expected to gain traction over the years with implementation of long-term energy goals. Considering these factors, large-scale companies are expected to penetrate the market with high-quality structural and non-structural materials that can be used effectively for offshore applications across the continents.
Conclusion
Wind turbine material manufacturers are highly focused on improving the performance characteristics of existing materials rather than on developing new materials, with the ultimate goal of improving the overall turbine structure and strength, thereby maximizing generated power while minimizing turbine weight and maintenance costs. Considering this, both structural and non-structural materials will exhibit strong growth in the future. Moreover, with the increasing debate on climate change and global warming, government authorities worldwide are expected to increase their attention on offshore wind energy installations, which are still at a nascent stage in most parts of the world. This, in turn, will strengthen the demand for high-performance specialized materials.
One of the key capabilities of the team working for the Infrastructure and Mobility program area of Frost & Sullivan's Chemicals, Materials & Nutrition Practice is the extent of understanding of the metals, fiber-reinforced composites, core, coatings, adhesives, sealants, lubricant, greases and coolants applications and markets in various end industries. Analysis of wind turbines, as a key end industry for these materials, is highly imperative for manufacturers and other market participants to strengthen their global footprint and enhance customer relationships.