After a weeklong halt, Volkswagen Commercial Vehicles (VWCV) restarted production of its electric minibus, the ID. Buzz, and its commercial counterpart, the ID. Buzz Cargo on July 4 at its Hanover (Germany) plant. The temporary shutdown was necessitated by defective batteries sourced from a new supplier. Reports claim that the battery cells did not perform as expected with implications for the vehicle's driving range and working life.
The interruption is unfortunate, considering production on the ID. Buzz began as recently as June 2. Will this set back VW's ambitions in Europe's electric light commercial vehicle (e-LCV) market, or can the German automaker bounce back?
To learn more, please access our research reports Global Electric Light Commercial Vehicles Growth Opportunities, Global Light, Medium and Heavy Commercial Vehicle Outlook, 2022 and the forthcoming e-LCV Platform or contact sathyanarayanak@frost.com for information on a private briefing.
Our Perspective
Frost & Sullivan's research indicates that total sales of e-LCVs in key regional markets, including North America, China, Europe, and Asia-Pacific will reach around 5.6 million units by 2030. Driven by total cost of ownership (TCO) advantages in high mileage applications, we expect battery electric vehicles (BEV) to dominate the overall market; not only will they capture significant share from diesel powertrains, but they will also lead alternative powertrains like fuel cells and plug-in hybrids.
All of which highlights the urgent need for VW to resolve its battery issues and get the production of its ID.Buzz models back on track. VW targets building 15,000 ID.Buzz units at its Hanover plant in 2022, ramping it up to 130,000 units per year after 2023. These are significant volumes given that in Europe alone we project a steady 4.6% CAGR for e-LCVs over the 2020-2030 period. Our research also forecasts overall e-LCV sales volumes in the region to tip over 250,000 units by 2024 to reach a shade under 400,000 units by 2025.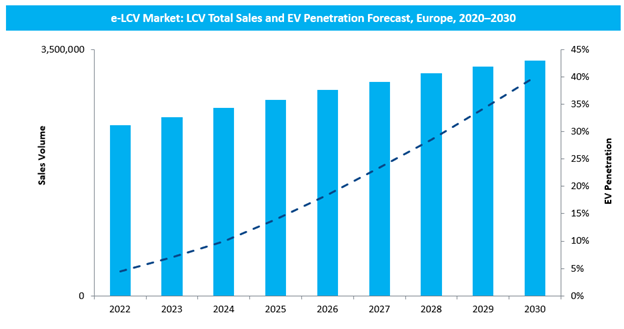 Source: Frost & Sullivan, 2022
"For the German automaker, the ID.Buzz models are critical from multiple perspectives. For a start, its previous electric vans – the e-Crafter, e-Caddy and e-Transporter – were based on existing ICE platforms. The ID.Buzz will be the first electric commercial vehicle to be built on VW's much touted pure electric Modular Electric Drive matrix (MEB) platform," says Marshall Martin, Team Leader, Mobility Practice at Frost & Sullivan.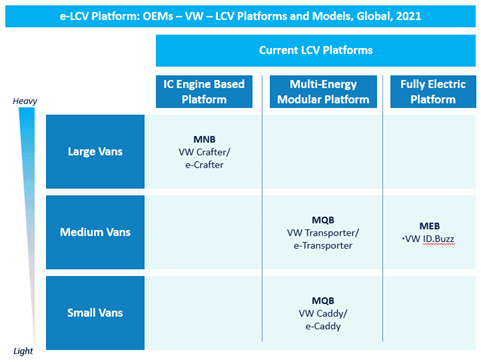 Source: Frost & Sullivan, 2022
Moreover, it will be the first ever model in Europe to be built on a dedicated electric platform. This places even greater pressure on VW as the industry eagerly waits to see how it performs and whether it matches customer expectations.
Notwithstanding the problems with battery quality, there is every reason to believe that VW will be able to bounce back strongly. Firstly, so far, it is only the MEB plant in Hanover and the ID.Buzz that appear to have been impacted by the defective battery cells. This has to do with the fact that VW's other MEB plants like Zwickau and Emden and ID model variants such as the ID.3, ID.4 and ID.5 use batteries sourced from other suppliers. Secondly, these issues have been flagged in the initial production stages and have affected only the 500 units that have been manufactured so far which, in any case, were not intended for customer sale but for dealers to deploy as test cars.
Production of the ID.Buzz might have gotten off to a shaky start but we are confident that VW will be able to meet its original Q3, 2022 roll out deadline for European markets.
Schedule your Growth Pipeline Dialog™ with the Frost & Sullivan team to form a strategy and act upon growth opportunities: https://frost.ly/60o.