Intensifying competition in global electric vehicle segment and protectionist regulations pose challenges as Chinese OEMs look to ramp up exports.
By Ming Lih Chan, Research Manager – Mobility
Earlier this month, Italy followed France in stating that it was mulling a new incentive framework that looks beyond vehicle emissions to account for carbon emissions created during the manufacturing and distribution process as well. This new scheme aims at protecting domestic electric vehicle (EV) production and blunting the cost advantage offered by lower priced Chinese EV offerings.
Today, Chinese passenger vehicle (PV) automakers have a global agenda. Technology advances, quality improvements, integrated value chains, and targeted sales strategies are underscoring strong export growth. Sustained demand for conventional ICE vehicles, together with the rising demand for premium EVs, are set to further expand the global footprint of Chinese automakers, with Frost & Sullivan forecasting an increase in export volumes from around 2.3 million units in 2022 to 5.3 million units in 2030.
A clutch of factors is driving the global ambitions of China's PV OEMs.  For a start, China is the world leader in automotive production and sales volumes, with annual sales having repeatedly topped 20 million units over the last 7-8 years. The ability to produce at massive scale has translated into significant resource efficiencies which, in turn, has enabled higher cost competitiveness.
While China's PV exports are currently tilted in favor of ICE vehicles, the mega trend of vehicle electrification bodes well for future growth. As the world's largest EV market with control over global EV supply chains, including critical raw materials, the presence of several Chinese EV brands and the continuous launch of new models, Chinese OEMs are optimally positioned to ramp up global EV sales.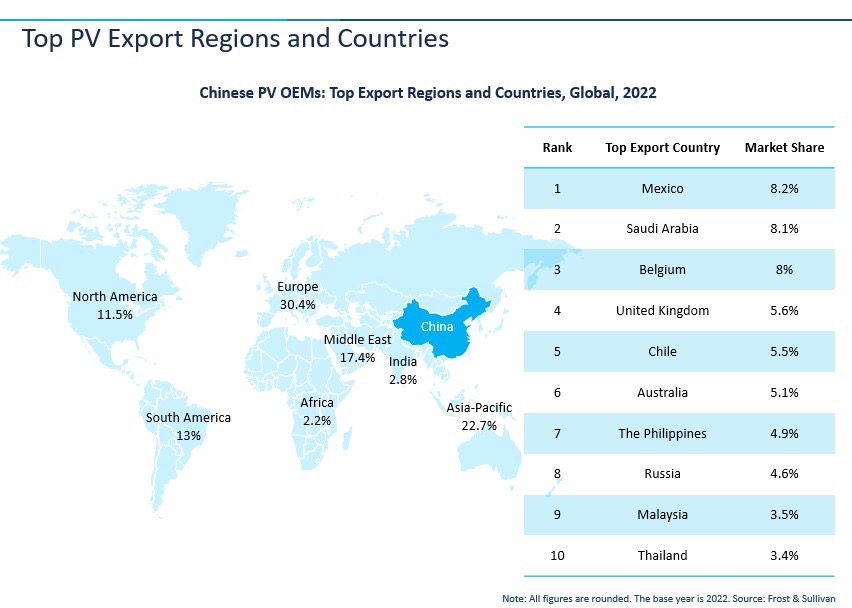 Domestic competition among Chinese OEM brands has spurred product innovation and aggressive price competition. In addition to battling it out in the domestic market, Chinese OEMs are now turning their attention towards penetrating new international markets, particularly in Europe and Japan.
Here, Chinese PV OEMs will have to compete with well-established, homegrown automakers.  For instance, in Japan, they will face Toyota and Honda, among others, while in Europe, they confront the likes of BMW, Audi, Volkswagen and others. Regulations will pose another hurdle to overseas growth. For example, in several foreign markets, Chinese automakers will have to meet stringent technical and safety standards mandated for imported EVs. This will make export certification more challenging, even as Chinese EV OEMs might fail to meet eligibility requirements for tax credits and subsidy benefits.
To learn more, please access our research reports, Chinese Passenger Vehicle OEMs' Global Expansion Strategies,  Strategic Profile of BYD,  China Automotive Outlook, 2023, or contact sathyanarayanak@frost.com for information on a private briefing.
A Stellar Performance, Powered by EVs
Chinese PV OEMs had a stellar 2022, with exports scaling new heights propelled by breakthroughs in EV exports, including to developed countries. In 2022, gasoline-powered PVs accounted for just over 60% of Chinese PV export share, with EVs, dominated by battery EVs (BEVs), comprising the rest. In addition to filling the gaps caused by the short supply of EVs in key overseas markets, Chinese OEMs boosted their competitiveness on the global stage with their keen technological focus evinced in the growing maturity of EV battery technology, motors, and controls, as well as intelligent driving technologies. Enhanced EV features are expected to boost the average price of China's exported EVs and bolster overall revenue growth.
China's top 10 exporting countries comprised 56.9% market share in 2022, led by Europe (which accounted for the highest EV unit shipments as well) and Asia Pacific, followed by the Middle East, Latin America, and North America. Meanwhile, updates to China's export structure made it easier to export to developed countries, further spurring the prospects of Chinese OEMs.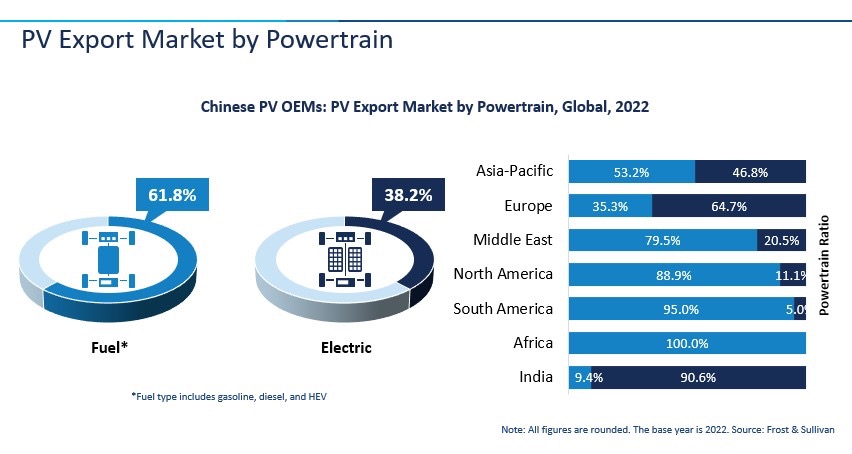 Today, there are more 10 Chinese PV OEMs trying to grab a share of the export pie, with the top five – SAIC, Chery, Chang'an, Dongfeng, and Geely – collectively accounting for around 72% of export revenues. Of these, SAIC and Geely have the most aggressive export strategy and have a presence in the most number of countries. Other competitors include Great Wall, JAC, BAIC, BYD, Xpeng, and Nio. Competitive success hinges on factors like cost, performance, aftersales support, technology, reliability, customer relationships, parts availability, and total cost of ownership.
Our Perspective
We believe export growth will be linked to increasing global adoption of EVs. In particular, Chinese OEMs will benefit from the rising demand for premium EVs, especially in Europe and Japan. Over the short term, we will see steady growth in exports to countries that lack domestic vehicle production capacity. In terms of end user segments, direct sales of EVs to fleets, including fleet and leasing operators and shared mobility providers, will continue to play an important role in boosting exports.
That said, the completion of overseas production facilities will inevitably put a brake on the YoY growth of China's PV exports. For example, the BYD factory in Thailand and the Great Wall factory in Brazil will become operational in 2024. They will, however, provide a robust platform from which Chinese PV OEMs can accelerate their penetration of foreign markets.
Over the next decade, the shift from ICE to electric vehicles, paralleled by a regulatory-driven phase out of fuel vehicles in developed markets, will have export ramifications for Chinese PV OEMs. As more leading global OEMs shift focus to electric powertrains, competition in the EV segment is set to intensify. Simultaneously, stricter export requirements will aim to protect localized vehicle production. In short, Chinese OEMs have their work cut out if they are to successfully realize their global expansion strategies.
With inputs from Amrita Shetty – Senior Manager, Communications & Content, Mobility