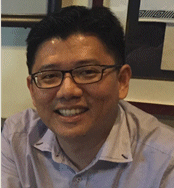 Lai Mee Chian is the Founder and Chief Consultant of Softronix Sdn Bhd, Malaysia, the software solution provider for new product introduction (NPI) and electronics PCBA manufacturing industry. Lai started Softronix Sdn Bhd in Malaysia in 2011 and has local sales and service teams supporting clients in several other South East Asian countries such as Singapore, Philippines, and Thailand. Lai has been supporting many global electronics PCBA companies by providing them NPI and electronics PCBA manufacturing software solutions. These companies located in the South East Asian region include Venture, Intel, Sandisk, Celestica, Flextronics, Fabrinet, Continental, Schneider, Kimball, Benchmark, and Sanmina SCI.
Lai earned his Bachelor Degree in Electrical Engineering and Master Degree in Technology Management from University of Technology Malaysia. Upon graduating from university in 2000, Lai joined a Japanese firm as an R&D engineer. In 2008, before he started his own company, he joined a local software solution provider company where he was a sales and support manager for three years.
Sachi Mulmi (SM), researcher with Frost & Sullivan, had an opportunity to conduct a Movers & Shakers interview with Lai Mee Chian (LMC) – Founder and Chief Consultant of Softronix Sdn Bhd.
SM: What is the unique value proposition of your company and what are your key competitive differentiators?
LMC: My company believes in providing quality, cost-effective and efficient solutions and services to our clients. On top of that, we focus very much on technology advancement in our deliverables to our end users. We understand that cost is a key concern of every business operator, but it should be well-balanced with quality as well as on-time delivery. With the shorter life cycle of new product development, we emphasize and focus on technology advancement to help us achieve quality, low costs and on-time delivery in our deliverables. Our key competitive differentiators are our continuous effort on new technology adoption and sharing these technology solutions with our clients in the South East Asian region.
SM: What is your vision for the future of the SMT equipment software market and what will be the competitive elements for your company in the short term?
LMC: My vision for the future of the SMT equipment software market is a simplified, automated and intelligent software operation. In the era of Industry 4.0, the software for SMT equipment should be less dependent on human judgment and manual operation. The software itself should be more automated and intelligent to fit the requirement of the SMT equipment operation. In the short term, our company is penetrating new, developing South East Asian countries like Vietnam and Indonesia which we have yet to establish any sales and service contact point. We are targeting to have full coverage in each country in the South East Asian region by year 2020 to promote our software solution.
SM: What are the key technology trends in terms of software functionalities being witnessed in the market? What is the level of demand for each of these functionalities?
LMC: We are witnessing the integration of third party SMT programming software with SMT equipment software itself. Third party SMT programming software has strong capabilities in translating design data and provides a good programming platform to generate SMT equipment recipes correctly and accurately. These functionalities are well accepted by end users because it fills the gap which SMT equipment software does not usually provide. The main reason is that SMT equipment software focuses more on delivering the requirements of SMT equipment hardware, but not the design data translation.
SM: What are the high-growth segments, and how is the market segmented by end user verticals?
LMC: In the South East Asian region, contract manufacturers that assemble medical, automotive and network equipment are experience high growth as new product introduction life cycles of these segments are becoming shorter. On the other hand, those products also have a higher compactness in terms of PCBA and complexity in terms of design. Furthermore, there are high quality and compliance requirements in these segments. Therefore, a software solution which can generate a high accuracy and optimized SMT equipment recipe is essential for these segments.
SM: What is the mode of distribution for the overall market and for the individual technology segments?
LMC: There is an uneven distribution of SMT equipment software for the overall market in the South East Asian region. There is high demand from the high-growth segments mentioned earlier. The products they make have higher profit margins and therefore their investment in software will be justified. However, in the individual market, I am seeing the distribution is well covered because every player within the same market is trying to own the software solution to increase their productivity so that they will stay competitive.
If you have further questions/comments, please contact: sachi.mulmi@frost.com
For more information on surface mount technology and Its Growing Importance in the Asia-Pacific, please visit https://store.frost.com/industries/electronics-and-sensors/semiconductor.html