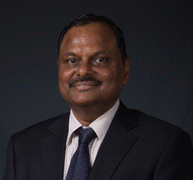 Suryanarayan Ramanan is a Principal Consultant with DNV GL – Energy. Ramanan specialises in energy and power generation and has 35 years of experience in the energy industry.
His expertise lies in the power generation, biomass, and waste-to-energy sectors. He has not only managed projects, but also developed technology and commercial overviews for a range of pilot plant projects, including the gasification of low-rank coal and biomass materials (Napier grass and oil palm by-products for power generation and feedstock treatment, and conversion to briquette and pellets).
He is well versed in energy market analyses and policies, and is familiar with its various stakeholders, including utilities, EPC companies, IPPs, SPPs.
Prior to his position in DNV GL, Ramanan was a specialist in turbomachinery in Six Sigma. Ramanan has managed a portfolio of energy and industrial projects viz power generation (clean power, fossil fuel power, marine projects, CNG, LNG, Mini-LNG, gasification, chemicals, waste to energy etc.) and in the Oil & Gas industry.
Sachi Mulmi (SM), a researcher with Frost & Sullivan, had an opportunity to conduct a Movers & Shakers Interview with Suryanarayan Ramanan (SR) – Principal Consultant of DNV GL – Energy.
SM: What is the unique value proposition of your company, and what are your key competitive differentiators?
SR: DNV GL is an independent classification and certification society – as well as a technical advisor. We are not aligned to a particular technology or a particular OEM and neither do we take a commercial stake in projects.
Our opinions are purely based on reliability and sustainability and hence highly reliable and bankable.
SM: What do you want the company to accomplish in the next couple of years and how would you define success for it?
SR: With our technical evaluation and modelling skills, we will continue to support the implementation of state-of-art technologies and also carry out technology qualifications for emerging technologies – for example in the biomass and W2E sector. We will also continue to carry out technical due diligence and performance verification to enable sound decision making for investors and developers.
SM: Which consumer trends do you consider the most relevant for the biomass/waste-to-power industry and how are you addressing them?
SR: Consumers now actively seek and appreciate advisory on risk managements in this sector and view the project success from a sustainability point of view. Customers are actively pursuing a variety of technology and also believe in diversification of fuels. We are leveraging the new state of the art and green technologies from Europe and the US for projects in Southeast Asia.
SM: What are some of the key success factors for EPC companies in Southeast Asia?
SR: The success of Biomass and W2E depends on the use of the best commercial technology, along with consideration of local factors – that is local fuels, local logistics issues and local social and market dynamics. This is often best addressed by EPCs with good local understanding.
SM: What are the future trends of this industry that are related to technology, legislation, and customer demand?
SR: Future trends point towards more localised and distributed biomass and W2E plants, with better, managed fuel risks and logistics spends. We see diversity in the type of output including electric power, liquid fuel, biogas, and chemicals. We also see increased integration of various renewable technologies in a mini-grid platform.
If you have further questions/comments, please contact: sachi.mulmi@frost.com
For more information on Strategic Analysis of the Biomass and Waste-to-Power Market in Southeast Asia, please visit https://store.frost.com/strategic-analysis-of-the-biomass-and-waste-to-power-market-in-southeast-asia.html