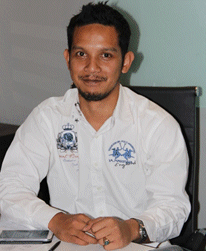 36 year old Ahmad Hilmi Muhammad is a technology passionate entrepreneur with a Mechanical Engineering background and 15 years' experience in sales and marketing in various industries. He served as a sales and marketing personnel in the Malaysian oil and gas industry from 2005 – 2014. In 2015, he decided to quit his daytime job and focus on developing and growing the Pebblereka business after managing the company remotely for about 2 years. That same year, the company experienced a 300% growth in revenue from the previous year and in 2016, the company witnessed another 400% growth in revenue year-on-year. Appointed as a technology adviser for prototyping at University Tun Hussein Onn Malaysia, he actively participates and contributes to the Malaysian makers community.
Sachi Mulmi (SM), researcher with Frost & Sullivan, had an opportunity to conduct a Movers & Shakers interview with Ahmad Hilmi Muhammad – CEO of Pebblereka.
SM: Please describe your product/technology/solution for our readers?
AHM: Our business units are categorized as below.
Product 1 – A comprehensive range of 3D printer solutions from budget-friendly, intermediate and large machines to advanced industrial machines and consumables
Product 2 – 3D Scanners
Product 3 – 3D Education
Service – 3D Design Consultation, 3D Printing Solutions, Conceptual Modelling solutions, Reverse Engineering, Workshop and Training
SM: What is your key value proposition that provides your firm a major competitive advantage over other players in the industry?
AHM: Pebblereka launched in 2014 and has grown rapidly at growth rate of 400% each year. Our prototyping expertise and our quality assurance on delivered parts sets us apart from other 3D printing companies in Malaysia. While most of our competitors offer raw printing finish as the final delivered product, we have taken additional steps to turn the raw finish into an injection mold finish using additional post-finishing processes which we do in-house. We offer unique incentives for referrals and work alongside other customers by subcontracting print projects to deliver requirements within timelines which is also known as "cloud manufacturing".
Being one of the pioneers in the Malaysian desktop 3D printer business, we work with other leading manufacturers and government bodies as well Non-Government Organizations to promote the technology in our country; we do a lot of marketing to ensure our brand and company is known to the market by sponsoring innovative projects and integrating 3D printing to the project, organizing training and classes, exhibitions, participating in makers and stem movement and lots more. Our active presence in the market has made us the No. 1 SEO search for 3D printing in Malaysia.
SM: What are some of the key drivers contributing to the growth in this industry?
AHM: The government plays an important role in creating awareness in the education industry; with the introduction of design and technology into school curriculum, the future generation will have basic design knowledge which plays a vital part in ensuring the sustainability of the industry. The higher education sector will also set higher standards on design education since the basics have been taught in the early education stage. Key government elected bodies such as MDEC (Malaysia Digital Economy Corporation), MCMC (Malaysia Communication and Multimedia Commission), MITI (Ministry International Trade Industry) and MOSTI (Ministry of Science Technology and Innovation) are moving into rural places to promote Industry 4.0 which includes 3D printing.
The rise of desktop 3D printer machines transforms industry demands into one of the key transformation growth to commercial sectors as the prototyping option has become much more affordable, faster and reliable. Design validation has become a must by 3D printing for most RND departments of a company. We've seen the transformation in companies that have invested in the machine for their RND facility. We've also seen some manufacturers accepting desktop over industrial 3D printers due to its cheaper operational and consumable cost. Desktop 3D printers are evolving from the basic DIY kit to a reliable plug and play device where minimum technical knowledge is required to operate the machine from 2009 – 2017.
SM: How is expiring patents an opportunity for APAC manufacturers? At what point is 3D printing cheaper than traditional manufacturing?
AHM: A community called Reprap was formed after the expiry of a patent. The open source community shared the idea, concept, research and study as well blueprint for a variety of 3D printer concepts which later created a pool of desktop 3D printer manufacturers in the market. With the patent expiry, this open discussion community was able to grow and share different approaches online without needing to have to dedicate RND engineers and designers for the purpose of making the 3D printer more reliable, easy to operate, maintenance free and with a better user interface to the level where every house, office, school, factory is able to print anything, hassle free.
Traditional Manufacturing will still be the only options for product making especially when large volume, consistent quality, and high tolerance are required. 3D printing will only fit into production of below 1000 units or customized and personalized product making. There are a lot of factors contributing to 3D printing quality such as the machine, consumables, surrounding temperature, settings, and more. For now, 3D printing will not replace traditional manufacturing.
SM: How will 3D printing shape the end-to-end value chain in the manufacturing sector?
AHM: Currently, in my opinion, 3D printing sits in between design and production. 3D printing has not reached the stage where it can be used for mass manufacturing but hopefully once the machines are able to produce uniformed quality, there is a possibility the technology will be used for low volume production. However, the implementation of 3D printers in manufacturing significantly reduces the number of processes.
If you have any further questions/comments please contact: sachi.mulmi@frost.com
For more information on 3D Printing and Its Growing Importance in the Asia-Pacific Manufacturing Industry, please visit https://store.frost.com/3d-printing-and-its-growing-importance-in-the-asia-pacific-manufacturing-industry.html