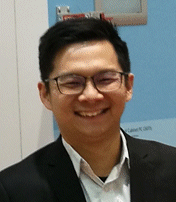 Gene worked in the Australia building technology industry prior to relocating to Malaysia and he still has the same amount of passion for this field until today. He studied Electronics Engineering at RMIT University and has worked on multiple large and prestigious projects throughout his professional career. Gene now serves as the General Manager of Optergy in Malaysia and enjoys being given the daily opportunity to tackle challenges while exploring new engineering ideas in this ever-evolving industry.
Sachi Mulmi (SM), a researcher with Frost & Sullivan, had an opportunity to conduct a Movers & Shakers interview with Gene Ong (GO), General Manager of Optergy, Malaysia.
SM: Please describe your product/technology/solution for our readers?
GO: Optergy's software solutions of Optergy Enterprise and Optergy Proton combine the needs of building and energy management into a single platform for greater and more effective control. Stakeholders reap the rewards from the energy cost saving which is generated from the tried and tested automated process embedded in the Optergy Enterprise and Optergy Proton system.
SM: Which consumer trends do you consider the most relevant for the energy management market and how are you addressing them?
GO: Building owners/operators are looking for products and services which empower them to achieve better energy efficiency in buildings while maintaining the required health and comfort requirements of the building occupants. There are also resultant effects from achieving better energy efficiency which include improvement in mechanical equipment lifespan and increase in building (asset) values.
We provide our building owners/operators with the ability to control building conditions and track energy performances with full transparency from the valuable data extracted from the building itself. Building data, when processed and relayed in an informative and straightforward manner, is extremely powerful in ensuring building owners/operators are able to navigate through the tricky task of satisfying tenant's requirement and tackling OPEX challenges.
SM: Which direction is the energy management industry progressing in?
GO: Energy management has existed for a long while and there are now building rating tools which are commonly used by the construction industry. We see the construction industry is much more aware and appreciative of the importance of energy management. Coupled with more initiatives as put forward by the government, there should be significant growth in this sector over the next few years. The IoT requirements are certainly making the effect known in this industry. However, the value of data collected from buildings are still not fully utilised by the stakeholders.
SM: What are the growth opportunities in this market? How can growth opportunities be capitalized on?
GO: The residential energy management market is still relatively untapped. There needs to be a balance between providing solutions which are both cost effective and workable and so far, balancing the two factors remain the biggest challenge. We see great opportunity in the residential sector although there are more work to be invested in it.
SM: What do you see as future trends of this industry related to technology, legislation, and customer demands?
GO: Energy management has to fit into this IoT age and it is necessary to not only have the building owners/operators on board, but also to have the often-forgotten stakeholders (tenants, visitors, and public) involved as well. 
Mandatory energy efficiency rating of all commercial space, if made a reality by legislation, can make a huge difference driving the whole industry to grow.
As one of the major system providers in this country, ourselves and the other operators in this space have the duty to go out there and educate not just the industry stakeholders themselves, but also to educate the public in any possible ways about the importance of getting on board this energy bandwagon.
If you have further questions/comments, please contact: sachi.mulmi@frost.com
For further information about Emerging Companies in the Energy Management market in APAC, please visit: