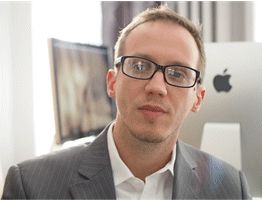 Miguel Neumann is the Co-Founder and COO of DXMarkets, a Fintech firm specialising in Digital Asset Securitisation. With a background in business management and over 15 years of experience, he has consistently integrated innovation into traditional industries including Finance and Wealth Management. Multi-cultural and bilingual, he has led global teams from the UK, US, Spain and South America. He has been involved in several digital projects involving large-scale transactional platforms for first-class investment banks including J.P. Morgan. Mr. Neumann is an advocate for behavioural economics and user-centred strategies. He holds an MBA from Durham University. He is also a self-taught developer and trader, university-trained designer and certified project manager.
Sachi Mulmi (SM), researcher Frost & Sullivan, had an opportunity to conduct an interview with Miguel Neumann (MN), Co-Founder and COO of DXMarkets.
SM: What is your company's greatest challenge, and what strategy is in place to overcome it?
MN: The single biggest struggle is for Fintech companies is to integrate innovation into legacy systems. In most cases, legacy financial IT infrastructure underperforms, limiting the extent to which companies can realise the benefits of innovative technology.
In our experience, short pilots to validate impact of full migrations have worked, but require commitment and time from our clients. Strategically speaking, clear communication of what are the limitations of partial innovation is what has worked best.
SM: What do you want the company to accomplish in the next couple of years and how would you define success for it?
MN: We would love to see the first global rollout completed. The more satisfied clients we have the faster we will see adoption soaring.
SM: What consumer trends do you consider the most relevant for the Fintech market and how are you addressing them?
MN: Tokenisation and distributed ledger technologies. More and more large corporations are shifting from corporate banking products to Fintech solutions to address the same issues more efficiently.
SM: What are the relevant drivers and restraints for this market?
MN: I believe that adoption and market validation are ultimately what will drive or limit growth. Lack of standardisation has also hindered adoption, particularly for multiparty transactional products.
SM: What is the potential impact of Fintech on traditional financial services?
MN: Fintech will eventually become the norm for financial services.
If you have any further questions/comments please contact: sachi.mulmi@frost.com
For more information on the Fintech Market in Asia Pacific and Growth Opportunities, please visit https://store.frost.com/growth-opportunities-in-the-apac-fintech-market.html