A Multi-cloud environment is the usage of various cloud models including public cloud (hyper-scalers and regional), private cloud (hosted and on-premise), and bare metal (co-location and on-premise); leveraging the advantages of each cloud model and enabling data and application exchanges between them. Usage of more than one public cloud through a single platform is also a multi-cloud environment.
Multi-Cloud: The Way Forward for Indian Enterprises
As digital strategies are being implemented to meet the varied requirements across applications and workloads, more businesses are using multiple types of cloud services. As per Frost & Sullivan's survey, ~ 22% of enterprises in India are using a multi-cloud environment and the number is expected to reach about 50% in the next two years.
Exhibit 1: Cloud Adoption among India Inc. by Deployment Models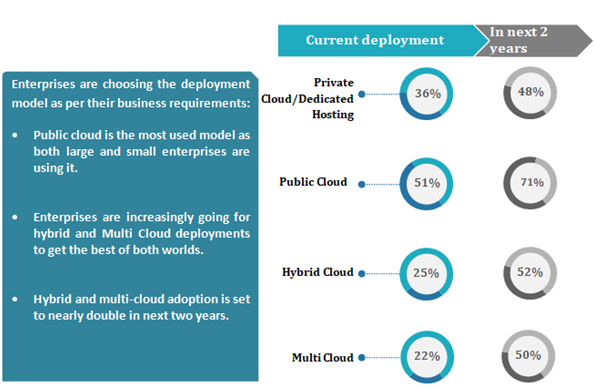 Source: Frost & Sullivan
With the evolution of solutions and services, cloud strategy has moved from 'one size fit all' to 'right solution for the right workload' approach. Hence, the enterprises prefer a multi-cloud environment wherein they can optimize their cloud usage as per their workload requirements in a secure and cost-effective environment.
Key Procurement/Consumption Models for Multi-Cloud Service among Enterprises:
The management of a Multi-Cloud environment can be a complex process as it involves multiple cloud models such as public, private, and on-premise along with the need of managing multiple vendors. Therefore, the majority of the enterprises prefer to procure the cloud services through a Managed Service Provider (MSP) or Value-added reseller who can cater to most of the cloud requirements. The MSP can provision the cloud services from multiple vendors and help the enterprise manage the multi-cloud environment effectively.
Exhibit 2: Key Procurement/Consumption Models

Source: Frost & Sullivan
Multi-Cloud solutions market in India is expected to grow at an exceptional growth in the next five years driven by continuous migration of a variety of workloads and applications from on-premise to cloud environment. In 2019, the market size was around $120 million and will grow at more than 40% CAGR between 2020 and 2025. Multi-Cloud adoption is expected to more than double in the next two years. Enterprises having a multi-cloud environment will have a competitive edge over others as the world is moving towards hyper digitization. For effective operations and management of a Multi-Cloud environment, enterprises need to have a strong migration strategy with the mapping of objectives such as RoI (return on investment), TCO (total cost of ownership), etc.
Exhibit 3: Major Use cases for Multi-Cloud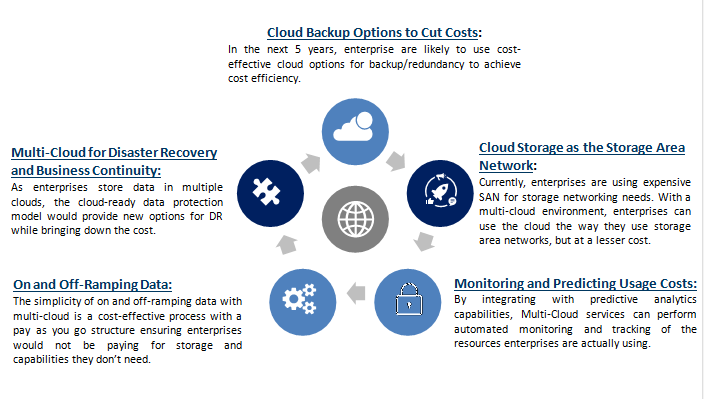 Source: Frost & Sullivan