Introduction
The telecom business used to be a lot simpler. The networks and operations were large with some complexity, but operators only had voice-dominated landlines to manage. And because of the limited competition, the sales and marketing was simple with just a limited sales channels selling to a narrow range of customers, who did not have much bargaining power. All of this has changed now. Market is more and more segmented and demand is complex, requiring from the operators additional convergence and added value services. As a consequence, telcos have evolved through number of mergers & acquisitions, and greenfield operations, adding new products and services and corresponding systems and platforms, as well as adoption of newer technologies. As a result, the variety of platforms, technologies, infrastructure, products, and services that telcos need to now manage has exponentially increased to cover several tariff plans, marketing campaigns, service delivery, promotions, devices, and value-added services. To support all of these, telcos run vast combinations of fixed, mobile, and hybrid networks, thereby resulting in an enormous level of technical and operational complexity. Simultaneously, the sales channels have grown to meet the needs of diverse and increasingly demanding range of customers. Finally, increased competition from MVNOs, ISPs, OTTs and IT services players from outside the industry has added fuel to the fire.
Given the huge diversity in telecom business, i.e. functions, services, and infrastructure, the complexity in managing it is inevitable. However, the magnitude and scale of complexity could still be managed properly. The outcomes of unneeded complexity are notorious in almost every industry, and it is probably the most notorious in telecommunications. Telcos run several internal and external services in conjunction with various businesses, where each of the functions interacts with several other internal and external functions. This in turn results in an extremely complex and tangled web with unique combinations of various services and functions.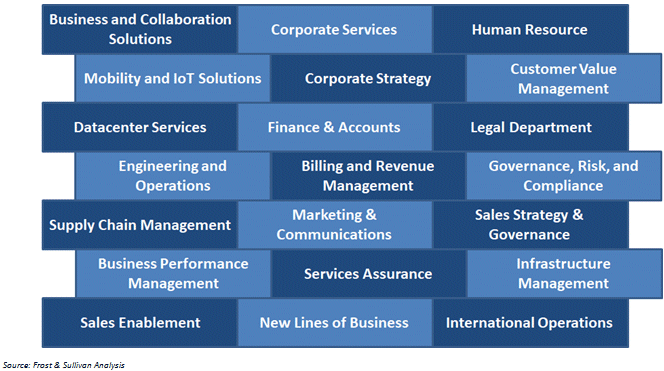 The challenge for telcos is how to simplify its products, channels and network operations. Telco operations are quite complicated, and the growing variety of products, services, sales channels, partner ecosystem, marketing campaigns, networking, business processes, and IT have made it even more difficult for telcos to achieve any simplification whatsoever. This has over a period of time resulted in confused and dissatisfied customers, declining profitability, slow and inefficient processes, and exponential rise in cost of running operations. Several operators have attempted to simplify their business; mostly by improving their internal operations that will have a significant impact on the cost. However that hasn't resulted in the best results.
Complexity and Cost Rationalization for Telcos
Telcos should start rationalizing their most important customer-facing activities, services portfolio, marketing initiatives, sales channel strategy and align these with their strategic goals. Simplifying each of these layers one by one provides a significant head start in simplifying the next layer. What they need is a robust portfolio management with an aligned and an effective framework to rationalize the most visible customer facing activities, and then continuing with the organizational design. Successful simplification can lead to massive cost reductions, higher flexibility, quicker time-to-market, better customer experience, and processes optimization. Fewer telcos take a truly strategic approach to simplification, i.e. settling a proper mix of products and services, the efficient marketing campaigns, and a viable commercial footprint that is aligned with the value proposition they aspire for customers.
From a technology perspective, telcos take strategic approach for network operation efficiency by leveraging intelligent operations services which is based on big data and AI technologies. Through automation and intelligent capabilities, these services help customers improve operational efficiency and gradually evolve to zero service outage, zero touch NOC intervention, and zero network risk.
Unlike global telcos, the challenges like intense competition, cannibalization of voice services, falling ARPU's, and price wars; which is why there drivers for cost rationalization (through simplification) are different from their global peers. However, the drivers for regional telcos for cost rationalization is more to do with capacity creation for portfolio expansion, investments in newer areas, and transform themselves to be a solution provider, rather than a traditional telecom operators. Regional telcos have complex need of several transformative elements, since they intend to be all things to their customers.
Telcos will have to take an outside-in approach to reduce complexity and optimize costs, i.e. think first in terms of the value proposition they want to offer to customers, the way their customers interact with them, and from there they should approach the simplification aspect of their business. Customer facing activities tend to have higher levels of complexity. From there, the complexities grow inwards, and amplify their impact at each stage of operations. Managing complexities in an increasingly diverse customer base requires a dynamic and rapidly growing services and products portfolio, sales channels, and suppliers for service delivery. Needless to mention that, the IT, internal processes, and organizational structures required to support, maintain, and monitor the resulting business needs become practically unmanageable.
In such cases, operators need to evolve toward a consolidated platform based with a DevOps capability allowing agile operations.
The Simplification Roadmap for Process and Technology
The simplification process has to begin by identifying the complexity symptoms at each stage of the end-to-end business to operations journey. After which, telcos should follow a sequence that first establish a robust product and services portfolio, focused and aligned with the strategy, and then simplify the customer engagement model based on the services portfolio, sales capacity, and customer care channels, and later on moves to consecutive operational level. Such an approach will deliver immediate clarity which will quickly become evident to customers. Additionally, the cost and customer satisfaction benefits will be relatively easy to measure on continuation of this approach.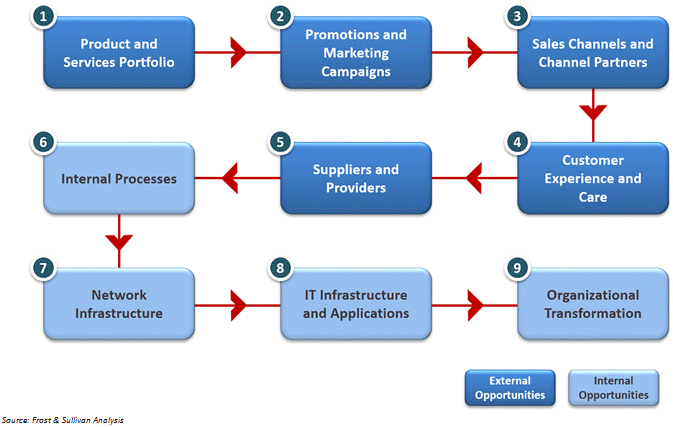 Simplification of Processes
The systems required managing portfolios of both older and newer products and services have resulted in confusion for customers and the sales and customer care staff. This further translates into ordering and billing errors, customer complaints and claims, increased cost of maintaining platforms, and networks, draggier time-to-market, and the increased cost of training agents and partners. Telcos have always struggled to simplify their complex voice and data offerings. Any simplification in the new products and services would primarily benefit customers, by making the offerings more transparent, easier to understand and upgrade. A telco is required to rethink its own value proposition versus its competitors, and align it with consumer and technological trends, buying behaviour, internal capabilities, potential impact of different pricing models. For legacy portfolios, telcos must rationalize the underused and non-performing products and services. This will not only help customers, but will also benefit telcos' internal operations; especially when they are trying to find a balance between the legacy and new portfolio.
Most of the telco marketing campaigns are a result of pricing pressure from new entrants and are aimed to reposition their own pricing. These efforts are mostly ad hoc and limited in duration, and lack a centralized strategy. This definitely drives new customers to sign on solely on the basis of price, and later on overwhelms the telcos' billing systems, and thereby leading to billing errors. Once the promotion expires, these new customers start looking elsewhere for a better deal, which in turn forces the telcos to retain them through another retention offer. The key to resolve this issue is in understanding that campaigns and promotions are not products, but a mere means for boosting sales and customer retention. Hence, these should be leveraged for specific, short-term purposes, and be connected to a specific pricing offers, with specific value propositions, and should end when those purposes have been fulfilled.
A similar approach must be considered for sales channels and channel partners, customer experience and care, and suppliers and partners. Internal processes, network infrastructure, and IT infrastructure and applications are massive and far more complex. In a bid to simplify these and rationalize costs, the first step that telcos should follow is to clearly map out to each process to understand how each specific process support products and services, campaigns, sales channels, network, operations. The next step is to design a new customized set of end-to-end processes focused on customers, products and networks, and identify the migration effort from the legacy set of processes, prioritise them, and accordingly set objectives for their transformation.
Simplification of Technologies
Diversified networks are inefficient and expensive to purchases, maintain, and integrate with one another. Given that many infrastructure components often run on their embedded software and systems, the required IT to manage these systems could be a major roadblock. Hence, homogenization in network infrastructure could bring in massive efficiencies and economies of scale. It is important in such approaches to consider all the direct efficiencies such as operate & maintain cost and energy, but also the indirect benefits such as cost of non-quality or customer experience improvement. As far as the IT environments are concerned, telcos must focus to minimize the number and diversity of systems required for operations. This would mean leveraging common systems for multiple services, instead of running individual service delivery chains for each product and service. One of the potential ways to achieve this would be to replace current systems with packaged systems (instead of custom built), configure these to the requirements, and then migrating over the relevant processes.
Operating Expenditure (OPEX) Optimization is a system-level solution focusing on challenges that global carriers face, such as slow revenue growth, high operating costs, and low operational efficiency. Telcos have to focus on 3 key pillars to achieve the optimal OPEX optimization and improve operation efficiency which are:
Network Infrastructure Modernization
Consolidation and migration of datacenters
Artificial Intelligence based operations and maintenance
Network Infrastructure Modernization
Communication sites account for 45% to 70% of telcos total energy consumption, thus energy consumption is a major portion of a telecom's OPEX. On-site equipment, especially wireless and broadband access devices, represents the largest percentage of any operator's energy consumption and carbon footprint, the reduction of the energy consumption is achieved by wither ways:
Changes to network elements: network elements which may include power supply, air conditioners, transmitters, base station and other hardware, among them, the based station and air conditioners are the most energy consumers; the innovations in power supply are solving the consumption issue
Changes to network topology: 25% of energy and TCO reduction could be achieved by greener network topology through better network planning and/or increased coverage
Intelligent network and infrastructure management: as an example, the number of cells on a mobile site is powered based on predictive consumption, and the air-conditioning systems are switched based on actual temperature
Statistically, 1 watt saved from the primary equipment saves 2.5 to 3 watts of power for the entire site. So it is a strategic imperative for telcos to deploy green GSM base station, smart ventilation and hybrid power supply solutions to greatly reduce energy consumption and carbon emissions.
Consolidation and migration of datacenters
Data center consolidation is to re-construct and re-shape the old data center facilities, architecture, resources, networks, systems, to make the data center more agile, more energy efficient, more economical, more reliable, and realize sustainable development.
In a bid to keep pace with various market changes and demands and to remain competitive, it is very essential for telcos to reform their IT infrastructure for higher reliability, more efficiency, a shorter time to market, as well as cost savings, this could be achieved by Data Center Consolidation. Data Center Consolidation is a way of simplifying and modernizing IT architecture by transforming a traditional IT system into shared resources that utilize a distributed cloud data center:
Resource pool consolidation: managing heterogeneous resources, including servers, storage, network, and hypervisor.
Server consolidation: replacing mid-range servers with x86 servers providing virtualization and database migration.
Storage consolidation: Upgrading storage with a converged, virtualized storage pool that interoperates with multiple vendors.
Artificial Intelligence based operations & maintenance
In the rise of digital transformation and its complexity in managing myriads of technologies and platforms, this poses significant challenges to traditionally distributed O&M practices. The concept of an AI based O&M platform can significantly reduce the costs by providing fully automated network and services assurance, high and flexible Provisioning and faster Service deployment. Additionally it can also help telcos with precise network management, improve speed and service quality, and enable risk prediction and mitigation. It is worth to mention that such a platform could be implemented in various industries and scenarios.
Conclusion and Outlook
It is obvious that simplification is the underlying foundation for cost rationalization; by no means it is an easy task, but it is the need of the hour, and it is possible. Additionally, such a transformation would require changes across the process, technology, and people layers, of which people are the most difficult to manage. Simplicity is relative to the degree of change needed, which is bound to cause stress in day-to-day operations, and crop up reluctance and uncertainty about what's necessary to be done, as well as about the outcomes. This is why such initiatives require the involvement of top management, and their commitment of sharing the overall vision, confidence in its outcomes, and consecration to the process. The global and regional telecom industry is going through transformation. The opportunity cost of complexities is costing dearly in monetary and non-monetary ways to telcos, and it has never been more important for telcos to simplify and streamline their operations not just to reduce cost, but also be more competitive, highly agile, and have superior time to market in a dynamic business environment.