Cancer is the second largest cause of death and is expected to surpass cardiovascular diseases as the leading cause of deaths over the next few years. According to NIH estimates, medical expenditure for cancer in the United States is expected to cross $150 billion by 2020, thereby putting even higher cost pressure on already overburdened US healthcare economy. Traditionally, surgery and radiotherapy have been the primary treatment, with anti-cancer drugs largely being used in metastatic cancers. Although chemotherapy has been successfully used for inhibiting cell growth over the last couple of decades, side-effects of chemotherapy have forced researchers to look for some alternative medications for all types of cancer. With medications and therapies, the challenge with drug developers has been to effectively administer the drugs at the disease site in human body. To overcome this challenge, earlier while a majority of drugs were administered through injectable medium, the focus of drug manufacturers has currently shifted toward developing effective needle-free delivery systems, as driven by their patient-centric health care approach.
The Rise of Injectables Market
Strong emphasis of drug manufacturers on continuous improvements in cancer treatment has resulted in the development of novel drug delivery approaches, enabling targeted administration of drug compounds. This transformation has pushed the growth of oncology drug delivery market— which is expected to exhibit a compound annual growth of ~11% during 2016-2020 (refer Fig: 1). While this growth will benefit all types of drug delivery mediums, oral and inhalers are expected to be among the leading gainers.
Despite a strong growth in number of oral drug prescriptions, several injectable companies have invested to develop advanced product pipelines. Over the next 5 years, although intravenous infusion drug delivery is expected to dominate the market, subcutaneous (SC), intra-dermal, and intramuscular (IM) modes of drug delivery are expected to gain a strong market hold, as 30-35 new products are likely to be launched from various companies.
In addition to traditional oral and inhaler methods, research on some innovative delivery methods including nanogel and transdermal patches is also underway, and scientists are evaluating the bioavailability of drug compounds on target sites, when drug is delivered using these mediums. Clinical effectiveness of these mediums will largely decide the market success of these new methods.
Does Targeted Therapy and Needle-free Delivery Matter?
Though significant advances have been made in the field of drug delivery, there are still a number of unmet needs of patients, offering ample opportunities to drug companies. Researchers have devised various strategies to effectively deliver drug concentration on the target area; however, these strategies have witnessed limited success in clinical development phase. At present, there are a few clear unmet needs:
Targeted and Controlled Release Cancer Therapy: Drug delivery systems, capable of delivering drug compound on targeted cells and for a specific time period with minimal or no impact on other healthy cells, thereby limiting painful side-effects.
Needle-free Delivery: Supported by home healthcare trend; patients are increasingly looking for drugs, which can be easily self-administered and do not require much intervention/support from medical expert. Moreover, rising demand from patient from painless and effective treatment (such as inhalable and transdermal mediums) has forced companies to focus on related innovation.
No Targeted Cancer Therapy is Capable of Delivering More than One Drug at Once
Furthermore, for all drug delivery mediums, bioavailability of the drug compound at the target site remains a key challenge.
Race to Sourcing Innovation is key Growth Driver
To overcome the existing technology limitations, a number of small biopharmaceutical companies have taken initiatives and are involved in the R&D of innovative cancer drug delivery methods.  However, the rate of the commercialization of these platforms developed by them is quite low, as they face several clinical hurdles and financial shortcomings.
Large pharmaceutical companies have traditionally relied on their innovation partners to develop such technology platforms, and their strategic sourcing models have been preferred by them rather than developing these platforms on their own. For example, Celgene signed partnership with Presage Bioscience to use its Arrayed Microinjections platform. Similarly, Amgen signed a contract with Unilife, to use its wearable injectable technology for its oncology drugs. As part of the deal, Amgen has got exclusive rights to use Unilife's wearable injectors for select drug classes. Other pharma giants including Pfizer, Novartis, and Merck have also signed exclusive deals with such boutique research firms. Some large pharma companies are also funding academic research program to get access to such technology innovations. A few large pharma have also adopted the strategy of supporting academic research projects to get access to innovations. Overall, there have been relatively limited efforts from big pharma to invest in in-house drug delivery technology innovation.
Range of Breakthrough Innovations
A majority of technology developments are influenced by a gradual shift in cancer treatment sites– from exclusive healthcare center setting to self-administer therapy in home health care setting. Because of this, a number of researchers have largely focused on making drug administration more convenient from a patient's perspective.
While researchers have highlighted and demonstrated the use of nano-particles to safely deliver and release the drug compound at the tumor site, commercial application of these methods in clinical settings remains to be effectively demonstrated. Despite this challenge, nano-particles are being considered as one of the most potential option due to their ability to enhance the drug's bioavailability. In the near future, this technology will enable physicians to apply fewer procedures at a similar site which typically leads to chemo-resistance in cancer patients—a key reason of failure of a majority of drug therapies.
From commercial point of view, a gradual shift from injectable to oral drug in short-term and other drug delivery mediums in long term is expected. However, adoption and commercial success of these drug delivery mediums will largely depend on their capability to overcome the existing challenges. Below are some of the breakthrough innovations:
Wearable Injectors
Over the last decade, the focus of researchers has been to develop injectable products with self- administration capability to enable anytime home healthcare. On the same concept, wearable injectors have been developed, with capability to deliver large volume of drug compound. A couple of drug manufacturers including Amgen and Roche have started using these wearable injectors solutions for their products (Neulasta Onpro and Herceptin SC, respectively).
Key companies who have made notable progress in this segment include Becton Dickinson, West Pharmaceuticals, Insulet, Unilife, and Sensile Medical.
Nano-particles Based Oral Drugs
Nanogel or Nano Drug Delivery Vehicles for cancer drug carriers has been one of the most highlighted and well accepted research topics on account of its ability to absorb and carry wide variety of compounds. Although there have been significant developments on this front, bioavailability of drugs has not been satisfactory in all the cases. Hence, physicians prefer injectable for faster recovery. If nano-drug delivery is proven to be successful, then oral forms of drugs can become more effective.
Furthermore, designing of nanoparticles using computation modeling has shown some strong promises and is another opportunity area for innovation. A number of research activities are being carried out using computation modeling on to simulate the distribution of drugs and nano-materials. So far, there have been a few moderately successful commercialization efforts on this front. Based on commercial outcomes so far, Nano-material based drug delivery systems are poised for strong growth over the next 3 to 5 years.
Key companies to watch out in this segment are Celgene, LiPlasome, Intezyne, KeystoneNano, Leonardo Biosystems, and CytImmune Sciences.
Arrayed Microinjections
Arrayed Microinjection is another interesting approach, which holds significant potential in oncology treatment on account of its capability of effectively deliver drug compound on targeted cells. Presage Bioscience has been successful in depicting use of microinjection platform technology in oncology dosing and it has got a patent for its device based on arrayed microinjection technique and quantitative analysis methodology. The platform enables placement of multiple drug column directly on the tumor site. This allows the physicians to directly access the result of multiple drug compounds on tumor cells without being worried about bioavailability, metabolism, and excretion issues. The platform is being used and tested in various clinical conditions. Early results in clinical settings from the platforms have been successful, and the company has already signed strategic partnerships with Celgene and Takeda pharmaceuticals.
Implantable Devices
Implantable drug release platform for intravesical drug delivery is another emerging approach. Although, a majority of products based on this technology is still in R&D or trial phase, considering the current challenges with other form of drug delivery mediums, this approach holds significant potential. Key companies in this segment include Taris Biomedical, Endo Pharmaceuticals, Axxia Pharmaceuticals, and Cirtec.
Intra-nasal Drug Delivery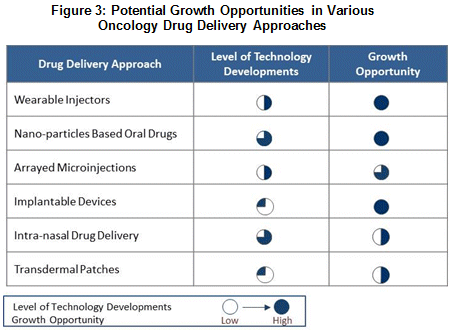 Currently, Breakthrough pain (BTP) or severe pain, in cancer patients is targeted through intra-nasal route of drug administration. BTP is highly prevalent in certain cancer patient populations (40% to 80% of the patients with advanced cancer). Some drugs (such as Fentanyl and Lazanda), which are using intra-nasal routes have been found to be efficacious in cancer patients. Moreover, research efforts are focused on developing nano-particle based drugs to be delivered using intra-nasal drug medium, with lung cancer and brain tumor being the key disease targets. If successful in clinical safety assessment, this method holds significant commercial potential, as lung cancer is one of the most common types of cancer identified new cases (~17%).
Transdermal Patches
Transdermal patch is another drug administration route being explored by researchers for anti-cancer compounds. Though use of transdermal patch for drug delivery is not a new concept, its clinical potential and effectiveness in case of anticancer agents is still being assessed. Currently, transdermal patches are being used in treating side-effects of anti-cancer drugs. Skin cancer and cancer vaccines are some areas, wherein drug delivery through transdermal patches is likely to have a huge opportunity.
Key Growth Opportunities
Overall, a strong transformation from injectable toward other drug delivery mediums is anticipated, driven by increasing emphasis on improving efficacy of anti-cancer agents, reducing side-effects and adopting patient-centric home healthcare approach. A strong shift is anticipated in therapy selection approach, and ease of administration will also be considered along with effectiveness in the prescription decision-making.
Short-term growth in the oncology drug delivery market can be achieved by investing in the injectable segment. However, alternative forms of targeted drug delivery such as niosomes and antibody targeted nanoparticles are expected to be in high demand over the long term of the forecast period.
During 2015-2016,  about 50% of the total Oncology drugs approved by FDA were oral cancer drugs. In long term, F&S expects this trend to continue. However, given the pricing pressure on drug manufacturers and HCPs, high cost of these mediums might be a limiting factor.
For Nasal route of drug delivery, Frost & Sullivan expects a high growth in short-term for applications in cancer pain management. However, first-line therapy in pain management is still an unmet sector and is expected to remain so for the next 2-3 years. In addition, micro-needles or dermal patches are likely to take a high share in the market in distant future, depending on their clinical success.
Furthermore, use of informatics, computation modeling, and visualization technology is expected to increase, as companies will look to use different AI-based simulation models (for all types of drug administration methods) to limit the chances of last stage failure of their products. Frost & Sullivan expects some strong movements in this market segment over the next 3 to 4 years. Key companies to watch in this space are Schrodinger, Fustibal, CFDRC, and Turbine.
While this transformation represents a huge opportunity for small research-focused organizations, it also offers opportunity to drug manufacturers to align themselves with this technology shift and gain easy traction from physicians and patient groups. For contract manufacturers as well, early adoption to this shift in production technology will be essential. As of now, some large CMOs, such as Patheon, have already taken some initiatives on this front, and other mid-sized and small CMOs are expected to follow the trend.