Introduction
5G is moving at a pace where every week the numbers of global 5G deployments are changing. As per latest reports, around 150 telecom operators in 56 countries have committed investments, begun implementing or trialing their respective 5G networks. Out of which 20 operators have deployed 5G networks in 294 locations across the globe. Some of the leading countries in the 5G race are South Korea, Japan, China, the USA, the UK, Switzerland, the UAE, Saudi Arabia, Kuwait, and Qatar amongst a few others. Asian countries are outspending the US in building and investing in 5G infrastructure. In the Middle East region, 15 countries plan to launch 5G mobile services between 2019 and 2025. Six MENA (Middle East and North Africa) countries launched 4G commercial services during 2009-2011 compared to eight countries launching 5G during 2019-2021.
5G IP Transport Network
5G will have a wider wireless spectrum, with a higher frequency band; the bandwidth for 5G networks can even reach tens of Gbps. The peak bandwidth and user experience bandwidth of 5G networks is expected to be 10 times higher. 5G comes with its own benefits, but it also imposes some challenges on the existing telecom transport network. Existing technical infrastructure including the equipment and the network architectures does not fulfill the requirements of deploying a 5G network.
While addressing these challenges it is also important that an optimal cost solution is considered for successful deployment and rollout of commercial 5G services to meet consumer demands at the same time securing market leadership with sustainable growth. How can this be achieved, is a question most of the telecom operators are prioritising and trying to address with their 5G deployment plans.
IP backbone, metro and mobile backhaul are the three main aspects of a Carrier IP network. Improving the network efficiency by leveraging new technologies such as SDN, NFC and SA, has become of utmost importance. Telecom operators today are looking for network operators who can provide an IP transport network, which is capable of building future-oriented ultra-broadband, and high-quality, multi-service bearing network to help operators reduce investment and operation costs, improve end-user experience, and support rapid business development.
The routers and service intelligence gateways are the most important while building an IP network. Vendors like Huawei have their Router & Carrier Ethernet product lines that cover the backbone, metro, and mobile backhaul networks. In the backbone network domain, Huawei's core routers are at the forefront of industry development. Its all-service routers and multi-service control gateways dominate in metro network domain. While, in the mobile backhaul network domain the company is leading in terms of its global market share. Service intelligence gateway (SIG) systems use high-performance hardware and patented service awareness technologies to analyze and process network data packets. They can be deployed on fixed, wireless, or converged networks to provide functions such as traffic analysis, bandwidth management, and network security defense.
For an optimal cost per bit solution, and an affordable upgrade of the IP transport network, vendors usually propose solutions, which are classified into these two phases:
The 5G Migration phase focusing on enhanced mobile broadband (eMBB) services.
The 5G Deployment phase focusing on three types of services: eMBB, ultra-reliable and low-latency communications (URLLC), and massive machine-type communications (mMTC).
The 5G Migration phase:
In this stage, innovative energy-saving technologies are applied, achieving the lowest single-bit power consumption in the industry. Huawei offers an industry-leading super cooling solution, which consumes 30% less power than the industry average by adopting the phase-change heat dissipation technology and introducing the industry's first mixed-flow fans. eMBB aims to support enhanced high-bandwidth applications, including video applications such as 4K, 8K, and AR/VR.
On the access side of base stations, PAM4 a branch of the pulse amplitude modulation (PAM) technology, which plays a key role in multi-order modulation, is widely used in high-speed signal interconnection. PAM4 is an efficient modulation technology that improves bandwidth utilisation. In the cost structure of devices on a mobile network, optical modules account for an ever-increasing percentage. Decreasing the costs of optical modules is critical in cutting the overall costs. Building on the 50G PAM4 per lane technology, 400GE/200GE/50GE interfaces can meet the cost and performance requirements of 5G mobile networks to construct an optimal solution covering the access network, aggregation network, and core network. An end to end 400GE Interface technology support is provided for the backbone network to put into commercial use during this phase.
SRv6, which is a successor to MPLS on IP transport networks is a next-generation core protocol based on native IPv6 and source routing. SRv6 improves network configuration efficiency, and helps provide application-level management and services by replacing complex protocols running on existing network/s. SRv6 enables the network controller to implement path programmability, providing differentiated SLA assurance for a wide range of services and applications. It is evident that only those transport networks that are fully SRv6-ready will be able to meet service transport requirements in the 5G and cloud era. Routers supporting MPLS and SR/SRv6 dual-plane deployment would be ideal in this phase.
The 5G Deployment phase:
In this phase, building an integrated transport network that supports all business to home (B2H), business to business (B2B), and business to consumer (B2C) services to improve the return on investment, will become a top priority for operators. Building a converged transport network that supports all services to improve the ROI will be very important during this phase. eMBB, URLLC, and mMTC services will be fully developed with different SLA assurances. As the density of 5G base stations increases, service access points will tend to be deployed at the same location. This brings a possibility that B2H and B2B services are accessed through the same point of presence (POP), enabling a transport network to bear B2H, B2B, and B2C services at the same time.
In this phase an ideal network would be one in which the network is decoupled from services and sliced to provide services on demand. The network slicing technology works with end-to-end SRv6 path programming to provide differentiated SLA capabilities for services. The network architecture is much simplified and higher bandwidths are also available. This provides ample network and bandwidth for various services to be delivered with an optimized experience.
An intent-driven intelligent operation platform with artificial intelligence and big data analytics capabilities is introduced in this phase. These capabilities will cater to automated deployment, status collection, and intelligent analysis, enabling full-lifecycle network management and proactive O&M, improving service provisioning, O&M efficiency and ROI.
The first phase enables the development of a faster transport network solution at an affordable cost, which helps in successful implementation of basic 5G services. While in the second phase a strong and converged transport network is build that supports all 5G services to improve the Return on Investment (ROI) for the telecom operators.
Building an open and Cooperative IP Industry ecosystem
Realising the 10-fold traffic growth at a single site in the 5G era, it is important for vendors to achieve optimal cost per bit and fast bandwidth upgrade by innovations in NP chips, energy saving design, new interface, and new protocols. This includes next-generation router chips with the highest degree of integration and best performance.
As a major contributor to 50GE/400GE interface standards, Huawei appears to have taken the lead in commercialising 50GE/400GE and has driven the technology to maturity. As a major member of the new-generation SRv6 standard organisation, it has not only submitted more than 15+ SRv6-related drafts to the IETF, but also promoted interoperability between vendors and SRv6 commercial deployment.
To lead the 5G race, vendors are actively carrying out joint innovations with operators in Europe, Asia Pacific, the Middle East, and many other regions through NetCity projects to explore future network evolution and promote IP industry development. It is also helping operators cultivate IP talent through Certification programmes, and building an evolvable IP transport network to enable 5G business successes.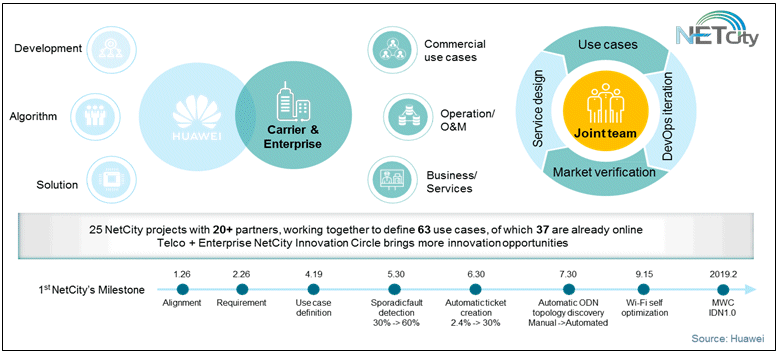 Transport networks will need important upgrades going forward to support new service offerings and applications promised by 5G. Mobile operators at the same time will be taking measures to reduce cost, but they will also need to explore more alternative approaches, such as network sharing, which involves joint building of new 5G networks and new revenue models.