It has been almost a month since Russia invaded Ukraine but we are already seeing the unacceptably high geopolitical, humanitarian, and economic fallout of this conflict. For the automotive industry, the repercussions will be deep and sweeping.
Ukraine currently supplies more than 70% of the world's neon gas, while Russia is the world's largest producer of palladium and the third-largest supplier of nickel. Further upheavals in the already strained supply chains of these three critical raw materials will affect the supply and production of semiconductor chips, electric vehicle (EV) batteries, and catalytic converters. This, in turn, will mean production delays, longer waiting times, and possibly, higher vehicle prices. In the case of EVs, higher costs could dampen sales and uptake levels.
Meanwhile, leading foreign passenger vehicle (PV) automakers who produce and export from Russia — Renault, Hyundai, Kia, Toyota, Volkswagen among them face their own battles. Pre-conflict, the combined monthly sales of these major OEM brands accounted for almost three-quarters of total PV sales in Russia. Following the crisis, they have called a halt on production and/or exports to Russia and Ukraine. This has highlighted the urgent need for strategies that can contain immediate to short-term production disruptions and effectively balance demand and supply dynamics.
To purchase our latest report or for a private briefing on this topic, please contact sathyanarayanak@frost.com.
A Brief Background
With annual production estimates of over one million PVs, Russia ranks 10th globally in PV output, with Ukraine ranking 44th. Togliatti, one of the largest vehicle manufacturing plants in Eurasia, is located in Russia. The country is also a major engine maker, with 5% of Renault's engines being produced in Russia and 40% of Volkswagen's engine requirements in its eastern European plants being fulfilled through production in Russia.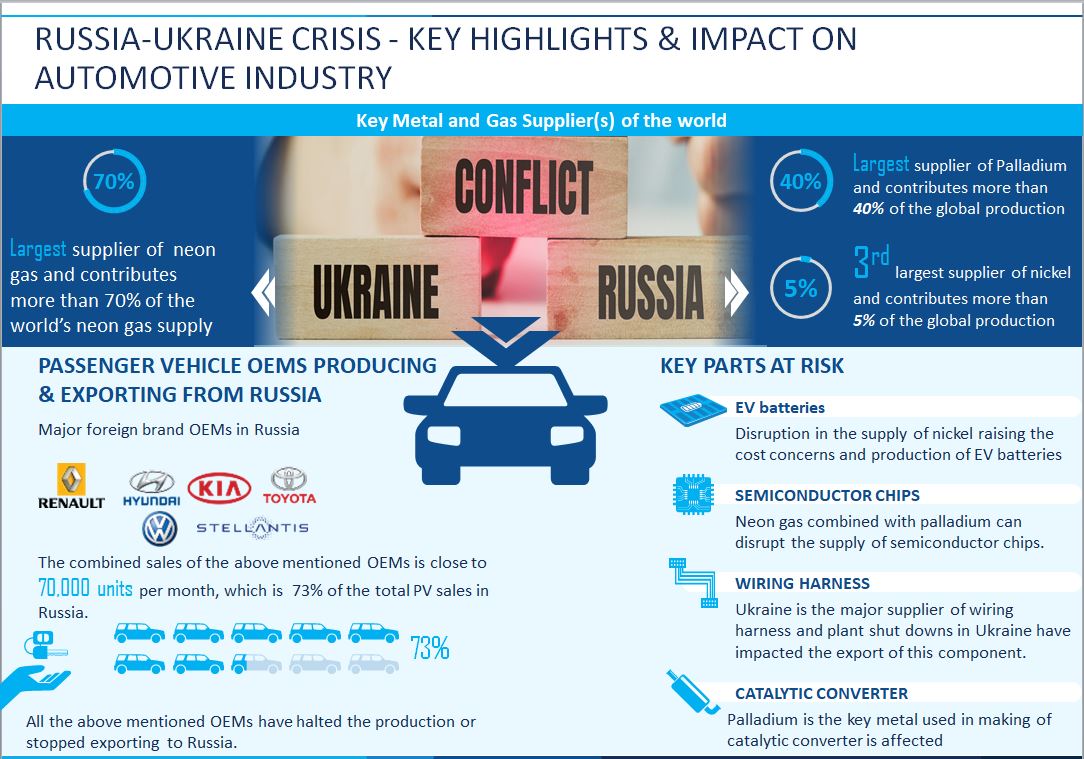 Ukraine is a comparatively much smaller automotive market with annual production estimates of around eight thousand PVs. The country's PV output fell by more than half in the aftermath of earlier hostilities with Russia in 2014. Nevertheless, the country has continued to be a crucial supplier of automotive components and technology, including wire harnesses, electronic control units (ECUs), and engine management systems.
In 2020, Russia exported $513.4 million worth of auto parts and had imports amounting to $7.2 billion. Body parts, wheel and chassis, and brake systems were among the top components exported, while body parts, cabin and cockpit systems, gearboxes, and suspension dampers were its top imports.
The smaller Ukrainian market exported auto parts totaling $80.3 million in 2019 with wiring harness being the country's top export. Ukraine's auto parts imports clocked up to $61.3 million, with modules for vehicle assembly featuring as the lead imports.
Japan, the US, Germany, and Slovakia were leading PV importers to both Russia and Ukraine in 2020. Among PV OEMs, Renault, Hyundai, Kia, Volkswagen, and Toyota dominated the market share in Russia and Ukraine in 2021. For these OEMs, we foresee severely dented business opportunities from the perspective of both production volumes and sales as a result of the ongoing crisis.
Impact and Implications
We see the conflict affecting the automotive industry at multiple levels. The first is production disruptions. Here, we will see both combatant countries and neighboring regions experiencing lowered production and demand volumes, with less severe impacts being felt across Western Europe and global markets. With Russia accounting for less than 2% of global OEM revenues, we could witness a redirecting of inventory supplies from this region towards larger, more stable markets.
With Russia a major oil and natural gas producer, we could see – as another corollary of the conflict – a rise in oil prices, which will trigger higher inflation. This, in turn, could hurt conventional fuel-powered vehicle sales.
A third theme will be delays in semiconductor chipset production, caused by unstable critical raw material supplies of neon gas and palladium. This will also mean lengthier production cycles and delivery waiting times.
Shortages of critical raw materials will have an unfortunate outcome: a slowing down of automotive electrification and smart technology initiatives. The pressure on already overstrained, pandemic-hit supply chains will intensify, further roiling semiconductor, EV battery, and catalytic converter production.
Needless to say, import-export disruption will be inevitable. OEMs like Renault, Audi, and Volkswagen that assemble both PVs and engines in their Russian plants stand to be most impacted. OEMs with joint ventures in Russia – Renault-AvtoVaz and Daimler-Kamaz among others will be challenged by supply chain constraints related to component imports.
Evaluating Post-Conflict Strategies
We believe automotive industry stakeholders should take short, medium, and long-term measures to mitigate the impact of the Russia-Ukraine conflict on their business prospects.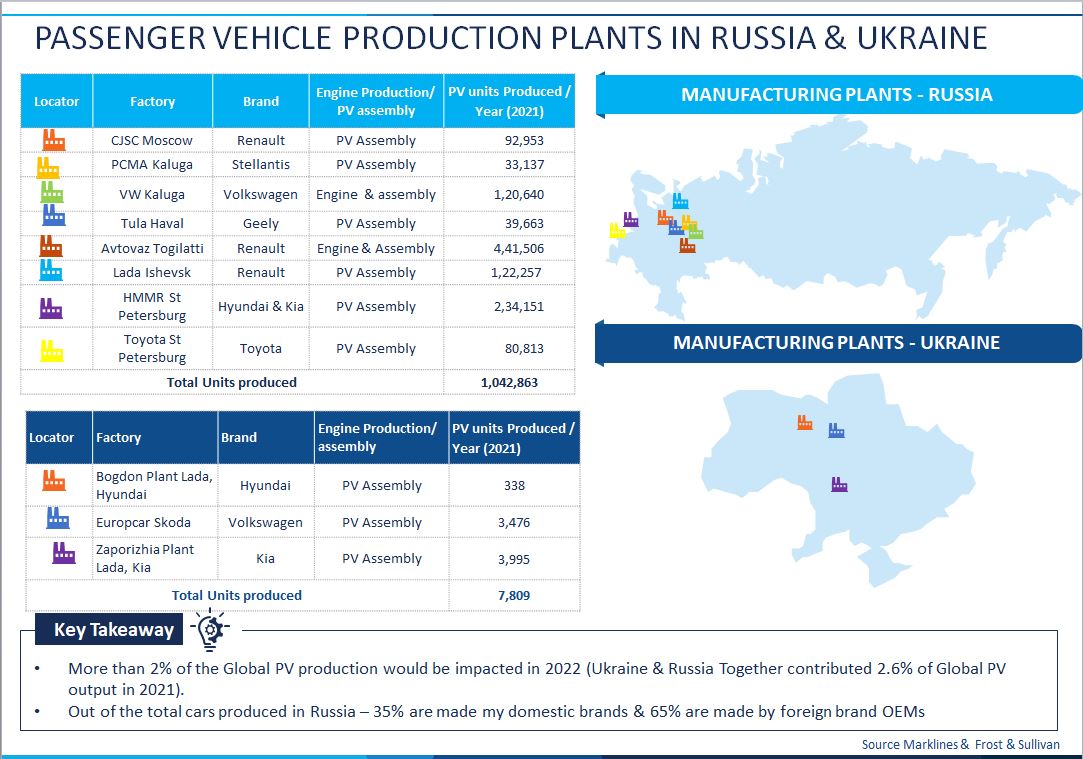 Over the short term, stakeholders should consider moving their manufacturing /business facilities out of Russia and Ukraine to other parts of Eastern Europe. Boosting auto parts manufacturing capacity – engines and gearboxes, among them – in other regions – will ensure that demand continues to be effectively served. Alternate parts sourcing strategies will involve identifying localized part suppliers in Europe and placing bulk volume orders to suppliers around the world.
Over the medium term, diversifying inventory sourcing among different regions and suppliers and maintaining sufficient inventory (rather than lean, just-in-time models) will support business continuity. Sanctions on Russia mean that automakers will potentially have to export components like engines, gearboxes, and powertrains through their plants present in countries that had not imposed sanctions on Russia.
OEMs and auto component manufacturers will need to consider disinvesting in Russia and Ukraine while boosting investments in other European countries over the long term. Supply chain management and diversification will be another long-term priority, whether in adopting multi-sourcing strategies or transitioning raw material procurement and inventory management from just in time to just in case.
The Russia-Ukraine conflict presents a new battleground for automotive industry stakeholders. They will have to ward off the tough challenges that lie ahead to safeguard their future.
Schedule your Growth Pipeline Dialog™ with the Frost & Sullivan team to form a strategy and act upon growth opportunities: https://frost.ly/60o.