Until a year ago, intensifying urbanization was the norm, with cities confronting challenges related to congestion, pollution, and overstretched mobility networks. In the UK, estimates indicated that people were spending more than 221 days of their lives commuting; in the US, it was more than 400 days. Meanwhile, lengthy commute times were associated with a range of physical and mental conditions, including stress, headaches, backaches, and fatigue.
Fast forward to the present, where the COVID-19 has transformed urbanization and mobility trends. Much of the workforce is expected to continue working remotely in the short- to mid-term, which significantly impacts mobility preferences. Hybrid working patterns will mean fewer trips per week, while flexible working days and schedules will result in unpredictable demand requirements. Conversely, a resumption of pre-pandemic work trends could condemn commuters to face familiar challenges related to congestion and traffic delays.
Either way, this underscores the idea that traditional work commute modes have become less feasible and attractive. In response, corporate mobility is evolving towards a future defined by more flexible solutions and integrated multimodal platforms. A wave of innovative mobility start-ups is accelerating such fundamental shifts.
Recommended Reading: Impact of Work-from-home on Mobility Patterns, Scenario Analysis, 2030
Emerging Opportunities Highlight Need for New Business Models and Partnership Strategies
Any discussion of corporate mobility immediately devolves to company cars, fleet vehicles, and leasing – a market that Frost & Sullivan tracks very closely in 40 countries across the globe.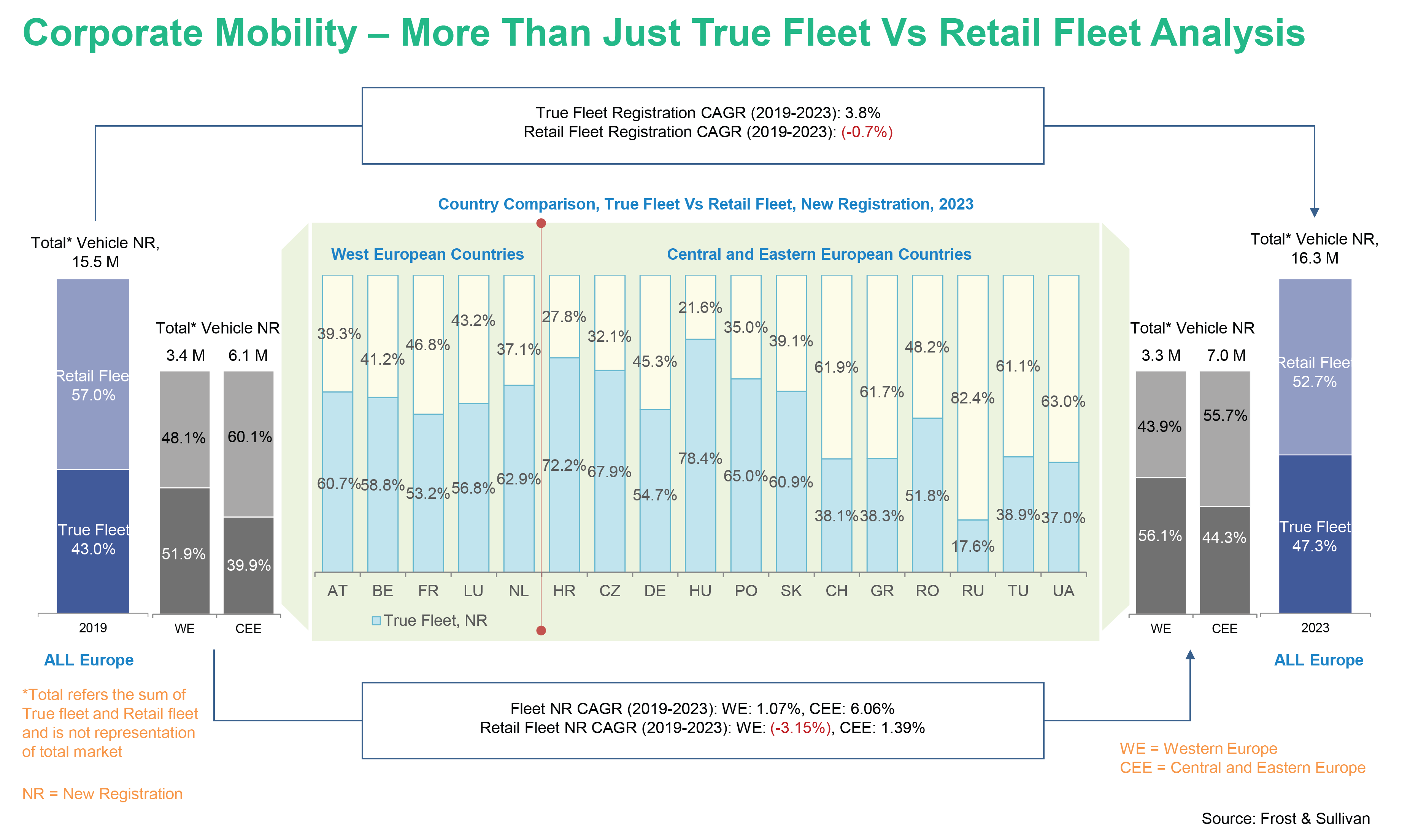 The message here is straightforward – firstly, that the passenger vehicle (PV) fleet segment represents almost half of all new registrations in Europe and more than half in Western Europe and, secondly, that this segment is growing faster than the market average, a trend which is poised to continue. The same dynamic is playing out among overall vehicles in operation. The fleet segment accounts for over 42 million vehicles in Europe and offers an increasingly attractive space for many aftersales parts and service suppliers.  However, the fact is that corporate mobility goes well beyond merely company cars and signifies much more than just an analysis of true fleet vs. retail fleet.
Connectivity and digital technologies have opened up a flood of new mobility business models. Many of these were initially geared towards the general public and have now been tailored and adapted to better support corporates with dedicated offerings and efficient IT integration.
Indeed, whether in carsharing or carpooling, parking or e-hailing, there are solutions dedicated to corporates within the portfolios of key players. Moreover, players are now entirely focused on the corporate segment market, and the sharing economy is becoming increasingly corporate. What is also interesting to note is that in addition to the emergence of new stakeholders in this ecosystem, traditional leasing and rental companies are beginning to offer advanced mobility solutions. Their narrow focus of only being providers of ICE cars is transitioning into becoming integrated mobility providers. For instance, Arval recently launched new mobility services within its 360° mobility offer.
Trend Catalysts in the Shift towards Shared and Integrated Corporate Mobility
Six key drivers underpin the shift towards shared and integrated corporate mobility:
The convenience associated with providing access to various mobility modes
Supportive regulations and policies that are setting the scene for greater acceptance
The push, both from a regulatory and industry perspective, towards sustainability and decarbonization
The promise of improved efficiencies and savings related to the shift from a Total Cost of Ownership (TCO) to a Total Cost of Mobility (TCM) approach
Expectations for more flexible mobility solutions from both employees and corporates
Developments in the supplier ecosystem with a plethora of new players supporting this shift with innovative and relevant solutions for corporates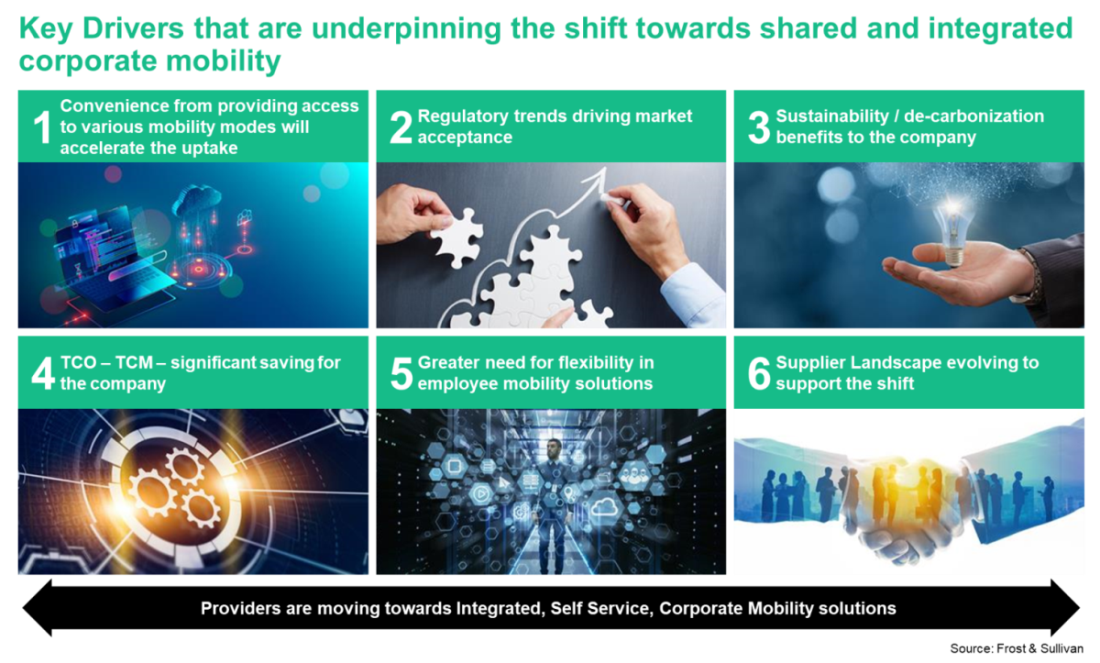 The Convenience Factor
Each of these six drivers will have far-reaching implications. For instance, the convenience of providing access to various mobility modes implies less time wasted in traffic jams and reduced stress linked to finding parking spaces. This also addresses the company car being an underutilized asset; companies maintaining fleets confront significant financial questions in the context of continued remote work and work from home (WFH) trends.
Simultaneously, it is also convenient as it is an integrated solution involving multiple transport modes. It allows employees to choose the modes/solutions that best suit their needs and benefit from a fully digital solution spanning mobility planning to expense management.
Regulatory Impetus
Beyond the emissions regulations, restrictions, and bans that affect the entire industry, trends also reveal the implementation of rules that specifically target corporate mobility. For example, in Belgium, it is the mandate to offer employees a mobility budget as an alternative to a corporate car. In Germany, it is WFH becoming a legal right for employees, and the grant of sustainability allowances in France, to name a few.
However, it is worth noting that compelling companies to offer mobility budgets as an option may not achieve the expected outcomes without making other reinforcing changes to taxation policies, for instance. Many other parameters need to be taken into consideration if regulations are to yield the desired results.
Sustainability Imperatives
Sustainability and decarbonization are becoming increasingly strategic parameters for corporates, both for business travel and commuting. Driving sustainability in mobility will require a transformation in general commuting patterns. Illustrating this point are findings from a 2020 survey by Mobilityways, which revealed that 42% of commuters could walk or cycle but only 15% did; 92% could carpool, but only 10% did, and while 46% could use public transport, only 18% did. As a result, almost 10 billion kilograms of greenhouse gas (GHG) that could have been saved were not.
Notwithstanding such findings, corporates have forged ahead with reducing their mobility carbon footprint. This is underlined by the efforts of companies like Liftshare, Jojob, and Zipcar, vehicle electrification initiatives by automakers, the sustainability strategies of several leasing companies, and much more.
Move towards TCM
There has been a progressive move from TCO to TCM. An integrated TCM plan allows for a more strategic approach to employee mobility, more efficient management of costs, and more effective policies – all the while delivering better services to employees. According to the most recent edition of the Arval Mobility Observatory barometer, 74% of companies in Europe have already implemented or plan to implement at least one alternative mobility solution for their employees within the next three years.
Not only will this shift from TCO to TCM help create a positive corporate image, but fleet professionals and experts also estimate cost optimization to the tune of up to 25%. Companies are becoming aware that the future of employee mobility lies in offering a set of mobility options that employees can use for both professional and personal purposes. Accordingly, rigid corporate mobility offerings will have to become considerably more flexible.
Changes in Employee/Corporate Expectations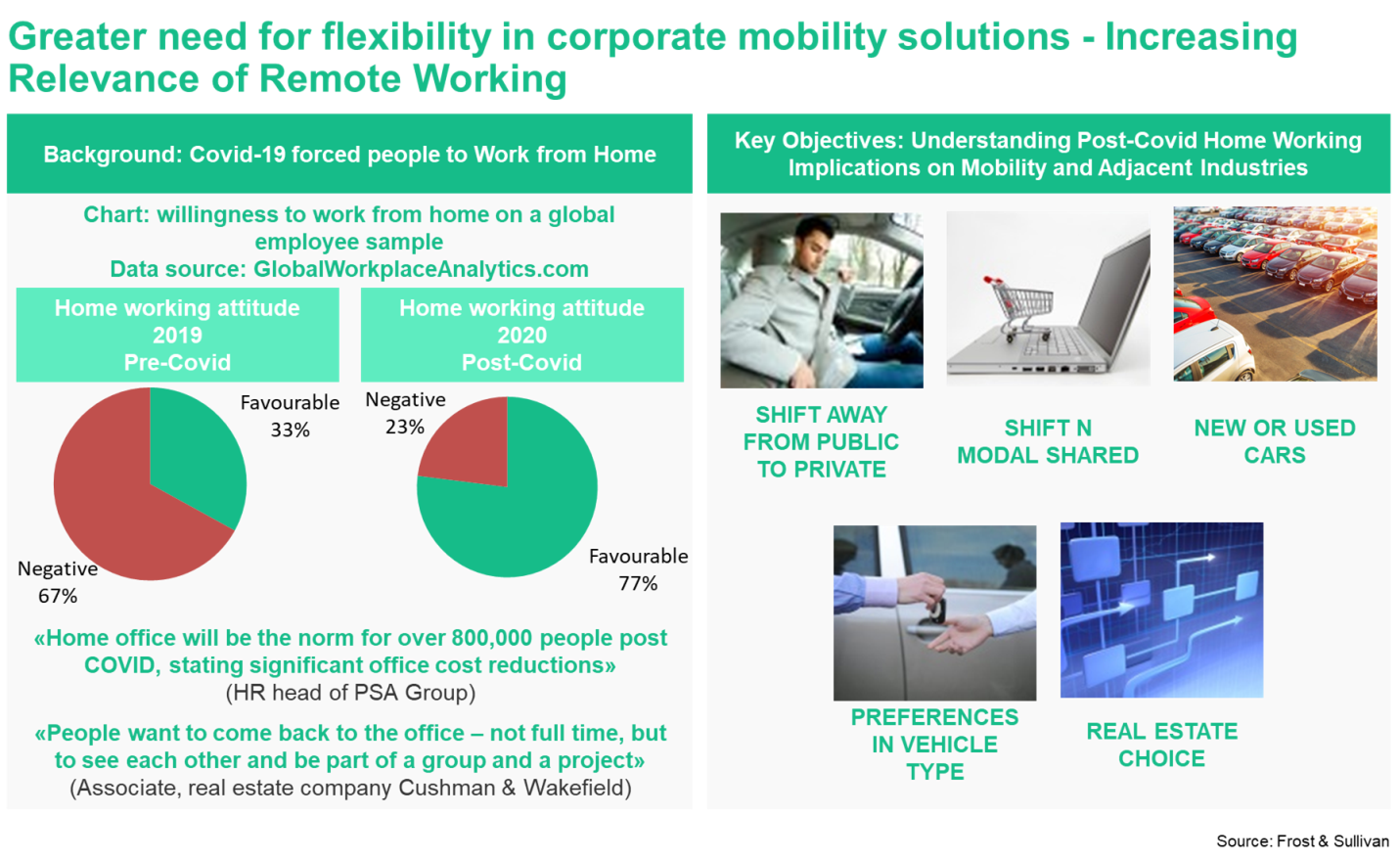 Any discussion about corporate mobility will need to address the elephant in the room, i.e., the impact of COVID that has democratized WFH. Several large technology companies such as Apple, Google, Facebook, and Microsoft were among the first to ramp up remote work plans for many or all their employees. Trends indicate that remote working will remain a significant practice post the pandemic, with a hybrid approach likely to be the most common as more people get vaccinated.
This stands to alter one of the most fundamental trends – urbanization. It means that people can live further away from their place of work which, in turn, will impact commuting patterns and the type of vehicle they will want to own or use. It will also underline the need for a whole new set of services to better support employee WFH ranging from IT, security, training, and longer commuting distances (with different frequencies).
Mobility services will undoubtedly be impacted by the post-pandemic, new normal. Company cars are projected to retain their importance and put in a strong performance in the aftermath of the pandemic. Frost & Sullivan's research also indicates a growing interest in solutions like cash allowances, corporate car sharing, and incentivized carpooling along with relatively newer alternatives like vehicle subscriptions and mobility budgets. While the pandemic will positively impact micromobility, active transport (walking, cycling), and support services due to WFH, it is likely to negatively affect corporate incentives towards public transport and corporate company vans.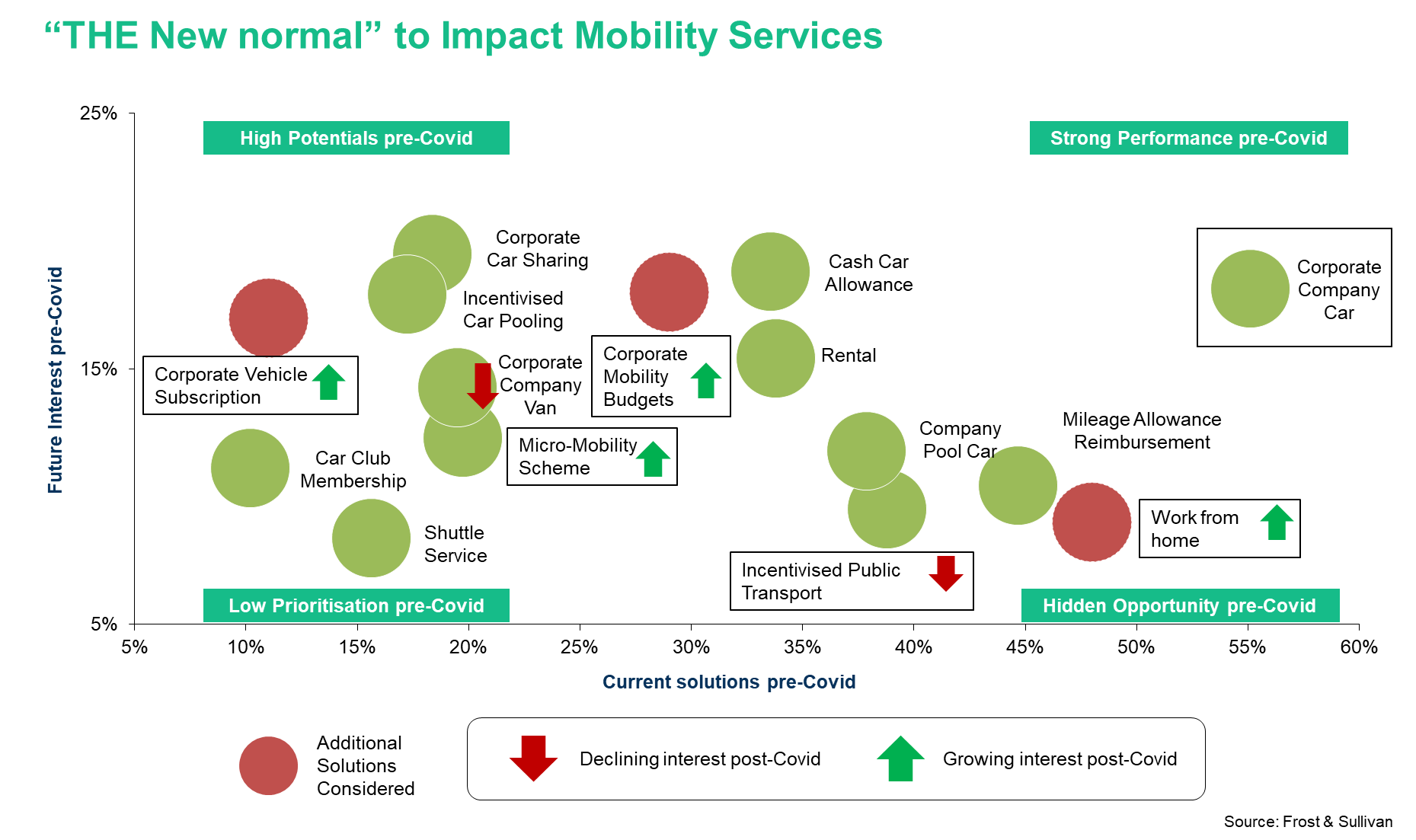 Evolving Supplier Ecosystem
The corporate mobility supplier landscape will evolve in exciting ways. Traditional players and a clutch of new players will surf the digital wave to bring new and improved mobility solutions to corporates. Companies and fleet/mobility managers will look into partnership and solution integration strategies to expand their footprint.
A Vision for the Future
So what is the future of corporate mobility? While company cars might have been the "kings" of the past, there will be a clear need for broader mobility solutions in the future. Therefore, corporate mobility will need to become more flexible and customized. Mobility audits, mobility budgets, and mobility managers will become more common. Successful solutions will need to integrate seamlessly across both the front end and back end into a broader corporate mobility platform, even as stakeholders cater to new requirements driven by COVID and WFH practices.
Something to mull over as corporates look to the future: Mobility is set to become the new employee benefit, and employee benefits are set to go beyond mobility.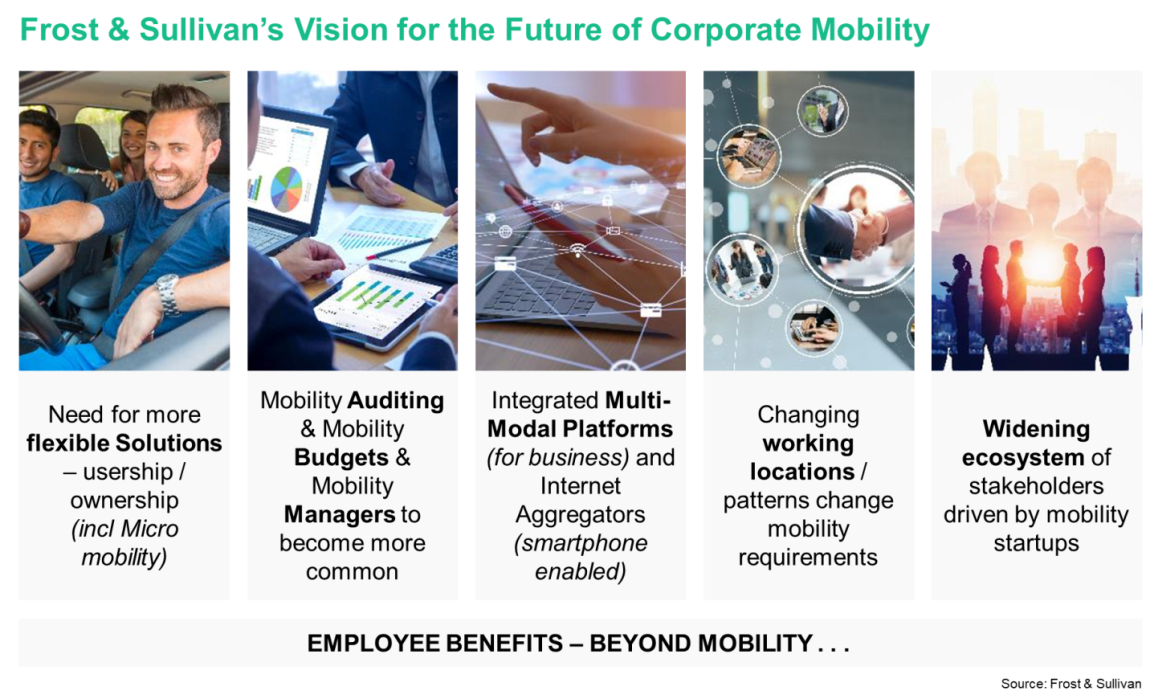 Schedule your Growth Pipeline Dialog™ with the Frost & Sullivan team to form a strategy and act upon growth opportunities: http://frost.ly/60o.