Rapid technological advances have been accelerating the development and testing of autonomous vehicles (AVs). But while the industry is reaching Level 4 (highly autonomous) and Level 5 (fully autonomous), real-world deployments have lagged conspicuously due to the slow pace at which regulatory frameworks, consumer acceptance, insurance, and liability frameworks have been evolving.
It stands to reason that adoption timelines for consumer markets will be much faster in regions with progressive regulation. For instance, this year, Germany and Japan became early market adopters of automated lane-keeping systems (ALKS) due to their forward-looking rules on the consumer use of Level 3 low-speed ALKS. Proposed draft regulations for Level 4 systems in both countries are expected to push adoption rates.
Meanwhile, initiatives to regulate Level 3 to Level 5 technologies and systems by regulatory bodies such as the United Nations Economic Commission for Europe (UNECE) and the National Highway Traffic Safety Administration (NHTSA) in the US are poised to accelerate consumer deployment and boost adoption rates in these regions by 2025.
Our recent analysis of 27 countries in critical regions for AVs, including Europe, North America (NA), and APAC, highlighted critical trends, gaps, and opportunities that are shaping and will continue to shape the AV market.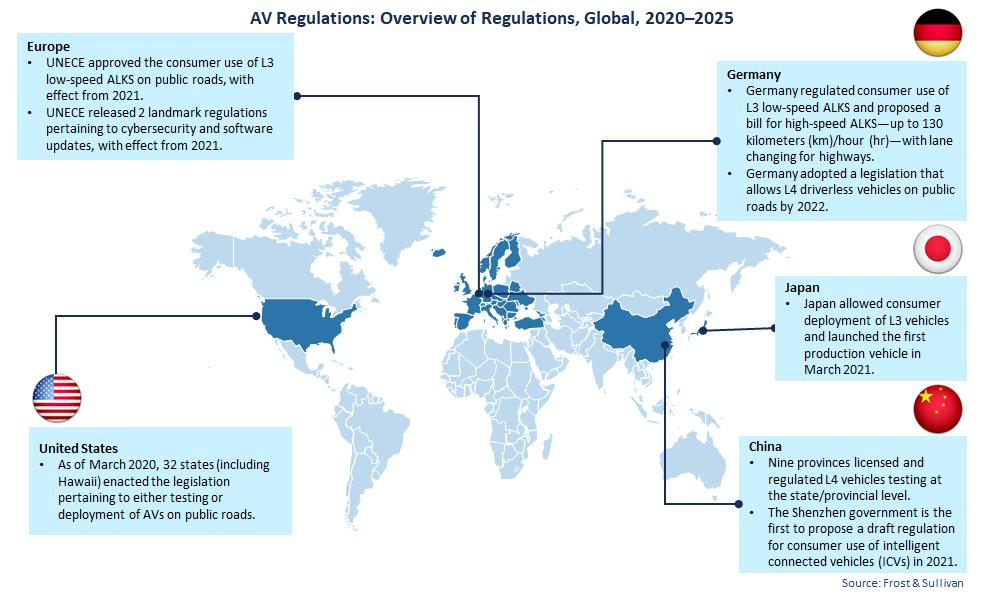 Europe: A Vibrant Market
Generally, a future-focused approach to AVs has underlined a vibrant testing landscape for autonomous cars and shuttles in many parts of Europe. Partnerships across the value chain, supported by research projects and funding from regional bodies, contribute to large-scale AV testing. The testing landscape favors L4 and L5 AVs because of the region's robust testing infrastructure and strong AV ecosystem.
Germany, France, Austria, and Sweden have a vanguard of AV development and regulatory adoption. Germany, in particular, has been a frontrunner; it is following up on regulations for Level 3 low-speed ALKS with proposed legislation for high-speed ALKS – up to 130 km/hr – with lane changing for highways. Moreover, a recently adopted legislation will allow Level 4 driverless vehicles to operate on public roads by 2022.
Today, technological advancements in Level 4 and Level 5 testing continue to outpace consumer deployment regulations (currently at Level 3). Nevertheless, Frost & Sullivan is confident that efforts by regulatory bodies, including the United Nations Economic Commission for Europe (UNECE), general safety regulations (GSR), and protocols established by new car assessment programs (NCAP), will accelerate consumer deployments. Various governments and the UNECE, which approved the consumer use of L3 low-speed ALKS on public roads and released two landmark regulations related to cybersecurity and software updates, all effective from 2021—will strengthen regulatory frameworks that promote a resilient AV ecosystem.
North America: An Evolving Landscape
The AV regulatory landscape in North America, especially the US, is still evolving as it strives to accommodate rapid changes in technology. Testing and deployment regulations continue to vary by the state rather than being standardized to encourage nationwide adoption. Nevertheless, the signs are positive. By March 2020, 32 states in the US had endorsed legislation related to either the testing or deployment of AVs on public roads. States like California and Arizona have emerged as important testing centers with extensive Level 5 testing.
Canada's AV safety framework is focused on higher levels of autonomy (Level 3 and above) while adhering to National Highway Traffic Safety Administration (NHTSA) regulatory standards. In contrast, Mexico lacks legislation about the use and testing of AVs.
APAC: A Combination of Leaders and Laggards
Singapore, China, and Japan have led from the front with large-scale testing and deployment of Level 3 to Level 5 AVs in the APAC region. For instance, Singapore's 45-Minute City plan, Toyota Woven City in Japan, and South Korea's K-City project are smart city initiatives that seek to fast-track the commercialization of Level 4 AVs. Japan has allowed consumer deployment of Level 3 vehicles, with the rollout of the first production vehicle in March 2021.
But while these select few countries are spearheading AV initiatives, other countries in the region, including India and Malaysia, are trailing. This is a result of various technological and institutional barriers, limited government funding, and weak infrastructure.
China has been a stand-out, with Level 4 testing being licensed and regulated in nine provinces. Shenzhen was the first to propose a draft regulation for the consumer use of intelligent connected vehicles (ICVs) in 2021.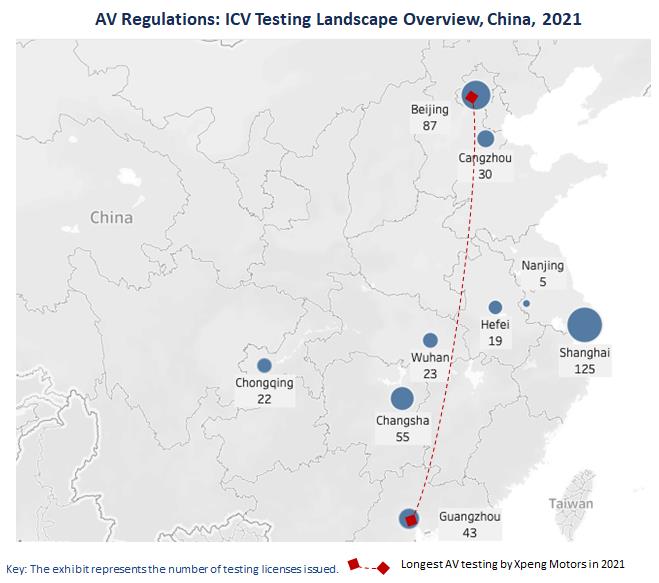 Source: Frost & Sullivan
Smart city projects, proactive, automated driving policies, and expedited testing license approvals have improved testing scalability in China. A breakthrough ICV trial conducted by Xpeng Motors in March 2021 covered 3,000 km between Beijing and Guangzhou. In April 2021, Baidu successfully launched Apollo Go, a commercial robotaxi service, in Beijing. Earlier, in January 2021, Baidu received approval from California's Department of Motor Vehicles to test its full AVs in Sunnyvale.
The Way Forward
The global adoption of AVs of L3 and above will depend on a unified and standardized regulatory framework. However, regulatory frameworks for testing and deployment are currently adopted mainly at the state or country level, delaying market launches.
Regulatory authorities such as the UNECE and NHTSA, national governments, and transport authorities need to work closely with AV value chain partners to reach a consensus on harmonized universal guidelines that are adopted globally.
AV testing and deployment
OEMs are looking to generate short-term returns from their autonomous driving investments by looking at the commercial deployment of L2+ and L3 vehicles. The L3 piloted driving market will grow, with premium OEMs trying to commercialize piloted driving features in their class E and F segment vehicles.
Regulatory bodies should regulate L2+ and L3 piloted driving for market growth, setting L2+ as a standard level and establishing market deployment guidelines. They should follow up on low-speed ALKS approvals to regulate high-speed ALKS as well.
By 2024, L4 robotaxis and shuttles are expected to be deployed for consumer use.
To support the validation of such autonomous shared transport options, clear regulatory guidelines about testing on public roads, identification of liability, and stakeholder responsibilities will be critical.
Schedule your Growth Pipeline Dialog™ with the Frost & Sullivan team to form a strategy and act upon growth opportunities: http://frost.ly/60o.