For some awkward reason, after 9/11, airlines turned away from their included services to a new business concept called ancillary revenue. This allowed airlines to lower their ticket cost by segmenting the prices on different services like Check-In, Priority Boarding, the journey itself, and of course the beloved baggage fees — providing them similar overall total cost at the end of the journey, but nickel-and-diming passengers through various points.
Via these segmented services, airlines allowed the passenger to tailor their ticket cost based on the desired service requirements, and thus move the airlines overall business towards the so-called low-cost airlines.
Low-cost airlines became the next go-to market in the airlines world and since the early 2000´s, they have enabled more and more people to travel globally. Airlines such as Ryanair, easyJet, JetBlue, Spirit, and AirAsia have become powerhouses in the last fifteen years.
The big question comes with the legacy carriers, as they find themselves losing their leisure travelers. In an attempt to reduce their pricing matrix, many have started to emulate the newer low-cost airlines without taking into account the loyalty of their customers. Sooner than later, customers from legacy carriers who did not travel on long-haul flights, quickly turned into low-cost airlines due to the service downgrades of the traditional carriers as they competed for more domestic leisure customers. Legacies, instead of re-adjusting strategies, polarized themselves even more by targeting business travelers almost exclusively.
The latest bold move by major airlines was to switch their miles programs into dollar-based programs, which pretty much converted the valuable air miles into junk, not only by downgrading miles redemptions, but also by increasing the cost of award travel. Today, unless a passenger is a global business traveler, there´s really no point in being loyal to any airline; it's even a waste of money in regards to the benefits one gets by trying to take advantage of special offers from any given airline at any specific point of time.
Now the question for passengers has turned to this: why be loyal to any airline at all?
The only reason that would make sense is Airline Alliances such as Star Alliance, Sky Team, or oneworld, because it gives travelers the ability to unify accounts for global or regional travel and across a variety of airlines.
The problem is that these alliances haven't made any progress in the last twenty years and they are becoming more obsolete by not updating their business purpose. Their existence would still be valid if they manage to adjust their offers and revamp their partners' loyalty value.
Alliances should act as centralized customer service audit partners and consultants for passenger experience, miles programs, and inflight entertainment. They should enhance the passengers' benefits, journey, and award travel options by standardizing programs along their entire airline members. Unfortunately, this doesn´t happen, and their business cases are becoming seriously irrelevant, with the only exception being the development of joint airport lounge systems which are being challenged by additional vendors outside the airline industry, such as credit mogul Centurion Bank, or more publicly known as American Express.
But even with this dark image, the Covid-19 crisis presents an opportunity of redemption. The purpose of this article is to establish the key pillars by which alliances will need to develop a revamped revenue model which not only assists their airline members, but also privileges the alliance's members with perks that would make them the primary choice against non-traditional airlines.
The new revenue strategy for alliances should contemplate the following points: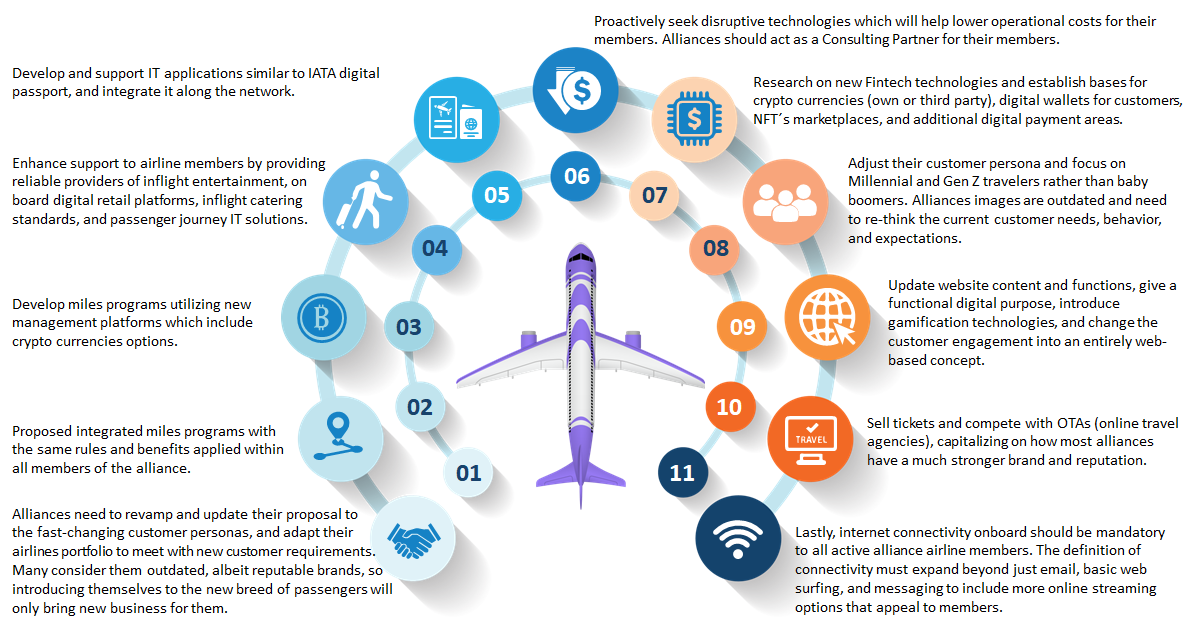 Alliance organizations need to reestablish a customer-centric business strategy and give back to passengers the benefits that were ripped away almost twenty years ago. It's time for legacy airlines and their alliance groups to change their strategy or potentially cause themselves to fall out of the game sooner rather than later.
Sky Team, Star Alliance, oneworld, the ball is in your court!